South of Ea. Poncho Moro to 20km north of Río Pico: Forecast for today: sunny with horizontal rain
---
Map
Statistics for today
| | | |
| --- | --- | --- |
| Distance | 39.00 kms | 24.23 miles |
| Climbed | 688 meters | 2,257 feet |
| Ride time (hours) | 5.91 | - |
| Avg speed | 6.4 kph | - |
| Avg climb | 5% | - |
| Max grade | 24% | - |
Statistics for trip to date
| | | |
| --- | --- | --- |
| Distance | 170.00 kms | 105.63 miles |
| Climbed | 2,596 meters | 8,517 feet |
| Ride time (hours) | 19.32 | - |
On this page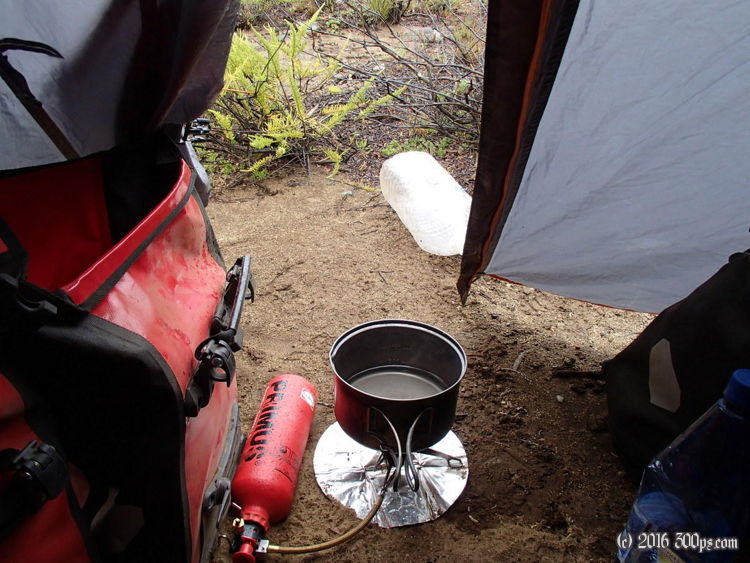 Tuesday, December 11th, 2012
The wind last night was impressive. I could hear the gusts coming down the mountain far in the distance, the racket getting closer and closer like a freight train until it hit with deafening noise, making the tent fly in all directions. Even more impressive was that my brave little tent, the Nuss, didn't tear apart into 10 different pieces. Sometimes the gusts would miss us. I could hear them continuing down the mountain after they went by. Quite cool actuallly.
It started raining at 6am. I was in no rush to get up and as luck would have it the rain turned to drizzle around 9:30 when I was getting out of bed. Made oatmeal and packed up the shop. As I was putting the bags on the bike I noticed the back rack has snapped. Ahah so that's what that was. Yesterday I heard a sharp metal sound, I thought something had fallen off the bike so I stopped and scoured the ground but found nothing. It must have been the rack snapping. I slapped a cable tie on it and continued on.
Lots of climbing to start the day. The big descent I had been expecting after the last major climb never materialized. I'm on a high plain that varies from 1100 to 1500 meters altitude. Very strange weather day. It rained consistently all day, but never really that hard, and came at me horizontally from the west on 70 to 90 kph winds. To the east it was sunny all morning. I could see the weather system sitting on top of the mountains but it didn't get on top of me until about 8pm. Weird, with those strong winds I kept thinking it would arrive any minute. It's raining hard right now as I sit in the tent.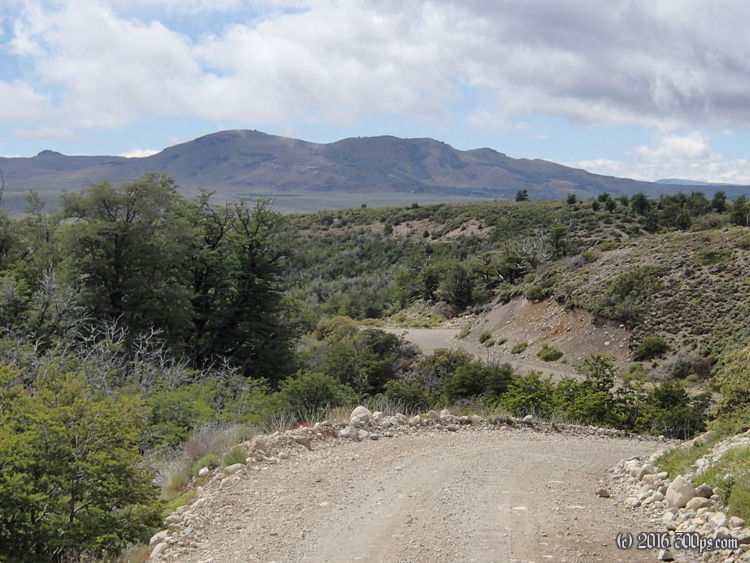 The road got progressively worse. It was softer due to the rain and had more loose sand and gravel in general. I took more air out of the tires and plodded along, between the sand and the wind gusts it brought me to halt at least 2 or 3 times per kilometer. I didn't see a car until 3:15pm, and total cars for the day were a whopping 3. Don't think I've ever had a day on the bike with so few cars. This is pretty remote country.
Lake Vintner is gorgeous but windy as hell. You can see Chile through the mountains that brace it. Unfortunately the panoramic function on my camera doesn't work that well in the wind, some of the photos came out way off.
Down the hill from a roadside shrine I saw a wind barrier and fire pit so I stopped for the day, exhausted. I ate almost a kilo of pasta with tomato sauce, garlic and onions. The cyclist appetite is back.