Somotillo, Nicaragua to Amatillo, Honduras: A country in a day
---
Statistics for today
| | | |
| --- | --- | --- |
| Distance | 145.51 kms | 90.72 miles |
| Climbed | 858 meters | 2,815 feet |
| Ride time (hours) | 7.60 | - |
| Avg speed | 19.1 kph | - |
| Avg climb | 2% | - |
| Max grade | 7% | - |
Statistics for trip to date
| | | |
| --- | --- | --- |
| Distance | 18,048.19 kms | 11,214.50 miles |
| Climbed | 204,749 meters | 671,749 feet |
| Ride time (hours) | 1,354.20 | - |
On this page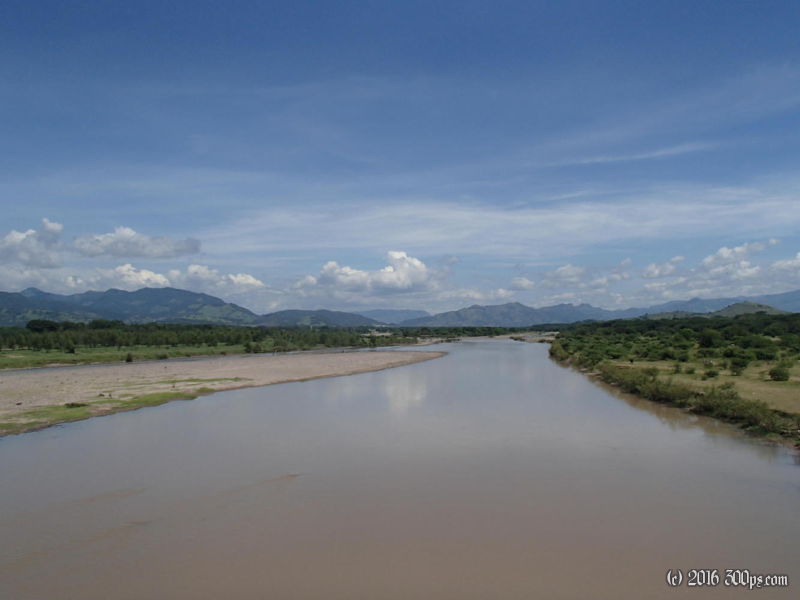 Thursday, November 7th, 2013
It was a 5 kilometer ride from Somotillo to the border where they charged me 2 dollars to get out of Nicaragua and 3 dollars to get into Honduras. I was able to pay for both in Nicaraguan córdobas, then I changed what I had left into Honduran lempiras with one of the money changers at the border.
On the Honduras side I ran into a bunch of people in the first 50 kilometer who were pretending to fix potholes in the road for tips. They really don't have the system down well - I could see them sitting in the shade well before they noticed me and jumped up to pretend to be working. I just blew past them, I would prefer that they just leave the road alone as the potholes serve to slow down traffic. It was another hot one, I just banged out the kilometers determined to get as far as I could. I wasn't sure if I could make the El Salvador border before sun set but in the end I made it with about 30 minutes to spare. I decided to leave the border crossing for the morning so I got a sleazy hotel about 200 meters from the immigration checkpoint. I went out for Chinese food later where I order Kumpao chicken for two. The waitress looked at me sceptically but I downed it all no problem. It took about 20 minutes of concerted chewing...
I crossed a whole country in a day! So much for tourism in Honduras...