Uyuni to 7 kms east of Tica Tica: Motorcyclists and mechanical problems
---
Map
Statistics for today
| | | |
| --- | --- | --- |
| Distance | 91.09 kms | 56.54 miles |
| Climbed | 1,118 meters | 3,668 feet |
| Ride time (hours) | 6.42 | - |
| Avg speed | 14.1 kph | - |
| Avg climb | 4% | - |
| Max grade | 11% | - |
Statistics for trip to date
| | | |
| --- | --- | --- |
| Distance | 8,564.30 kms | 5,321.42 miles |
| Climbed | 83,602 meters | 274,285 feet |
| Ride time (hours) | 654.99 | - |
On this page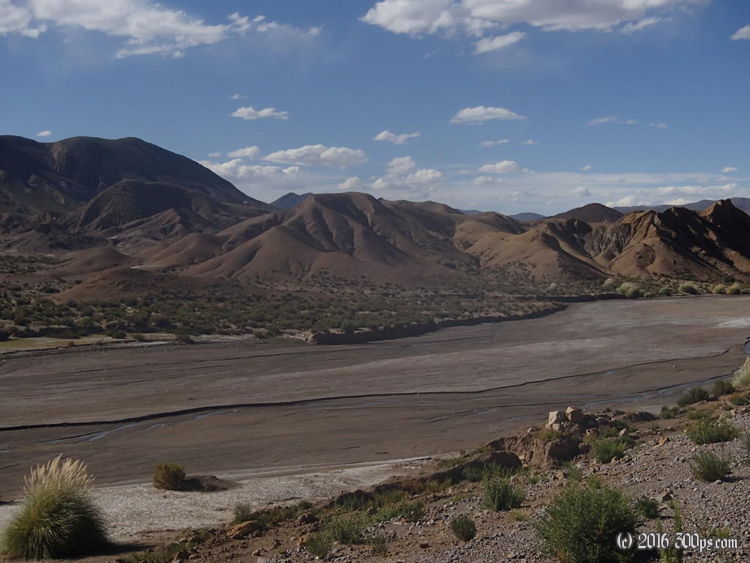 Friday, March 29th, 2013
I was up and about before dawn, another bad night´s sleep at high altitude. Nothing was open yet to get breakfast so I packed up all the gear and loaded the bike. I went for breakfast and when I got back the Argentine motorcyclists were up. We talked for half hour about the salar and different routes through Bolivia. When I turned in my key on the way out the woman at the desk said I had to pay for yesterday. I told her I had already paid yesterday morning, and she called out her mother who was the one I had given the money to. The mother said no no no, you didn´t pay, and we went back and forth like this for a few minutes before she finally said oh yeah, you did pay. The daughter apologized and I was off, on the road at 9am, pretty good for me when leaving a city.
On the way out of town I went by the gas station which had long lines in front of it. I´m not sure of the details but apparently gasoline supplies are an issue in Bolivia. Foreigners who travel here have difficulties because there is some limit that a gas station can sell to foreigners on a given day. Well...not an issue for me.
Leaving Uyuni on the road to Potosí involves a 500 meter climb right off the bat. The road is brand new, just opened last year, and it was a joy to ride on new pavement with a nice wide shoulder after having all that ripio and salt since Putre. I stopped at the mirador to take a last picture of the salar, then a couple showed up on a BMW; it turned out to be the Ecuadorians I had met the other night. They are headed to Argentina so I gave them the lowdown on the money situation. They asked about the US and how Salt Lake compares to the salars, I asked about traveling in Ecuador as I may get there eventually. The guy asked if I was a cyclist or a traveler... insightful question, I am definitely a traveler before cyclist. I told him that I used to travel by motorcycle, he wanted to know why I switched to cycling, I told him it was the effort. Traveling by motorcycle is too easy. I love it but it´s hard to imagine leaving the bicycle and going back to the motorcycle.
There were some more big climbs and long descents, then a long flat stretch. Around 2pm my front tire started hissing and went flat in the space of about 10 seconds. I ate lunch while changing it and was back on the road pretty quickly. I hadn´t had a flat since I left Arica so I wasn´t stressing it. About 10 kilometers later the rear derailleur stopped shifting. I played around with the cable but it was fine, it turned out to be the shift lever itself. Something has gone wrong with the way it is attached to the shifter housing but I couldn´t figure out exactly what. The lever is loose, preventing the teeth from engaging properly to turn the cable winch. I discovered that I could shift if I held the lever up against the bottom of the shifter housing while I push the lever with my right thumb. I took the cover off of the housing to be able to see where the teeth are. I´m going to leave it to Potosí before I work on it more.
The road wound through a river canyon with cool rock formations before I reached Tica Tica at 5pm. It´s a smallish town that has some stores and some options for staying the night. I was up for camping after two nights in the hotel so I continued on. Straight out of Tica Tica is a big climb back over 4,000 meters. I was hoping to get over it before I camped but I ran out of daylight (Bolivia is an hour ahead of Chile). There weren´t many options on this wind-swept mountain pass, no trees or shrubs for cover, and the road is cut right into steep slopes. I saw some stone houses that looked abandoned (no roofs) and decided to camp inside one of them to get out of the wind. It was a bitch to drag the bike over to it and get all the gear inside but getting out of the wind is crucial. I made dinner while waiting for complete darkness to raise the tent since the spot is not completely invisible from the road.