Salar de Surire to 6 kms north of Taipicollo: Vizcachas, vicuñas, ñandús, and washboard
---
Map
Statistics for today
| | | |
| --- | --- | --- |
| Distance | 56.99 kms | 35.42 miles |
| Climbed | 566 meters | 1,857 feet |
| Ride time (hours) | 6.08 | - |
| Avg speed | 9.3 kph | - |
| Avg climb | 2% | - |
| Max grade | 14% | - |
Statistics for trip to date
| | | |
| --- | --- | --- |
| Distance | 8,081.62 kms | 5,021.92 miles |
| Climbed | 81,456 meters | 267,244 feet |
| Ride time (hours) | 616.12 | - |
On this page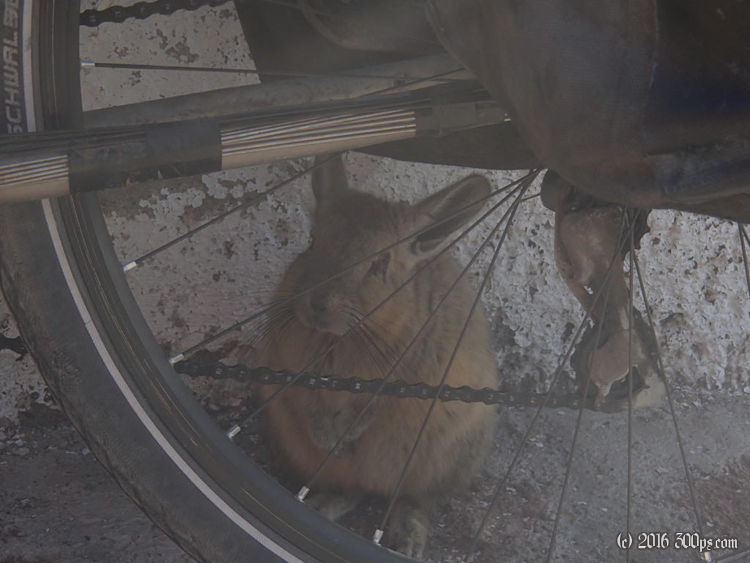 Saturday, March 23rd, 2013
I was warm all night in my sleeping bag covered with blankets even though the temperature in the unheated trailer was 2 degrees when I got up. When I went outside I could see Sebastian down the road with the tripod set up taking pictures of the salar at dawn, an impressive sight. Unfortunately my camera will not capture all its glory, but it was something to behold believe me.
After packing up I went to the main refugio to make breakfast. I had coffee with Sebastian and Elisa and talked about South America until the ranger showed up around 9am. It was good to have an extended conversation with other people, I don´t think I had really had a conversation with someone since Arica. I get a little loopy sometimes spending so much time alone so it was good to reconnect. The vizcachas (little rabbit-like rodents) were jumping around playing in front of the refugion. They are adorable creatures. One of them came right up to me, the ranger said that its mother disappeared when it was just a baby so he fed it which is why it´s so tame.
It was a cold morning as I followed the road along the southern edge of the salar. After 10 kilometers the road forks and I went up over the mountains towards Colchane. It was a long, slow climb on washboard and sand that topped out around 4,650 meters. Lots of vicuñas of course. I´ve seen so many in the last few days I´m wondering if they have a population problem up here. I saw some ñandús as well but couldn´t get any decent pictures. They are very skittish and therefore tough to photograph, the best shot I have of one is from back near Villa Union, Argentina.
The headwinds fired up right on cue at 1pm. The winds plus the thick sand and washboard made for a slow afternoon skirting the edges of a few salars with the occasional ghost town breaking up the monotony. I had only seen one car all day long (it was the German couple leaving the refugio) until 4pm when a couple of big trucks came from the other direction within 15 minutes of each other. I had to get off the road both times because there wasn´t enough room for both of us.
Around 5 the road descended into a river canyon and I decided to look for a place to camp. It was still early but these long ripio days over 4,000 meters wear me out. I found a spot after a few kilometers that is exposed to the road but since there is hardly a soul out here, what the hell. I can see some alpacas grazing along the river downstream and some vizcachas playing on the rocks, a very serene and beautiful place.