7 kms north of Parador to Cataviña:
---
Statistics for today
| | | |
| --- | --- | --- |
| Distance | 101.75 kms | 63.38 miles |
| Climbed | 1,018 meters | 3,340 feet |
| Ride time (hours) | 8.02 | - |
| Avg speed | 12.6 kph | - |
| Avg climb | 2% | - |
| Max grade | 10% | - |
Statistics for trip to date
| | | |
| --- | --- | --- |
| Distance | 23,327.07 kms | 14,494.72 miles |
| Climbed | 249,001 meters | 816,932 feet |
| Ride time (hours) | 1,669.40 | - |
On this page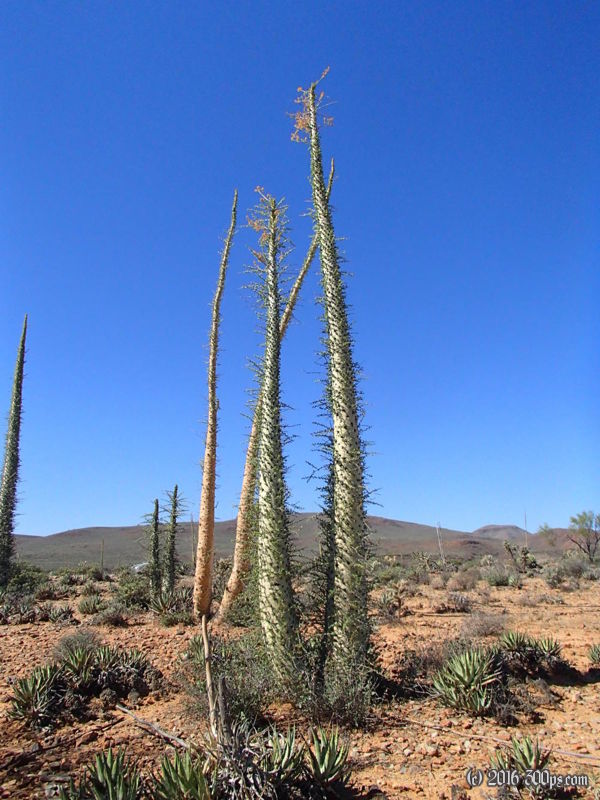 Sunday, March 16th, 2014
No need for an alarm clock animal today, the wind took care of that. Around 3am the tent starts jumping around like I'm in the Blair Witch Project. With all the racket and movement there isn't much hope for deep sleep, I just doze on and off until 6am when the sun is coming up.
The back tire is flat again. Same routine as yesterday, I pack up everything and wheel back to the road before fixing the tire. The wind is doing a great impression of Patagonia; I'm guessing it's at 70 kph with gusts to 90. I ride the first 10 kilometers to get out of this valley at 6 kph. I have to violently wrench the handlebars to the right to keep the gusts from blowing me into the middle of the road. Fortunately traffic is light, but when something does pass me I just stop instead of taking my chances that a gust won't send me flying into the grill of a truck or camper van.
Things get better once I get out of the valley where I camped. There are some mountains to the northeast that temper the wind, plus the road swings a bit to the east which occasionally gets the wind to 4 o'clock instead of 1 o'clock when I'm heading due north. There is a fair amount of climbing as the road snakes through the mountains, with long flat stretches as I cross valleys. The valleys are where the wind is brutal. After 45k of this I come upon a dusty roadside canteen that seems straight out of an old Mexican movie. I have coffee and something cold to drink while I listen to the truckers tell tall tales. The rest of the day is about fighting the wind and sun. I cut it too close on the water situation – I'm rationing by 1pm – not an enjoyable thing to be doing in the desert. I will be paying for my indiscretion with chapped lips. I see lots of campers with US plates heading north. Perhaps the spring migration of the snowbirds back to the States. Lots of motorcycles again as well.
My destination is Cataviña, I've been bush camping for 4 days now and I badly need a shower and a shave. The town finally materializes not a moment too soon – I'm hungry, thirsty, and completely out of gas. I get a motel then go to one of the aborrotes to cobble together supplies for dinner and food for tomorrow. I buy their last tomato that's not rotten… When I come out a gang of motorcyclist from Nevada is out front. I speak to one of them and he tells me that they are going down to San Ignacio to go on a whale-watch tour. They are staying at the more upscale hotel down the street. My motel has electricity from a generator between 5:30 and 11, after they start it up it bogs down and the girl working the desk runs around to all the rooms telling people to unplug stuff.
An early night for me, I'm exhausted.