Abandoned homestead to 10k north of Valladolid: To build a fire and other stories
---
Map
Statistics for today
| | | |
| --- | --- | --- |
| Distance | 42.34 kms | 26.10 miles |
| Climbed | 1,557 meters | 5,108 feet |
| Ride time (hours) | 6.71 | - |
| Avg speed | 6.3 kph | - |
| Avg climb | 5% | - |
| Max grade | 16% | - |
Statistics for trip to date
| | | |
| --- | --- | --- |
| Distance | 11,606.46 kms | 7,211.63 miles |
| Climbed | 129,519 meters | 424,931 feet |
| Ride time (hours) | 926.07 | - |
On this page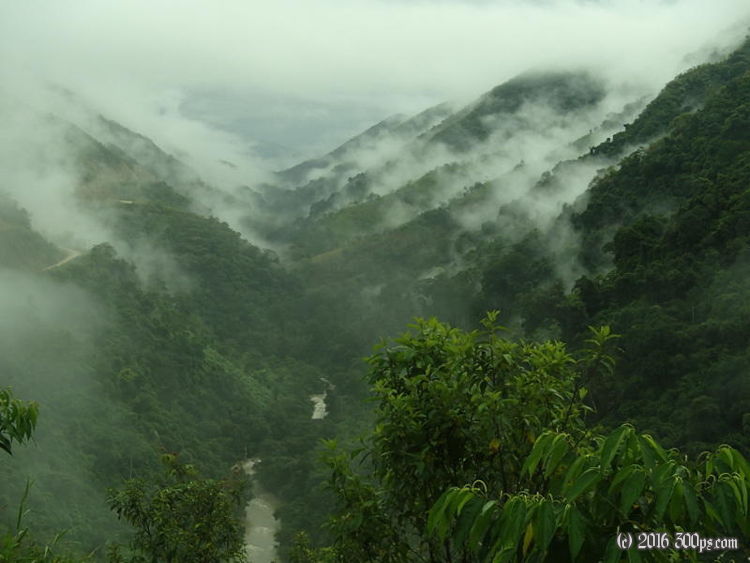 Friday, June 7th, 2013
It was still pouring rain when I got up in the morning. I broke down the campsite while trying to keep things at least partially dry - a losing battle. It was rain and mud all day long... I stopped in Palanda for breakfast and to do some shopping. A guy who had worked on the harvests in France and Spain came over and talked for a while. A small crowd formed around us while we talked about Europe. Everyone had lots of questions about how much things cost.
The rain got really heavy after Palanda, I was completely soaked in short order. There were a number of river crossings that added to the wetness and misery... they are working on this section of the road but haven't installed culverts in most places. I reached the town of Valladolid in the afternoon and considered staying there but it's an ugly little pueblo (a sign proclaimed it is the "ciudad encantada" or enchanted city... but it looked more like a dump to me). I continued on up a huge climb with the road a complete mess due to mudslides. There were excavators out trying to put a pretty face on it but with limited success. I struggled up the 15 percent grades on loose rock and mud for as long as I thought reasonable, then I quit at 4:30 because at the higher elevation (2,500 meters) it was getting colder and I needed to set up the tent before the combination of wetness and cold became dangerous.
When I had everything set up and was ready to make dinner I discovered that my matches were wet. I thought I had a spare lighter somewhere but I looked through all my gear and couldn't find it. I had a moment of desperation... then I remembered that I was carrying one of those pocket-rocket gas nozzles that has its own igniter. I held the igniter up to my stove but it wouldn't light. Then I poured some white gas directly onto the nozzle of the pocket-rocket and the igniter set the nozzle on fire which I then stuck under my stove to light it. Phew! That would have really sucked to go hungry on an already wet, cold, and miserable evening.