5kms south of Chunchi to 5 kms south of Palmiri: Big climb
---
Statistics for today
| | | |
| --- | --- | --- |
| Distance | 62.85 kms | 39.15 miles |
| Climbed | 1,749 meters | 5,738 feet |
| Ride time (hours) | 6.55 | - |
| Avg speed | 9.5 kph | - |
| Avg climb | 5% | - |
| Max grade | 15% | - |
Statistics for trip to date
| | | |
| --- | --- | --- |
| Distance | 12,108.20 kms | 7,523.56 miles |
| Climbed | 140,746 meters | 461,765 feet |
| Ride time (hours) | 972.85 | - |
On this page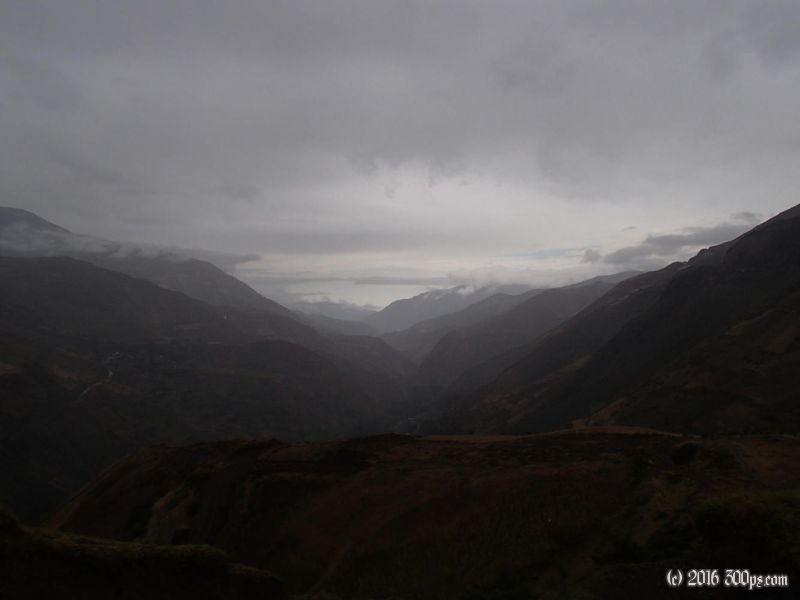 Wednesday, July 3rd, 2013
The new tent held its own with the rain overnight but I'm not sure how it would do in really heavy downpours. I was up at 6:30 and on the road an hour later. It was downhill to start, I love it when the day begins with a descent. It was a short ride into Chunchi where I had what they call a continental breakfast here: two eggs however you want them, bread, coffee with milk, and a glass of fresh fruit juice. Today the juice was strawberry, delicious. The day started out nice and sunny. Around noon it started to cloud up and I could see the rain was coming. I met Adrian from Switzerland coming the other way, he started riding in Quito and is headed as far south as time and money will allow. I recognized him from Phil's blog, they ran into each other about a week ago. He is having some problems with his bottom bracket so I gave him my card so that he can find that bike shop that helped me out in Cuenca.
Soon after I left Adrian the rain started and would stay with me for the rest of the afternoon. I stopped for lunch in Ahuasí, then began a monster climb that lasted pretty much for the rest of the day. Over 2,700 meters the road was completely fogged in. The good news with the fog was that I couldn't see all the climbing I had in front of me, I passed the time listening for the trucks to upshift which would mean the road was flattening out (it didn't happen). I felt pretty good despite all of the climbing (over 1700 meters of it today) but I was missing my 34-tooth gear due to the long stretches of 10 to 13 percent grades. This new cassette I have is an 11-32, it wasn't too bad because the road is all asphalt but if I get back on the ripio with grades like that I am going to suffer. The VDO was behaving itself today, it turned out the problem was that the magnet on the wheel was slipping. It's one of those clip-on affairs and if it doesn't stay in a narrow band with the sensor on the fork then it starts flipping out.
Around 5 I found a good place to camp off the road. I have found that the best places to camp on these cliff roads are places where they have cut the road through a hill and left a decent sized section of land on the downhill side before the cliff drops off. They are no-man's land because they are not big enough to do anything with but have tree cover and usually some flat areas to set up the tent. I made a big dinner and retired to the tent to get warm, up over 3,000 meters it's a bit chilly.