6 kms north of Taipicollo to the northeast corner of Salar de Coipasa, Bolivia: A dip in a hot spring then Bolivia
---
Map
Statistics for today
| | | |
| --- | --- | --- |
| Distance | 97.24 kms | 60.27 miles |
| Climbed | 630 meters | 2,067 feet |
| Ride time (hours) | 6.95 | - |
| Avg speed | 13.9 kph | - |
| Avg climb | 3% | - |
| Max grade | 17% | - |
Statistics for trip to date
| | | |
| --- | --- | --- |
| Distance | 8,178.86 kms | 5,082.19 miles |
| Climbed | 82,086 meters | 269,311 feet |
| Ride time (hours) | 623.07 | - |
On this page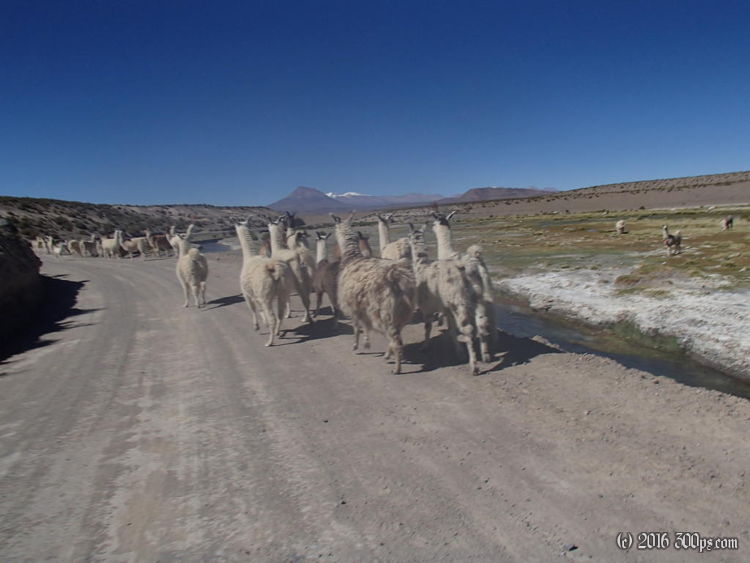 Sunday, March 24th, 2013
Another chilly morning. I was almost out of food that didn´t need to be cooked so I made instant mashed potatoes to start the day. It was a struggle to get the bike back up to the road but I was on my way as the sun was coming up. There was some climbing to start, on bad washboard and sand, but the rest of the way to Colchane was mostly downhill. I saw a bunch of ñandús on this stretch but couldn´t get a good photo. I went through a few villages that looked mostly abandoned until Enquelga which seemed to have some life to it. Shortly after the town there was a really nice hot spring complete with picnic area and changing rooms so I took a dip. Just as I was getting in a bunch of teenage girls from the village showed up so from then on it was a giggle fest. The water was nice and warm which made for a great bath, there was just a few painful minutes of getting out into the cold wind and drying off. I said my goodbyes to the teenagers and was back on the road.
A dozen kilometers later I got on the paved highway to Colchane. In Colchane a carabinero flagged me down and we talked for 15 minutes. He is from the lakes region in southern Chile and I got the sense that he really doesn´t want to be here. He said there is lots of drug smuggling and other nefarious activities going on along the Bolivian border. He directed me to a small shop where I spent the last of my Chilean pesos on Coke, cookies, and a can of tuna. Then it was off to the border station where I got my exit stamp from Chile and bought my Bolivian visa for 135 dollars, good for 5 years with 90 days of stay per year. The Bolivian border guards were cool and very apologetic for the visa fee. Such is life travelling as an American these days, many countries have a revenge fee for what the U.S. charges them to get a visa. I gave them a photograph, the filled out visa form that I got from the Bolivian consulate in Arica, a photocopy of my passport and credit card, and a letter stating that I was travelling by bicycle and therefore could not supply copies of travel tickets into and out of the country.
When that was done I headed into Pisiga, a dusty and dirty border town that reminds me of Mexican border towns. There were tons of trucks waiting to get into Chile and lots of sketchy people walking around. I asked for water at the police station and did not get the usual warm reception I had from the police in Chile and Argentina so I went off looking for another source. I found some vegetable stands where I bought peppers and tomatoes; the wizened old woman working the stand told me where there was a faucet so I filled up there.
I headed east on the highway to Sabaya. There is a good climb up over 4,000 meters then a long descent into Sabaya. I passed a road sign that said Salar de Coipasa a few kilometers before the town so I decided to come back and take a ride down it after getting more supplies in Sabaya (it was quite cheap, way cheaper than Chile). The sand and ripio road out to the salar was a bit rough but not rough enough to break the eggs bought. I continued until about 6 then cooked dinner in a stone enclosure for llamas to get some relief from the wind. I didn´t set up the tent until dark because there are a fair number of trucks on this road, I suppose they are ferrying salt out of the salar.
I saw a motorcycle head off south on the salt, not the road, which gave me some encouragement for tomorrow. I´m still debating about whether to try to cross the salar, since I´m not carrying a GPS it could be a bit dodgy. I´m mostly worried about the water situation if I run into areas that can´t be crossed by bike and get bogged down.