Ruta 40 km 2086 to Lago Villarino: On to 7 lagos
---
Statistics for today
| | | |
| --- | --- | --- |
| Distance | 92.00 kms | 57.17 miles |
| Climbed | 1,341 meters | 4,400 feet |
| Ride time (hours) | 7.40 | - |
| Avg speed | 12.4 kph | - |
| Avg climb | 3% | - |
| Max grade | 13% | - |
Statistics for trip to date
| | | |
| --- | --- | --- |
| Distance | 1,635.00 kms | 1,015.94 miles |
| Climbed | 18,037 meters | 59,177 feet |
| Ride time (hours) | 137.60 | - |
On this page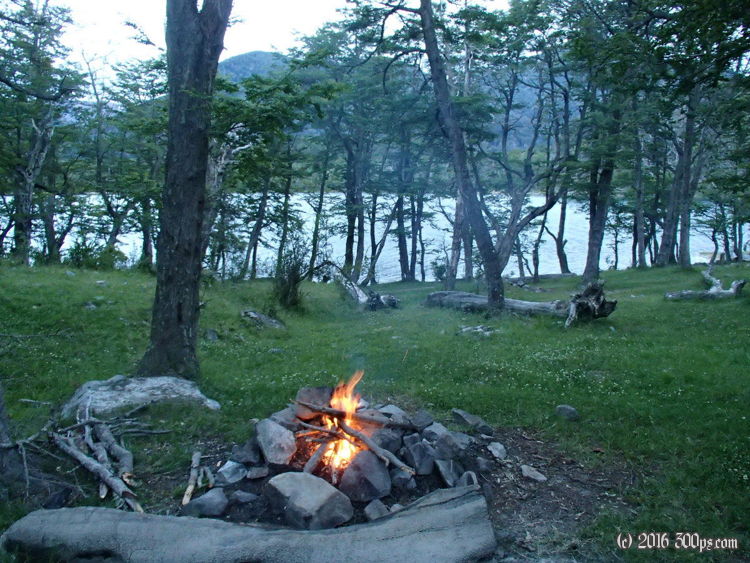 Sunday, December 30th, 2012
Nice and sunny this morning. I took my time getting ready and wasn't on the road until 10:30. A couple of kilometers after the campsite I passed the Argentine cyclist who was by the side of the road pulling stuff out of his bags. I asked if he was ok and he said yes; he was lightening his load. He said he was headed to Lago Falkner, that someone had recommended the campsite there, and that he would catch up with me later. I never did see him again and I'm at the campsite that was probably recommended to him so I guess he didn't make it.
I banged out the 30 kilometers into Villa La Angostura going against strong headwinds. It actually felt warm for the first time in weeks so I went without a jacket. The town of Villa La Angostura is oozing with money. All of the buildings are made of hand cut (or at least hand cut looking) wood and there are tons of trendy shops. I stopped to get something to eat and decided on a pizza. The waitress tried to talk me out of it, saying their pizzas were too big for one person, but I explained that was exactly what I wanted: a pizza too big for one. I had no trouble finishing it. I talked to a Brazilian motorcyclist for a few minutes. He said it was still raining in Chile and that he was headed to Buenos Aires to get some summer.
I was all set for supplies so I continued on my way. There was a bike path at the edge of town but it fizzled out after only a kilometer. The rest of the day was all roller-coaster riding. The 7 lakes route starts about 10 kms after the town. The first 20 or so kms are paved then it was back to shitty Argentine ripio... in all its washboard glory. I had wanted to bang out some kilometers today but the ripio changed that plan. The route was as nice as promised as far as scenery goes, winding up and over hills, along lakes, and through river canyons. Around 4:30 it started raining. At first it was good because it wasn't raining enough to get wet but it was enough to kill the dust the cars had been kicking up from the ripio. About an hour later it was raining pretty hard so I stopped to put on the rain gear. I hadn't really organized my clothes yet from the lavanderia so I had to dig through everything. At 6:30 it stopped raining; or more precisely I went over a pass into an area where it wasn't raining and looked completely dry. I passed a campground that I didn't like the looks of and decided to keep going to Lago Falkner even though it was getting late.
When I did drop down into the valley with Lago Villarino/Lago Falkner (at the start of the valley the road turns back to pavement), I was psyched to find a free campground. It was windy and at first it looked like I would have to camp in an exposed area but I looked around more and found campsites completely isolated in the woods. Another great site; I love this free campsite system they have in the Argentine national parks.
It took a while to find enough wood for a fire but I got it going just before dark. It's a lot more work to have a fire but definitely worth it. I made dinner and finished all my chores just before the rain chased me into the tent.
My map says I've been on route 231 since I took the turnoff for Villa La Angostura from Bariloche, but all the signs on this road say Ruta 40. Must be an error on the map, or maybe this stretch shares both designations. As I look at the stats for the day all that roller-coaster riding turned into a lot of meters climbed.