15 kms north of Pilolil to Río Litrán: Into a rhythm
---
Statistics for today
| | | |
| --- | --- | --- |
| Distance | 91.00 kms | 56.54 miles |
| Climbed | 985 meters | 3,232 feet |
| Ride time (hours) | 7.27 | - |
| Avg speed | 12.4 kph | - |
| Avg climb | 2% | - |
| Max grade | 14% | - |
Statistics for trip to date
| | | |
| --- | --- | --- |
| Distance | 1,905.00 kms | 1,183.71 miles |
| Climbed | 20,758 meters | 68,104 feet |
| Ride time (hours) | 157.36 | - |
On this page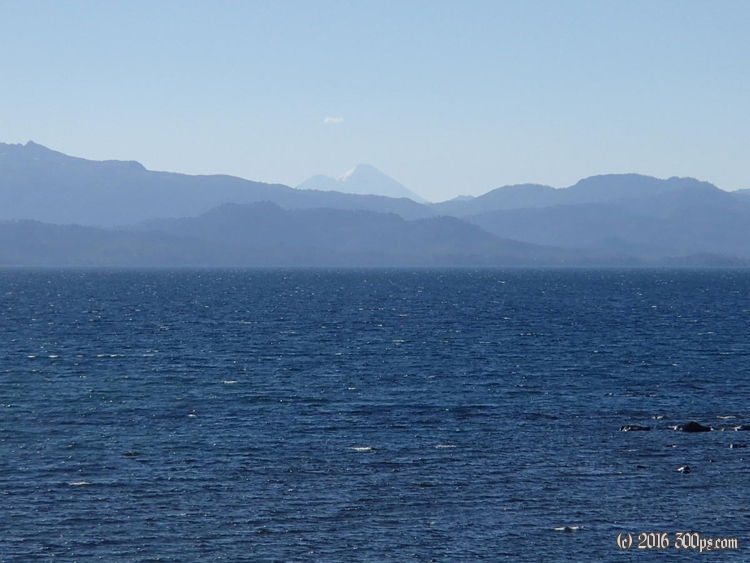 Wednesday, January 2nd, 2013
The stars were amazing last night; I stared at them until my neck hurt. The combination of moonless night, highish altitude, dry weather, and no cities anywhere near make for a great show. I had briefly toyed with the idea of not setting up the tent but I'm glad I discarded the idea, early in the morning it got quite cold.
It took some work to get the bike and the gear back up to the road. I was all dusty when I was done and that would be a theme for the day. About 15 kms of washboard ripio (or machine gun ripio of you have panniers) later the pavement started again. It was another 18 kilometers into Aluminé which felt very fast after the ripio. In town I went to the supermarket to pick up a few things. It's hard to find vegetables here. The supermarket had nothing, and the verdulería (vegetable/fruit) store down the street hardly had anything either. I'm eating a lot of eggplant because broccoli and mushrooms are rare. I can usually get bell peppers but not today. It's ironic that I'm eating almost exclusively vegetarian in the meat-eating center of the universe. In this weather meat eating is almost impossible anyways. With the heat and the sun vegetables last for 1-2 days in the panniers at most, fruit for a half-day. I'm feeling good physically though so my diet must be working for me.
I went around looking for a WiFi connection, they have free public WiFi in the town but the connection was too slow to upload pictures. I went to the tourist office to ask and they recommended going to the gas station, where I had been earlier to get a coffee. I went there and was able to update the blog. The kid working the cash register is mathematically challenged. The first time I went in he gave me change for a 50 when I had given him a 100, and the second time he tried to charge me 45 pesos for a coffee and croissants. Nothing devious going on, he was just clueless with numbers and knew it. We joked about it and about how tomorrow it just might cost 45 pesos with the way inflation is going in Argentina.
Finally all the errands done and I was back on the road for 25 kms of pavement before it switched back to ripio. It always seems that pavement to ripio changes are accompanied by climbs. There were strong headwinds and deep gravel and sand for the rest of the day. I wore the bandana as a mask the whole time to keep the dust consumption down as much as I could. When a car passed it was a white-out.
At some point the road switched to being covered with thick black sand. I was wondering what was up with this until I reached Lago Aluminé and saw the volcano off in the distance. This sand is volcanic ash. This can't be good for the bicycle, I would imagine that volcanic ash is as abrasive as it gets. I struggled on through the thick ash, turning northeast at the junction with 23. I was debating on whether to go into Chile from here, it's only 15 kilometers, but I'm carrying about 10 dollars worth of Chilean pesos and I didn't research if there was a bank on the other side. I had met a bunch of cyclists coming from Travelín into Chile who had this problem, apparently there is no ATM from the border all the way to near Coyhaique. I'm enjoying this part of Argentina anyways so I'll continue on, even though I think I'm in for a long stretch of pampa.
It was getting late so I only did another 10 kms up the Río Litrán, when I saw a flat section down by the river that had un-wired fence posts I decided to call it a day. It was a scramble to get everything set up and dinner made before nightfall, I ended up washing the dishes in the dark. I ate myself silly and then started working on the cookies.