Junín de los Andes to 15 kms north of Pilolil: Hot at last, Happy New Year!
---
Statistics for today
| | | |
| --- | --- | --- |
| Distance | 81.00 kms | 50.33 miles |
| Climbed | 926 meters | 3,038 feet |
| Ride time (hours) | 6.52 | - |
| Avg speed | 12.3 kph | - |
| Avg climb | 3% | - |
| Max grade | 12% | - |
Statistics for trip to date
| | | |
| --- | --- | --- |
| Distance | 1,814.00 kms | 1,127.17 miles |
| Climbed | 19,773 meters | 64,872 feet |
| Ride time (hours) | 150.09 | - |
On this page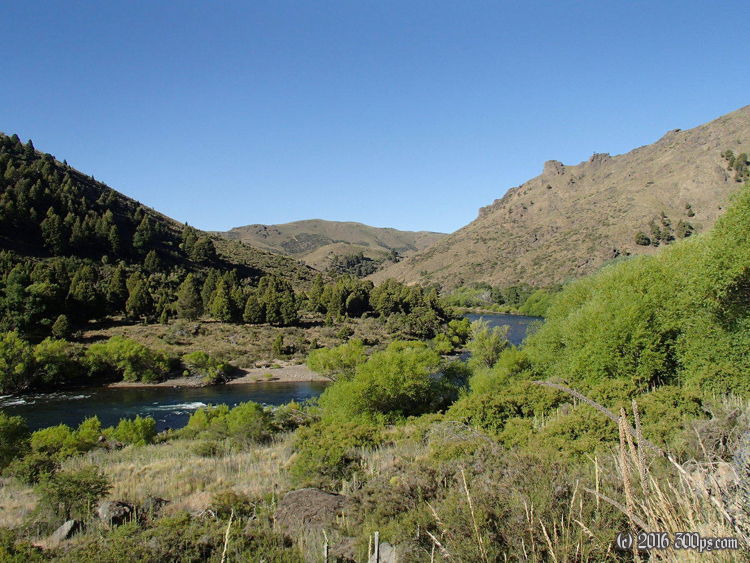 Tuesday, January 1st, 2013
It took me forever to get out of Junín. I packed up and went looking for a coffee but nothing was open except for a gas station and their coffee machine wasn't working. Finally I gave up and headed out of town... at the edge of which was a Petrobras gas station with a café and wifi. Well there goes the morning! I spent some time trying to update the blog in spite of a problem I couldn't figure out. I write these entries as emails when I'm on the road, then when I get on the internet I send them. Today I created a new chapter (Bariloche to Santiago), but instead of creating new pages at the end of this new chapter my emails were getting appended directly into the blank page I created for the chapter. Not sure what I'm doing wrong, I'll try to straighten it out the next time I get on the web.
I was finally on the road around 11:30. It was a warm, sunny day but not hot because of the winds coming from the North. I headed up the road towards Aluminé, which turns to ripio at Río Malleo. About 5 kilometers before the ripio a guy pulled over to talk. His name is Nelson from Entre Ríos. He also does tours on bicycles so we talked for a good half hour. He is driving down to the Perito Moreno glaciar with the bike in the back of his minivan. Afterwards I realized that I really needed an extended conversation with someone; I was getting loopy from lack of human contact.
With the ripio came an immediate long climb up about 400 meters to a big mesa. The surface wasn't so bad by Argentine standards and there was no one on this road so I put on the mp3 player and just cranked out the revolutions one at a time. The mesa is up over a thousand meters, after about 15 kilometers there is a big descent down to the Río Aluminé river canyon. It got downright hot as soon as I hit the bottom of the descent. It felt great to be in shorts and shirtsleeves. The road winds along the river through the canyon, the surface got worse but the scenery was awesome. After another 15 kms I came to a house that was selling soft drinks so I stopped to buy one. The owner asked me about my trip then told me about a group that came through on horseback last week headed for 7 Lagos. They were an Australian woman, a British guy, and a woman from California with 3 horses and a pack mule. We talked for a while about the logistics of such a trip. I would think you would have to pick the route carefully to be able to get food for the horses and to avoid traffic. I'm not sure how they did the long paved stretch from Junín to Lago Falkner. I asked the guy if it was ok to camp on the river and he said yes, but that I would have trouble finding a place that wasn't fenced off. He was right. I road for a good half hour before I found a break in the fence and found a great site right down next to the river. It was some work to get the bike and the gear down to the edge but the spot is definitely worth it.
I jumped in the river for a bath (freezing of course), and dried off naked in the still hot sun. A good day all in all.