Ruta 40 km 2490 to Chos Malal: pampaeando
---
Statistics for today
| | | |
| --- | --- | --- |
| Distance | 133.00 kms | 82.64 miles |
| Climbed | 1,201 meters | 3,940 feet |
| Ride time (hours) | 9.20 | - |
| Avg speed | 14.3 kph | - |
| Avg climb | 2% | - |
| Max grade | 9% | - |
Statistics for trip to date
| | | |
| --- | --- | --- |
| Distance | 2,159.00 kms | 1,341.54 miles |
| Climbed | 22,969 meters | 75,358 feet |
| Ride time (hours) | 173.37 | - |
On this page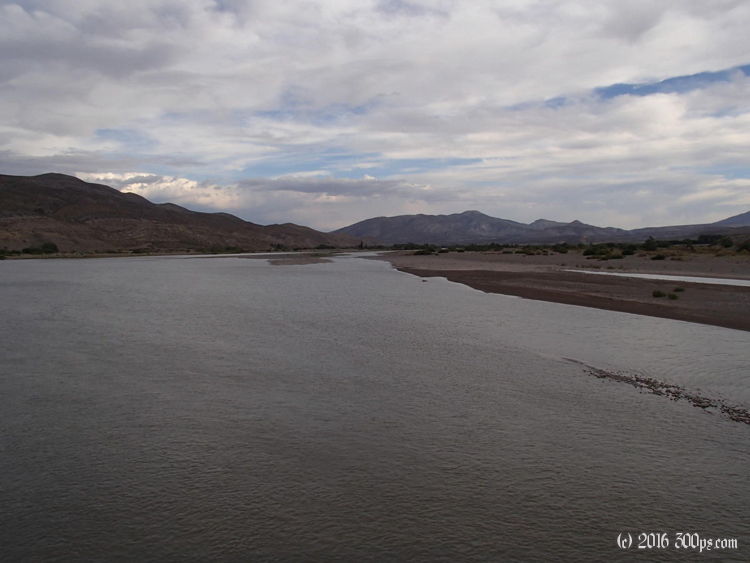 Friday, January 4th, 2013
I got going early to try and beat the wind. It was hot already by 8 am. There were some ups and downs until the road crossed Río Salado, then a low-grade 30 kilometer climb that brought me from 650 meters up to 1,150 at the ridge just past Chorriaca. I made the 6 kilometer detour on ripio to Chorriaca, a small Mapuche community, to get water; there was nothing else around. I filled up at the police station and the cop directed me to a house that had a few things for sale. I picked up a bottle of Fanta and headed back onto Ruta 40.
At the end of the descent into the next valley a couple of guys in a tow truck stopped and offered me a cold bottle of Fanta. They were coming up from the south and said they had seen another cyclist about 100 kms back who was ridiculously loaded down. It might have been the guy that Richard told me about (Richard was the South African who was walking up from Ushuaia), I can't remember his name or where he was from but Richard said he was so heavily loaded because he was carrying his tattoo equipment to make money while he was traveling. It would make sense that it was him if he had continued on Ruta 40 up from Bariloche.
The headwinds got progressively stronger as the day went on. There was another climb up to 1,150 meters near Naunauco. When I got over the top the wind really got crazy. I had to pedal down 4 percent grades to keep moving on the descent. At the bottom I stopped for a break and was thinking that the plants are getting more and more desert-like: with lots of weapons. I had better be more careful when I get off the road, I said to myself, and sure enough about a kilometer later I realized I had a flat on the back wheel. It was already 8pm and I totally didn't want to deal with it but I had no choice, changed it in about 15 minutes in front of a Guacho Gil shrine and was back on the road inching towards Chos Malal against the wind.
At the entrance to all of these Argentine cities there have been police checkpoints. Chos Malal was the first place where the checkpoints were actually manned and they were stopping people. The cop talked to me for a few minutes, asked me about my trip, then directed me to the municipal campground. I arrived, paid my 20 pesos (cheapest campsite yet that wasn't free), and headed straight for the showers. I hadn't had a real shower since Bariloche 7 days ago.
On the way out of the shower I started talking to a Canadian guy about my trip. He invited me over to his campsite where his travel companions, a Dutch couple living in Canada, were eating. They fed me rice, chicken and peanut butter... it was delicious. I was thrilled not to have to cook. We talked travel and bicycles, the Dutch couple own a bike shop in Ontario and the woman has done the Race Across America. They bought a Land Rover here a few years ago and come down every winter to travel for a couple of months. They leave the Land Rover in San Martín de los Andes for the rest of the year. It's an impressive machine, it looks like a tank.
They changed some dollars into Chilean pesos for me as well which changed my mind about my route: instead of heading north from here I'm going to head west and cross into Chile at the Paso de Pichachén. The guys in the tow truck had recommended this route as well so I might as well do it and avoid a couple hundred kilometers of pampa.