Incline Village to near Stampede Reservoir: Tahoe National Forest
---
Map
Statistics for today
| | | |
| --- | --- | --- |
| Distance | 66.87 kms | 41.63 miles |
| Climbed | 842 meters | 2,762 feet |
| Ride time (hours) | 4.83 | - |
| Avg speed | 8.5 kph | - |
| Avg climb | 4% | - |
| Max grade | 13% | - |
Statistics for trip to date
| | | |
| --- | --- | --- |
| Distance | 28,803.58 kms | 17,897.97 miles |
| Climbed | 302,931 meters | 993,868 feet |
| Ride time (hours) | 2,037.79 | - |
On this page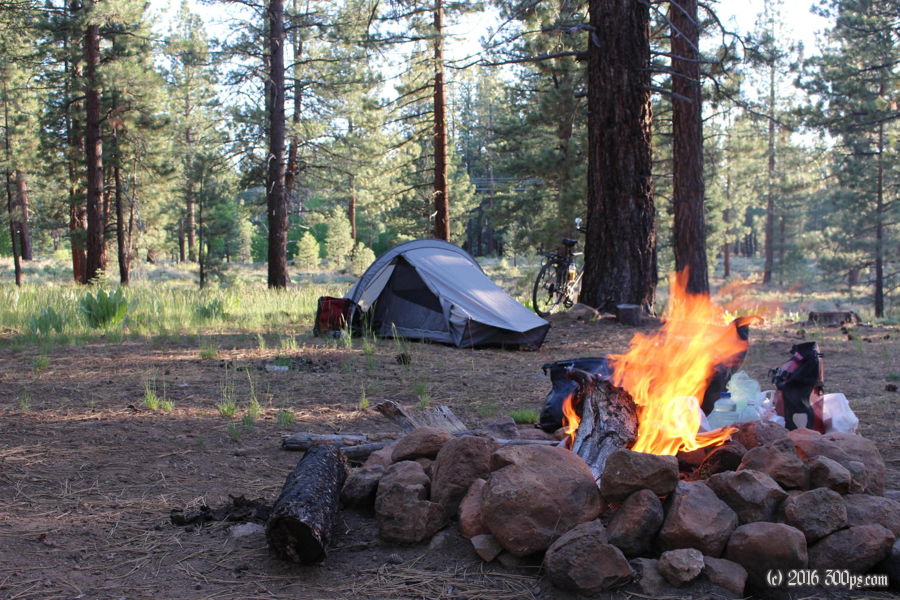 Saturday, May 31st, 2014
I get out of bed at 7:30 to say goodbye to Shiva who has a taxi coming to take him to Reno (that can't be cheap) for his flight back to India. I pack up quickly, the back tire is very low on pressure, a neighbor sees me struggling to inflate the tire and lends me his floor pump. In Incline Village I find a bike shop that's already open. They agree to take a look at the headset, after the mechanic (from Maine) checks it out he replaces the top nut. The threading on the fork doesn't look stripped but he says it feels dodgy when he tightens down the new nut. If the fork strips that will be the end of Noname's touring days, I don't think it's worth it to start replacing those kind of parts. He doesn't charge me anything, very cool.
I make my way down to the next town to get some breakfast ("green eggs and ham", scrambled eggs with pesto) and get to talking with a woman from Carmel who insists that I need to ride down the coast. I would love to but it's a bit out of my way.... There is a pretty big climb out of town towards Truckee. Lots of cyclists out. In Truckee I find another bike shop to buy a new pump (my Topeak Road Morph has been with me since before the start of this trip, it served valiantly but she's all worn out). Next is a run to stock up on food. Everywhere I turn I run into people who ask me what I'm doing. I end up going for a coffee with a guy who has ridden from here down to L.A. via the coast, like the woman I met earlier he tries to sell me on doing the same.
Finally I get going out of town. Another stop at a ranger station to ask a few questions, I end up leaving with a fire permit. First one of the trip! Unfortunately the Tahoe National Forest goes into no campfire mode tonight at midnight. Well at least I have tonight.
Not much farther I turn off onto the dirt roads of the National Forest. It feels great to be back on the dirt, with the bike well enough to handle it, I've made my escape from the asphalt and the traffic. Nothing but the sound of the tires on the dirt and the roar of the wind through the tall pine trees. I stop by a campground to see what's up: 26 dollars for an individual campsite! No thank you. I keep going past Stampede Reservoir until I am out of the "restricted zone" that doesn't allow bush camping or fires, climb up a dirt road onto a hill, and set up camp in a clearing that already has a fire ring. I don't need to cook tonight because I made enough for two dinners last night. I just warm it up on the fire before relaxing with an episode of Game of Thrones. Another first for the trip: I do a bear hang just in case.