Huautla to Ejido San Juan Tilapa: Wet and cold to hot and dry
---
Statistics for today
| | | |
| --- | --- | --- |
| Distance | 73.12 kms | 45.36 miles |
| Climbed | 1,512 meters | 4,961 feet |
| Ride time (hours) | 5.42 | - |
| Avg speed | 13.4 kph | - |
| Avg climb | 4% | - |
| Max grade | 12% | - |
Statistics for trip to date
| | | |
| --- | --- | --- |
| Distance | 20,595.93 kms | 12,797.76 miles |
| Climbed | 229,371 meters | 752,530 feet |
| Ride time (hours) | 1,503.77 | - |
On this page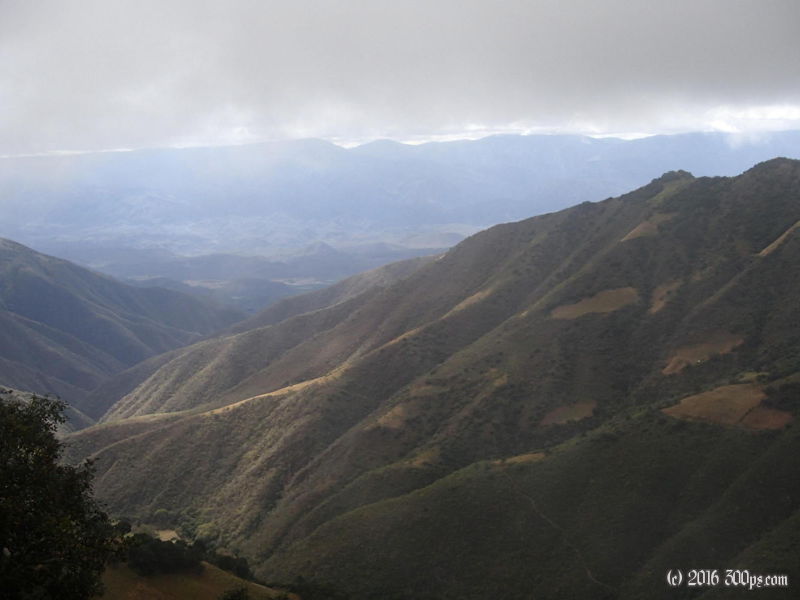 Thursday, December 12th, 2013
Someone set off fireworks at 6:30 am. It didn't get me out of bed though. I finally hit the road at 9.
A cold morning at this higher altitude. Light rain as well. The ride started with a 500 meter descent then a seemingly interminable climb in the cold rain. A guy who came walking down in the other direction implored me not to tell anyone that I had seen him. Okay…no one ever asked. I wasn't expecting to go this high but the road just kept going up, 1500 meters, 1700, 2000, by the time I hit 2,200 I was getting seriously cranky. Then I got a flat… a pinch flat, I figured this might happen because this tube is too big. I can't remember where I got it. Most likely somewhere in Central America where I couldn't find 700c stuff. I changed it as fast as I could while shivering in the rain. Then the good news: a big downhill from 2,200 meters to 900. With the lower altitude came dramatically warmer temperatures and no rain. Sun even.
The first town I came to, Teotitlán, didn't look too interesting so I kept going. About 10k later I saw a sign for an ejido (public land), it looked deserted so I poked around and found a nice place to camp. On this side of the mountains it's a desert landscape with lots of cactus and scrub brush. Made a spartan dinner and was in the tent early.