Ejido San Juan Tilapa to Tlacotapec de Benito Juárez: I thought this valley was going to be flat...
---
Statistics for today
| | | |
| --- | --- | --- |
| Distance | 103.33 kms | 64.00 miles |
| Climbed | 1,383 meters | 4,537 feet |
| Ride time (hours) | 6.70 | - |
| Avg speed | 15.4 kph | - |
| Avg climb | 2% | - |
| Max grade | 9% | - |
Statistics for trip to date
| | | |
| --- | --- | --- |
| Distance | 20,699.26 kms | 12,861.76 miles |
| Climbed | 230,754 meters | 757,067 feet |
| Ride time (hours) | 1,510.47 | - |
On this page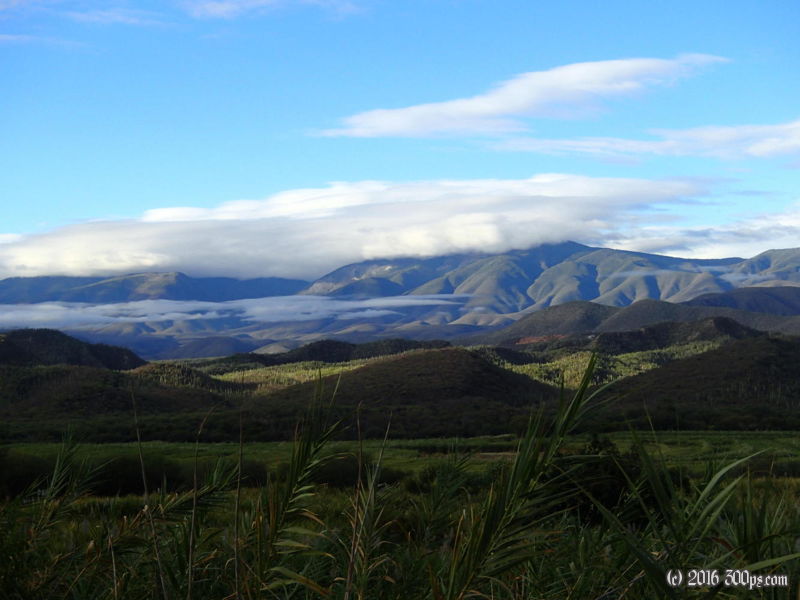 Friday, December 13th, 2013
I was up at dawn to break down the campsite. I was pleased to find that the tires were not flat after dragging the bike through the cactus last night. The morning ride was uneventful, not much traffic, but more climbing than I expected. That was the theme for the day... from up high yesterday this valley looked very flat, but over the course of the day I ended up going from a low of 850 meters altitude to a high of 1900.
I stopped for breakfast at a roadside café where I was treated to a massive meal of carne enchilada and café de olla from the owner who had worked for a time in Orange County in California. It seems like everyone I talk to here has worked a stint in the US. I hadn't had café de olla in a few years, very tasty. I struggled for the first half hour to digest all that stuff, then the energy kicked in.
I took a wrong turn at Tecamachalco and wound up in a small pueblo. I asked some colectivo drivers for directions and ended up chatting with them for a half hour about cycling. I resigned myself to not making that much progress today after that long break. After Tecamachalco the traffic really picked up on the libre (non-toll road) heading to Puebla. It was tense at times because there were lots of trucks and no shoulder. I had to bail out on the grass a number of times due to people passing coming from the other direction. They just forced me off the road. Pinche gente culera.
I started to realize that I had a cold in the early afternoon. I must have picked it up yesterday in all that cold rain in the mountains. My energy level was low, I was really struggling on the climbs, so when I came to Tlacotapec around 4 I just decided to get a hotel and pack it in for the day. After paying the hotel I had 70 pesos left. I went to a supermarket that said they accepted cards but when it came time to check out their POS machine wasn't working. I went to an HSBC branch but the ATM wasn't even turned on. There was a Banamex office but there was a line two blocks long due to it being Friday in the middle of the month; everyone was taking out money from their quincena. I went back to the supermarket and pared down my purchase to fit in my budget. I got enough stuff for dinner tonight and water for tomorrow. I went back to the hotel, cooked supper in the room, and watched a crappy movie on TV. At least it wasn't dubbed.