Days off in Arica, Chile: Pulling teeth and other bits of fun
---
Statistics for today
| | | |
| --- | --- | --- |
| Distance | 13.14 kms | 8.08 miles |
| Climbed | 65 meters | 213 feet |
| Ride time (hours) | 1.31 | - |
| Avg speed | 10 kph | - |
| Avg climb | 2% | - |
| Max grade | 4% | - |
Statistics for trip to date
| | | |
| --- | --- | --- |
| Distance | 7,735.50 kms | 4,806.93 miles |
| Climbed | 74,781 meters | 245,344 feet |
| Ride time (hours) | 579.80 | - |
On this page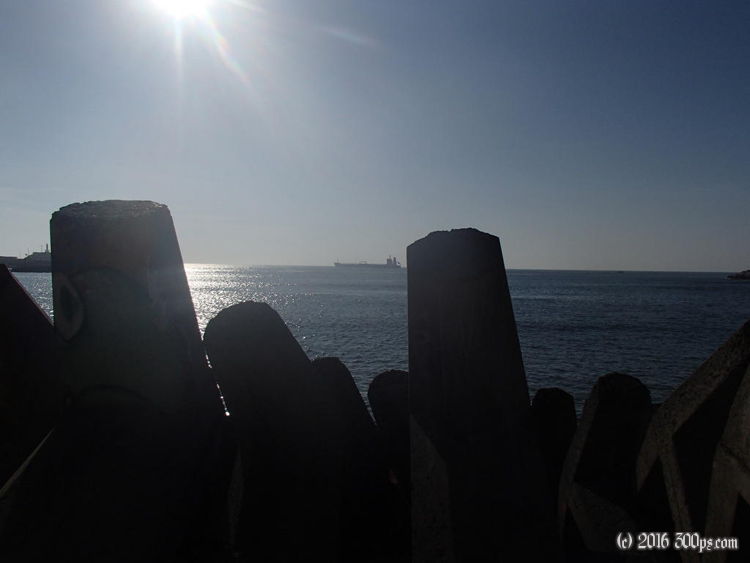 Saturday, March 16th, 2013
When I was going up Paso Sico I ate one of the hard candies that they give you in Argentine stores in lieu of coins. I took a bite and immediately felt pain in one of my molars. It hurt on and off (mostly on) from there until Arica, where I found a dentist and got the bad news: the tooth was broken and could not be saved. They said the only thing holding it together was the filling. I just had them pull it right there to be done with it. The good news was the whole thing was ridiculously cheap: 65 dollars including x-rays and two visits. I never eat hard candy, surreal that I had to lose a tooth due to the lack of coins in Argentina.
I am off the road for a few days to let myself recover. The night of the extraction I woke up at 2am in some serious pain which went away after a while with the Ibuprofen-Paracetomal pills they gave me.
With no riding to do I went on a mission to fix up the bike. I found a crankset with a 48-tooth large chainring, something I've been on the lookout for for a while now but hadn't been able to find. The shop I bought it from didn't have a mechanic (I'm not carrying an extractor), so I found a shop where a really friendly mechanic and his wife kept me entertained while swapping out the crankset (they are on Lastarria 1328 if anyone needs a mechanic in Arica). The old one was pushing 20,000 kilometers, it was original equipment on this bike. The only original components left now are the bottom bracket and the derailleur. The mechanic told me about another shop that sold good components. I went to take a look and found the Holy Grail: an Alex Rims, double-walled, 36-hole rim! I couldn't believe it, they even had DT spokes. I had them take my hub off the Buffalo rim and build up the Alex with the DT spokes.
Next it was off to Sodimac to pick up fuel for the stove. Other than that first bottle I bought in Buenos Aires Sodimac has supplied all of my stove fuel on this trip. I'm going to miss them.
I took a walk down to the harbor late in the afternoon. I was sitting on a park bench and was accosted by a very drunk sailor who wanted to shake my hand ever 10 seconds. I guess I'm a drunk magnet even without the bicycle. Lucky me!
I was looking at the front page of the journal and saw that it's been 95 days since I started pedaling... it seems like I've been cycling for a year; so many sights, so many people and places, so many kilometers. Esquel is already a distant memory.
On Friday morning I went to the Bolivian consulate to find out what I needed for a visa. I had some passport sized photos taken and that´s about all I´ll need except for a few photocopies of things. Since I will be staying in the altiplano the guy at the consulate said I wouldn´t need proof of the yellow fever vaccination (good thing, because although I had the vaccination done in Quebec City years ago the certificate got stolen from my car in Mexico in 2007). Instead I will have to write a letter stating that I will only be traveling in the altiplano. He also said I needed to put in the letter that I am traveling by bicycle and therefore cannot supply copies of tickets into and out of Bolivia.
After breakfast in a café I was off to pick up the bicycle at Wilson on Diego Portales. The wheel was not built very well. I stood there with the mechanic for a while trying to get him to do it right until I gave up and decided to take it to the mechanic I was at yesterday over on Lastarrias. I gave him the old rim in exchange for re-tensioning all the spokes. This guy clearly knows what he is doing so I feel much more confident about the rim now. Frustrating to pay good money for good components then have them assembled like crap and have to have it redone, but I wasn´t going to carry the old rim with me anyways so it was worth it to trade for a well-built wheel.
Later in the afternoon I bought a new laptop. I have now destroyed two laptops while touring, the other time was in the Mojave desert when the screen fried on me, probably from the 115 degree heat (who knows how hot it actually got in the panniers, they are black). I spent the rest of the afternoon transferring the data from my old laptop and installing everything I needed.
At night there was a march for animal rights on the pedestrian shopping plaza downtown. I´m all for animal rights but I´m not in agreement with how they are practiced in Chile. Instead of "protecting" the stray dogs perhaps implementing some kind of program to spay and neuter would reduce the population. These dogs are really suffering on the street, many of them are injured or have mange, and most probably have worms from living off the garbage.