Sicuani to Urcos: More river canyon
---
Statistics for today
| | | |
| --- | --- | --- |
| Distance | 97.70 kms | 60.89 miles |
| Climbed | 464 meters | 1,522 feet |
| Ride time (hours) | 5.98 | - |
| Avg speed | 16.3 kph | - |
| Avg climb | 2% | - |
| Max grade | 10% | - |
Statistics for trip to date
| | | |
| --- | --- | --- |
| Distance | 10,408.99 kms | 6,467.85 miles |
| Climbed | 106,615 meters | 349,787 feet |
| Ride time (hours) | 815.52 | - |
On this page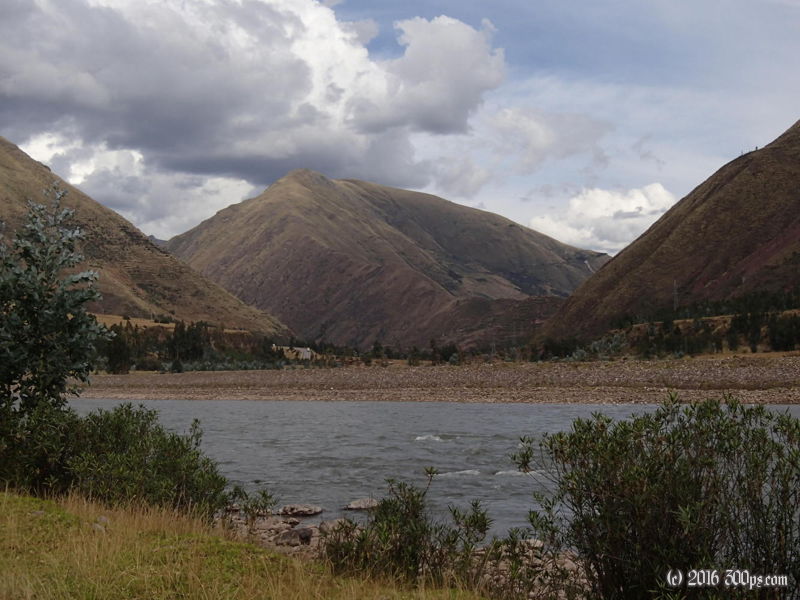 Friday, May 3rd, 2013
Last night on the way back to the hostal from the internet café I stopped for dinner number 2: roast chicken with French fries, more fried rice, and salad. Sometimes I scare myself with the amount I can eat.
There was no coffee to be found this morning in Sicuani. A couple of places had café in their name but didn´t actually have coffee. I was dragging all day (unlikely from the lack of coffee), I had that high altitude tiredness that seems to come and go. I just kept on, taking lots of breaks, as the road continued to descend the same river canyon I´ve been in since yesterday. The area is well populated with pueblos every 10 kilometers. Lots of people calling out to me in the pueblos, for the gringo yellers I had a few choice words and for the rest it was hello and good day.
This road has been fairly lightly travelled since I left Juliaca until the end of today when the truck traffic picked up. There were a few scary moments when trucks were passing each other coming in my direction because the shoulder gave way to a culvert at some point, making it a really tight squeeze when trucks were passing each other. I flipped them the bird a number of times for their lack of concern for my well being.
Before the final descent into Urcos there is a turnoff for the "Ruta interoceanica sur" with a sign saying Sao Paula, Brazil: 4601 kilometers. That got me to daydreaming... It would be quite a trip to do the whole thing. I´m sure most of it is flat and jungle though, I bet it would get boring. I prefer to stay in the mountains for now...
In Urcos I got a room (with another hot shower, I´m getting spoiled!) then went for dinner number 1. I´m contemplating getting a second dinner on the way back.
Tomorrow I should be in for a short ride to Cusco where I need to stay a couple of days to fix gear and buy some clothes, plus laundry and the usual chores.