Huancané to Juliaca: A flat ride for a change
---
Map
Statistics for today
| | | |
| --- | --- | --- |
| Distance | 67.11 kms | 41.63 miles |
| Climbed | 100 meters | 328 feet |
| Ride time (hours) | 4.07 | - |
| Avg speed | 16.4 kph | - |
| Avg climb | 2% | - |
| Max grade | 6% | - |
Statistics for trip to date
| | | |
| --- | --- | --- |
| Distance | 10,101.02 kms | 6,276.47 miles |
| Climbed | 105,286 meters | 345,426 feet |
| Ride time (hours) | 796.90 | - |
On this page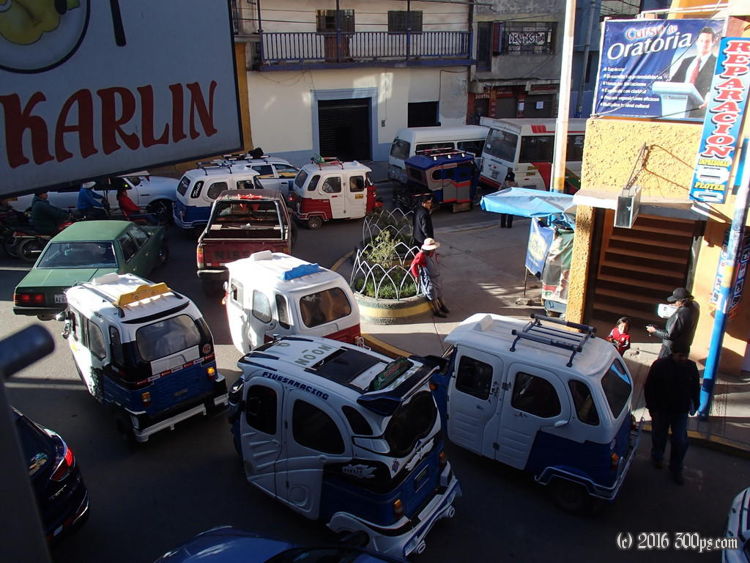 Monday, April 29th, 2013
I was out the door at 7 and on my way to the ATM. There was a line 2 blocks long waiting for the Banco de la Nación branch to open, I don't know what's up with that. They must have gotten there really early to form a line that long and I'm sure the bank wasn't going to open until 9. At any rate the ATM worked, hallelujah! Flush with cash I immediately went looking for breakfast, it turned out to be 3 courses with hot papaya juice for only $1.25.
I got on the internet for a while then went back to the hospedaje to pack. I lubed up the chain using bearing grease because the oil I bought in Sorata doesn´t do anything. Pumped up the tires and I was off. The ride today was flat with headwinds, crossing marshland on the edge of Lake Titikaka. It was a rear-view mirror kind of day because there was no shoulder so I had to be on the lookout for any passing situations that developed. Like Bolivia drivers make liberal use of the horn in Peru. It use to really annoy me but I have to admit it is safer with everyone beeping to let each other know they are coming.
I made it into Juliaca in the early afternoon and drove the length of the city to get to the airport. The city is big and extremely chaotic, it reminds me a lot of Oruro, Bolivia. Dusty, dirty, full of traffic, animals, street vendors, you name it... At the airport I spoke to the police and they gave me the bad news: they have no immigration officials there so I would have to go to Puno to get my passport stamped. I figured as much, the border police in Tilali didn't seem too sure of themselves when they said I could do the paperwork in Juliaca and the information I had from another cyclist in La Paz was that Puno was the only place to do it.
I rode into the center of the city and splurged on something approximating a real hotel. They even have Wifi and the room has a real shower! This is the first time I've had a bona fide shower (not one of those electric things) since Oruro almost a month ago. I enjoyed the shower so much the people in the next room probably thought I was having sex. With warm water on the tap I decided to shave the beard off. I just couldn't escape the feeling I had Astroturf taped to my face... It took forever to shave it off with a disposable razor but I felt great afterwards.
I went out for a sandwich and a pitcher of licuado (fruit smoothie), then after a rest in the hostal I went for a 3-course chicken dinner that was enormous.