Puerto Cañero to El Bolsón: Sun, pavement, and more tourers
---
Statistics for today
| | | |
| --- | --- | --- |
| Distance | 106.00 kms | 65.87 miles |
| Climbed | 915 meters | 3,002 feet |
| Ride time (hours) | 6.77 | - |
| Avg speed | 15.6 kph | - |
| Avg climb | 3% | - |
| Max grade | 12% | - |
Statistics for trip to date
| | | |
| --- | --- | --- |
| Distance | 1,359.00 kms | 844.44 miles |
| Climbed | 14,334 meters | 47,028 feet |
| Ride time (hours) | 116.70 | - |
On this page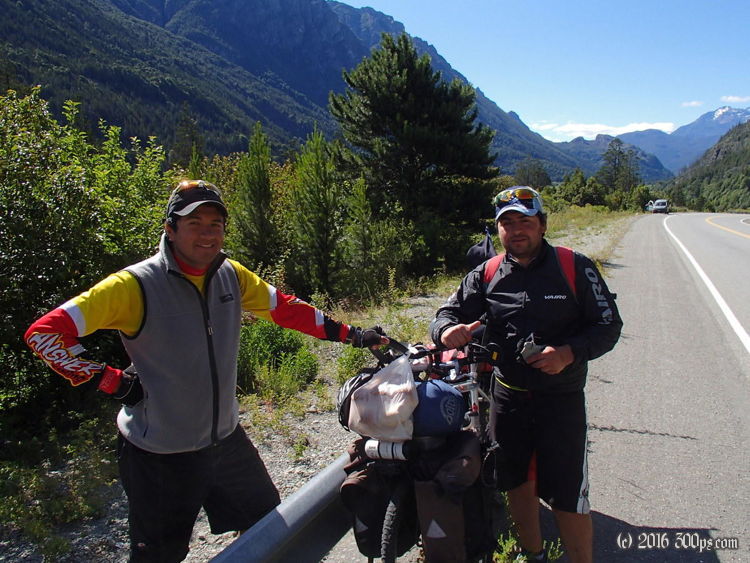 Wednesday, December 26th, 2012
I woke up to a brilliantly sunny but chilly morning. I just wasn't up for making a hot breakfast so I ate some cookies and bananas and headed out. The campground has about 30 sites but there were only three sites occupied last night, plus one where people had arrived this morning.
More bad ripio for the first couple of hours. I ran into two Argentine cyclists about 5 kilometers before Cholila. One of them said he was a warmshowers host in El Bolsón. They are doing El Bolsón to Esquel then returning to El Bolsón by bus. They asked me if I got charged to get into the park and I said no. They seemed surprised. I had spoken to three rangers and none of them ever mentioned money.
In Cholila I grabbed a few things at the supermarket then stopped at a Petro Chubut gas station for a delicious café con leche (they sometimes have a café attached to them). They also had wifi so I updated the blog and did some internet junk. The guys working there were really cool. I don't know if this is a common occurrence but it seemed like a trend: 3 different pickup trucks needed jumpstarts after filling up with gas. The guys would go out and push the trucks down the little incline onto the road to jumpstart them.
After Cholila it was pavement for the rest of the day. My map said ripio so I was pleasantly surprised. I had the wind all the way to the juncture with Ruta 40; that part went fast. As soon as I got on 40 the wind turned around and hit me right in the face where it would stay for the rest of the day. At times I was pedaling hard to go downhill. I stopped at the tourist office outside of Epuyen to fill up on water. On the descent out of Epuyen I saw 4 people on loaded bikes. I recognized one couple from their crazyguyonabike blog, it was Andy and Weiyeng. I didn't stop to talk because I was going fast down a steep descent with busy traffic.
About five kilometers down the road I spotted two loaded bikes by the side of the road so I stopped to talk. It was 2 Argentine cyclists on their way to Ushuaia who are actually travelling with Andy, Weiyeng, and the other couple as a kind of cycletouring convoy. I hung out with them for a while, drank mate, talked gear and swapped stories. They were fun to talk to. Apparently a whole bunch of cyclists had collected in El Bolsón because of bad weather and were now making their way south. While we were talking a car pulled over and a guy and a girl got out and said hi. The guy is a bombero (firefighter) in El Bolsón, a bunch of the cyclists had stayed at the fire station. I felt more motivated after the chat.
I stopped in El Hoyo for a bottle of Pomelo and some chips; as I was leaving I realized my front tire was almost flat. I pumped it back up but it didn't hold pressure so I swapped out the tube. I thought this would keep me from getting to El Bolsón before nightfall but I was able to make it about 30 minutes before the sun went down. I grabbed the first campsite that came along, and it so happens they have internet.
I thought dinner was going to be a bit sad because I was out of vegetables but I managed to throw together something decent.
Going over a 100 kilometers feels like a big day down here.