Lago Yahuarcocha to 5kms south of El Ángel: Long descent then long climb
---
Map
Statistics for today
| | | |
| --- | --- | --- |
| Distance | 55.00 kms | 34.18 miles |
| Climbed | 1,734 meters | 5,689 feet |
| Ride time (hours) | 5.37 | - |
| Avg speed | 10.26 kph | - |
| Avg climb | 5% | - |
| Max grade | 11% | - |
Statistics for trip to date
| | | |
| --- | --- | --- |
| Distance | 12,630.52 kms | 7,848.54 miles |
| Climbed | 148,845 meters | 488,337 feet |
| Ride time (hours) | 1,015.95 | - |
On this page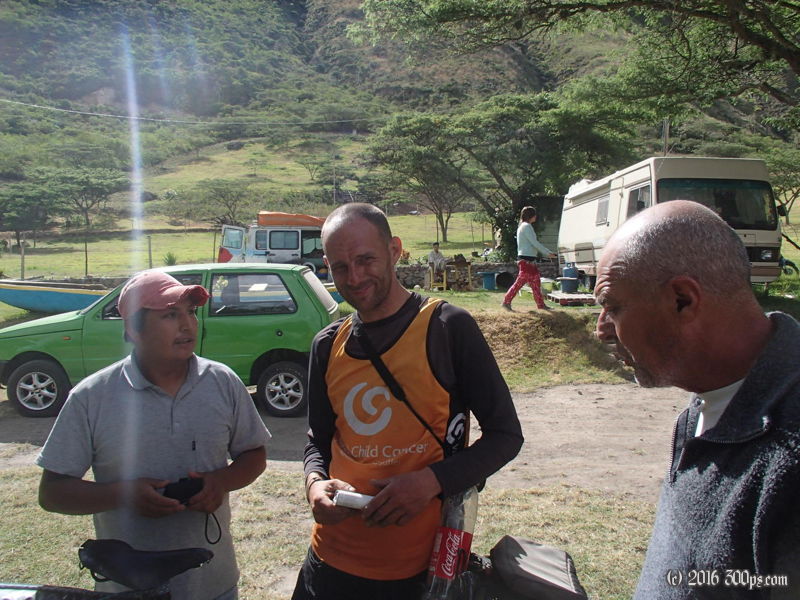 Monday, July 15th, 2013
We left the lake relatively early heading north, stopping for air for the tires and some supplies before a big descent down into a valley. My tire was soft again by the time we reached the bottom so I had to bite the bullet and change the tube while Phil patched the punctured one. It was windy but pretty warm down at this elevation (around 1,400 meters). Been a while since I had been this low.
After a police checkpoint the heavy climbing began and lasted for the pretty much the rest of the day, not too steep at 6 to 8 percent but enough to get sweating pretty hard. We stopped in Mira to pick up supplies for the night. Phil took a picture of an old couple sitting on a doorstep and the woman yelled out: "Why are you taking pictures of us? We are old and ugly!" When we stopped for a break just 1k short of San Isidro a dairy farm manager named Mauricio came by to chat on his motorcycle. He told us that there is a lot of contraband activity in this area smuggling gasoline and natural gas into Columbia. He said the much higher prices for gasoline in Colombia have made it a worthwhile business for a lot of people - except I guess for the gas station owner in San Isidro who had his business shut down because he was selling to smugglers. Mauricio said that the government is buying up all the independent station owners so that they can eliminate the illegal trade in fuel.
We stopped briefly in San Isidro for water then descended a bit until Phil found a good stealth camping site on some flat ground back off the road a bit. It was a chilly night with a fair amount of rain.