Day off in Uyuni: A flurry of chores
---
Statistics for today
| | | |
| --- | --- | --- |
| Distance | 2.66 kms | 1.86 miles |
| Climbed | 19 meters | 62 feet |
| Avg speed | 9.5 kph | - |
| Avg climb | 2% | - |
| Max grade | 3% | - |
Statistics for trip to date
| | | |
| --- | --- | --- |
| Distance | 8,473.21 kms | 5,264.88 miles |
| Climbed | 82,484 meters | 270,617 feet |
On this page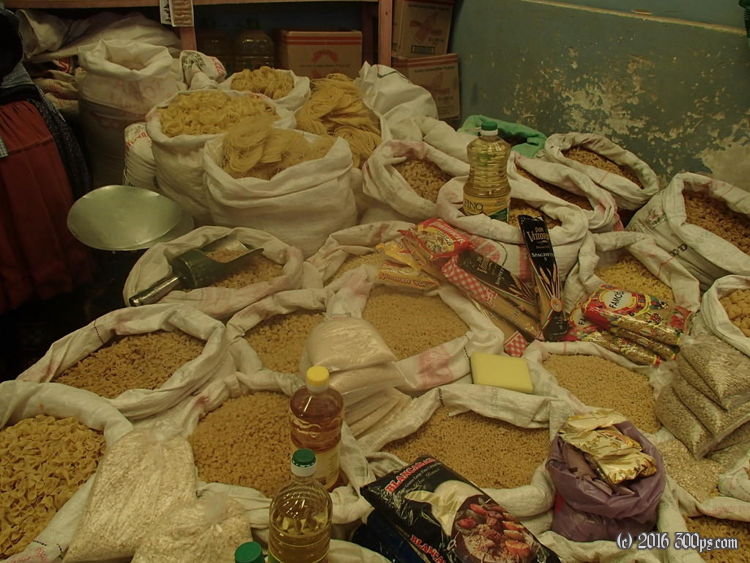 Thursday, March 28th, 2013
I was up early, hungry as hell, and out looking for breakfast. Most places were still closed. A woman came up to me and I asked if I was looking for breakfast. Why yes! I followed her and another guy she had corralled to a restaurant tucked away in a courtyard across the street. I sat with the other client, a Pole who is on a 4 month trip starting in Buenos Aires, while we ate scrambled eggs and drank coffee and mate de coca. I didn´t find the coca tea to be anything special, it was the first time I had tried it, to me it just tasted like weak Argentine mate cocido. We talked politics and economics then I was off to get some chores done.
First thing was to find a laundry place, super expensive at almost twice what I paid for my hotel room but it was worth it to not have to deal with washing and drying by hand since I want to leave tomorrow. Then I took the bike to a car wash place to get the salt washed off. While I was waiting I spoke with Juan, a driver for one of the jeep tour companies, who was there with his truck getting it washed. He said they wash them after every trip to the salar (twice a day, dawn and dusk tours). I told him about my run-in with those guys at Isla del Pescado. We talked about that for a while, crime in Bolivia relative to Peru, then he had lots of questions about the bicycle and the trip.
Finally it was my turn and the guy working there power-washed Noname. I hope the 3 days with the salt wasn´t long enough to cause damage. I doubt it. Back to the hotel where I dropped of the bike and went looking for another internet place that had flash on their computers. I found one and updated the blog with the photos. Lunch at a local restaurant was a huge plate of fried chicken, French fries, and salad.
Back at the hotel I met 3 Argentine motorcyclistsm, 2 men and a woman, who had ridden up from Buenos Aires to La Paz now were on their way back home. I had a long talk with one of them about how cities are designed in Argentina, most of them on a grid system with diagonal arteries and large avenues every 5 to 10 streets. I haven´t looked it up so I´m not sure if this is the case but it seems to me that it was copied from Hausseman´s design for the Grands Boulevards section of Paris.
Later in the afternoon I went shopping at a fabulous market where all the stalls were staffed by wizened old Bolivian woman presiding over mounds of fruits, vegetables, spices, meats, pantry goods, you name it... I was surprised by the selection for an out of the way town like Uyuni. I love shopping like this, where everything is in bulk and they weigh it out for you. I found some delicious sheep cheese as well. At night I just ate fruit, cheese, and nuts that I bought at the market.
While I was fiddling with the bike after supper 3 guys rode in to the hotel courtyard on Ducatis. They are from Santa Cruz in Bolivia and just came out to see the salar. I spoke to one of them, Cacho, for a long time about Bolivia, Spain, and the U.S. He has a brother living in New York on Long Island. His mother goes to visit frequently but Cacho has no interest, he prefers to stay in Bolivia and tend to his cattle ranch.
That was enough for one day...I´m ready to head out to Potosí in the morning. I´m hoping that this time I can get a fairly early start from a city.