7k north of Susudel to Cuenca: Cuenca at last
---
Map
Statistics for today
| | | |
| --- | --- | --- |
| Distance | 78.07 kms | 48.47 miles |
| Climbed | 911 meters | 2,989 feet |
| Ride time (hours) | 6.26 | - |
| Avg speed | 12.4 kph | - |
| Avg climb | 4% | - |
| Max grade | 11% | - |
Statistics for trip to date
| | | |
| --- | --- | --- |
| Distance | 11,915.63 kms | 7,404.26 miles |
| Climbed | 136,610 meters | 448,196 feet |
| Ride time (hours) | 954.54 | - |
On this page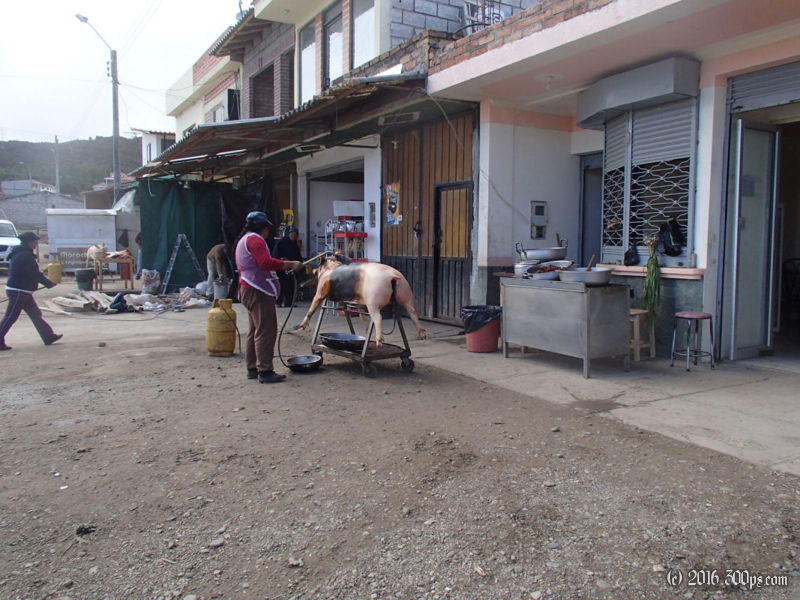 Thursday, June 13th, 2013
It rained a bit overnight but was dry when I got up, a welcome change from the last few days. I still had a ways to climb to finish off this pass. At a town called La Paz (where about 5 different restaurants were roasting pigs with blowtorches out front) I stopped for breakfast, pig of course. It was good but I felt vaguely ill eating part of the pig while they were roasting the rest of it right in front of me. My daily fat intake was largely surpassed in one sitting...
When I got up near the top of the pass it started raining, pouring in fact, and I had a put on the rain gear firedrill. It didn't last all that long though, true to the rest of the week's form as soon as I dropped below 2,500 meters on the descent the sun came out and it got hot. From there it was mostly downhill all the way to Cuenca with the occasional bump to climb.
On the outskirts of the city I saw a bike shop so I stopped and picked up a new cassette (11-32), chain, and a few Schrader tubes (27x1.25). I will need to drill out the hole in the back rim that is only wide enough for Presta. The owner and his wife had me telling my life story... I was impressed as soon as I got into the city center (on a bike path no less); the colonial architecture is fabulous and well-maintained. I grabbed a hostal near the market and started working on my task list right away: got on the internet to find bike/camping stores, bought a file for the rear rim, bought some food, etc... I ate myself silly at three different stalls in the market before retiring to the hostal at 9. The police were there checking all the guests papers (except mine); I asked the owner what was up and he said the cops come by every 3 to 4 days checking papers, looking for Bolivians and Peruvians who are working illegaly. As you can see I spared no expense for top of the line accomodations... I will be looking for another place tomorrow.