Day off the bike in Cuenca: Mad scramble of chores
---
Statistics for today
| | | |
| --- | --- | --- |
| Distance | 4.92 kms | 3.11 miles |
| Climbed | 0 meters | 0 feet |
Statistics for trip to date
| | | |
| --- | --- | --- |
| Distance | 11,920.55 kms | 7,407.36 miles |
| Climbed | 136,610 meters | 448,196 feet |
On this page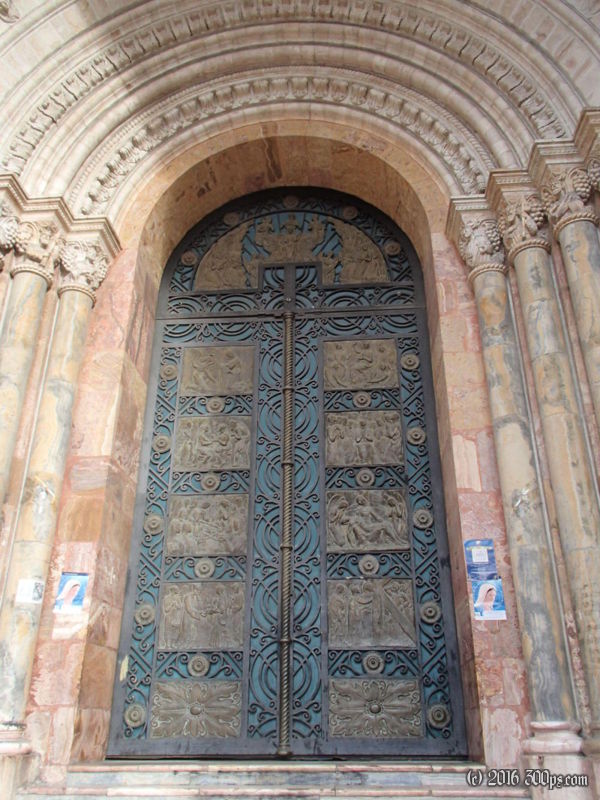 Friday, June 14th, 2013
I wrote down some addresses of camping stores that I got of the internet then went looking for them. Most of the morning I spent chasing places that no longer existed - I hardly got anything done until the afternoon when I had more luck. At a camping store called Acción on Calle Simon Bolívar I picked up a new tent and some rain gear (poncho and pants).
Across the river on Avenida Remigio Crespo there are a whole bunch of bike shops. I went to a number of them looking for tires; with no luck except for a place called Base Extreme that is the local Maxxis dealer. These guys were really helpful, they had someone go to their warehouse and bring back every tire they could find in 700c. They were all in 700 x 33 which is a lot skinnier than I wanted, I've never put anything smaller than 700 x 35 on the bikes I've toured with. In the end they took a 700 x 42 tire off of a new bike they had in the showroom and gave me that, plus I bought a foldable 700 x 33 because it was the only other option. I've got the 700 x 42 on the back now (no way it would fit under the Jandd rack in front), so I'm going to take the Schwalbe foldable Dureme off the front, put the Marathon that I had on the back on the front, and see how far I get with that. The Marathon is just about done as it has 6,000 kilometers (all on the back wheel). I filed the hole on the rear rim to make it large enough for a Schrader tube.
At another shop I picked up some chain lube and a new seat. This place also sells camping equipment, I had a long conversation with one of the employees about white gas and where to find it. He seems to think that it is restricted in Ecuador, he uses the highest octane gasoline he can find then strains it with a cloth. I really don't want to go that route but I wasn't able to find anything approximating bencina blanca at the hardware stores in Cuenca. I should have stocked up on it in Peru....