Near Stampede Reservoir to nowhere: Day off in the woods.
---
Statistics for today
| | | |
| --- | --- | --- |
| Distance | 0.00 kms | 0.00 miles |
| Climbed | 0 meters | 0 feet |
Statistics for trip to date
| | | |
| --- | --- | --- |
| Distance | 28,803.58 kms | 17,897.97 miles |
| Climbed | 302,931 meters | 993,868 feet |
On this page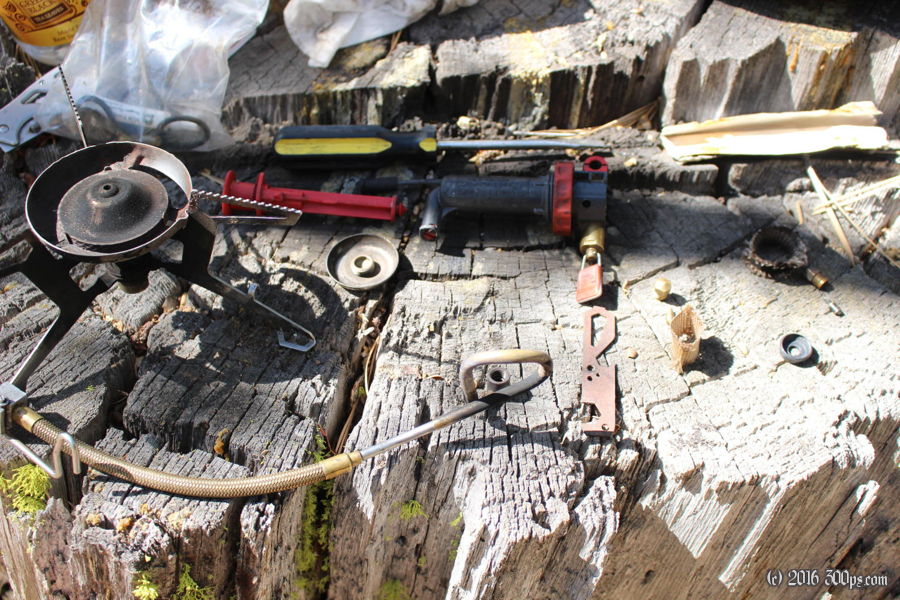 Sunday, June 1st, 2014
I wake up really late. Even though I haven't been putting many hours in on the bike this past week, the days have been frenetic with trying to get things fixed and other chores. I take one look at my stuff this morning and say the hell with it: I'm taking a day off in the woods. The only thing I'm lacking is water which requires a 6 mile round-trip to Stampede Reservoir where I filter 5 liters.
Back at camp I set about doing some chores that need to be done. I tweak the pannier hooks to fit snugly on the new rack and tighten down some miscellaneous bolts. Then I attack the stove: it has been needing an overhaul for a while now. I take the whole thing apart and clean and replace every part that I'm carrying a spare for; which is all the little wearable parts minus the pump cup and the fuel filter. I must have bought the wrong service kit because the kit contains a leather pump cup (mine is rubber and smaller) and it has a fuel filter that clearly doesn't fit on my model. I'm hoping that neither of those things are causing problems. Lastly I check the maps to try and come up with a plan for where I am going from here. It looks like I can stay on service roads for quite a while but I will need to stock up on supplies first, hopefully Sierraville has what I need.
I take a nap in the afternoon, it's a beautiful thing. I should do this more often (but I probably won't...). I make dinner early. The stove is working like brand new: a nice clear, steady blue flame even though I'm burning unleaded gas. I've got a movie that I downloaded back in Carson City so I even have some entertainment for the evening.