El Bolsón to Ruta 40 km 1991: Today's defining event: dog attack
---
Statistics for today
| | | |
| --- | --- | --- |
| Distance | 79.00 kms | 49.09 miles |
| Climbed | 1,349 meters | 4,426 feet |
| Ride time (hours) | 5.77 | - |
| Avg speed | 13.6 kph | - |
| Avg climb | 3% | - |
| Max grade | 8% | - |
Statistics for trip to date
| | | |
| --- | --- | --- |
| Distance | 1,438.00 kms | 893.53 miles |
| Climbed | 15,683 meters | 51,453 feet |
| Ride time (hours) | 122.48 | - |
On this page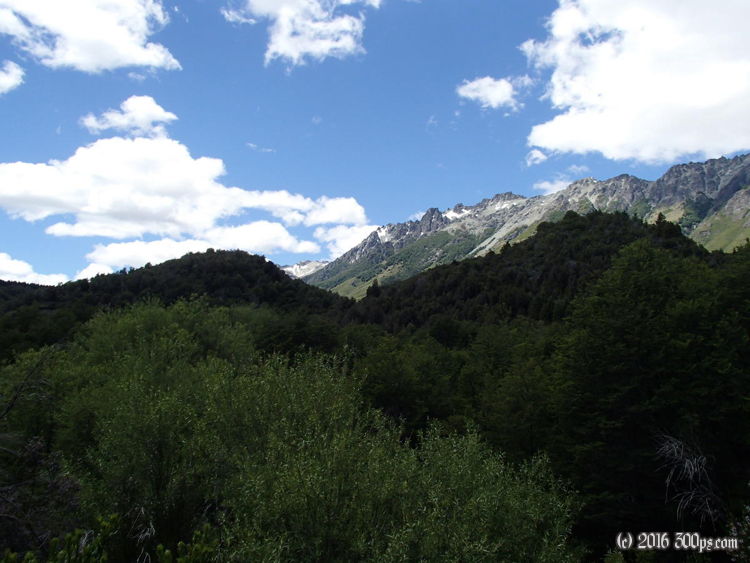 Thursday, December 27th, 2012
I thought I would have a mate hangover because I had trouble getting to sleep but I woke up refreshed. When I lived in Buenos Aires I used to drink mate every day without much effect, but now it really seems to throw me for a loop. It's probably because I'm sweating so much every day, and therefore detoxing, that it makes me jiggy.
I took my sweet time getting going. It was a beautiful, sunny day. I took a very long and hot shower at the campground before heading to town for coffee and breakfast. At the supermarket I met an Australian couple who are heading south so I shared some information with them about the road. The guy has one of those trailers connected to the bike by an axle. Now that I'm writing this I should have asked him how it handles. I'm curious what it's like to tour with a trailer, particularly on the descents and rough surfaces.
The end result of all this lolly-gagging was that I didn't get on the road until after noon. Ruta 40 is busy on this stretch with lots of truck traffic. There is about a 25 kilometer climb up out of El Bolsón heading towards Bariloche, but the grades are gentle so it didn't feel too hard. I just kept wondering when it would end. There are a number of seemingly endless switchbacks on this road, because of this cars and trucks tend to collect into little convoys. If a convoy coming in the other direction happens to coincide with a convoy in my direction it means obligatory bail-out onto the gravel shoulder. A couple of times it felt dangerous but not so bad really as long as I was willing to bail out when necessary.
When I reached Foyel I pulled off into a driveway that had a despensa (small store). I put the bike down and walked to the door. A dog came flying around the corner and headed straight at me at a run. It all happened so fast it didn't occur to me that he was going to attack me until the last moment. I instinctively raised my right arm and he latched on and bit me hard. I yelled at him and he let me go and took off. I pulled up my jacket sleeve and I had 4 deep indents in my arm, one had broken the skin. I could tell right away this was going to hurt for a while. I went and found the woman living there and told her what had happened. She didn't have anything to sterilize so I asked for a little glass of vodka; she brought Pesco. I poured it on the punctures just to be safe, there didn't appear to be any holes in the fleece but fleece is porous so maybe the dog's teeth did touch my skin. I got the woman's name and number just in case. I had never been attacked by a dog like that in my whole life so I was in a bit of shock. The incident put a damper on my day, I wasn't going to make it to Bariloche now. I'm grateful I wasn't in short sleeves or the dog really would have done some damage.
Back on the road for more long climbs and headwinds. At around 7 I decided to just pack it in and find a place to camp by the side of the road... tomorrow would be another day. Plenty of places to rough camp around here.