Esquel to past Rio Frio: Wind, sand, and dust
---
Map
Statistics for today
| | | |
| --- | --- | --- |
| Distance | 67.00 kms | 41.63 miles |
| Climbed | 719 meters | 2,359 feet |
| Ride time (hours) | 6.39 | - |
| Avg speed | 10.4 kph | - |
| Avg climb | 4% | - |
| Max grade | 16% | - |
Statistics for trip to date
| | | |
| --- | --- | --- |
| Distance | 67.00 kms | 41.63 miles |
| Climbed | 719 meters | 2,359 feet |
| Ride time (hours) | 6.39 | - |
On this page

Sunday, December 9th, 2012
I woke up fairly late, took a long, hot shower; then reorganized a bunch of stuff in my bags. I went food shopping and had a coffee; end result: I didn't actually get on the road until 12.
It was windy from the get go. I was looking at the map while having coffee and changed my mind about the route, instead of doing Ruta 40 down to Tecka I decided to head west then south through Travellin and towards Corcadova. On the way to Travellin I got my first flat! Youpee! It only took 20 kilometers for the first flat of the trip, must be a record of some kind. I should have taken a closer look at my back tire before I left Barcelona. It's a Michelin City that has about 3,500 miles on it and is starting to fall apart, hence the flat. It might be salvageable with some rubber work but for now I just slapped on my wire-bead spare, a Schwalbe Marathon Plus.
The pavement ended about a kilometer after Travellin, never to reappear for the rest of the day (and probably won't for a few days). At the fork where there is a road to the Chilean border I ran into a German tourer who started in Ushuaia in October. He has 5 months to travel and hopes to get as far as the Atacama in Chile before his time is up. He said he has only had 2 flats the whole trip, shit I already have 1!
From that fork the climbing started. The roads are ripio (packed dirt and gravel) so the climbing is tough. With this bike setup on this particular climb I had to stand on the pedals to climb anything over a 12% grade. At 15% I had to walk because the tires just spin on the gravel. At the top of the first climb I stopped to adjust a few things.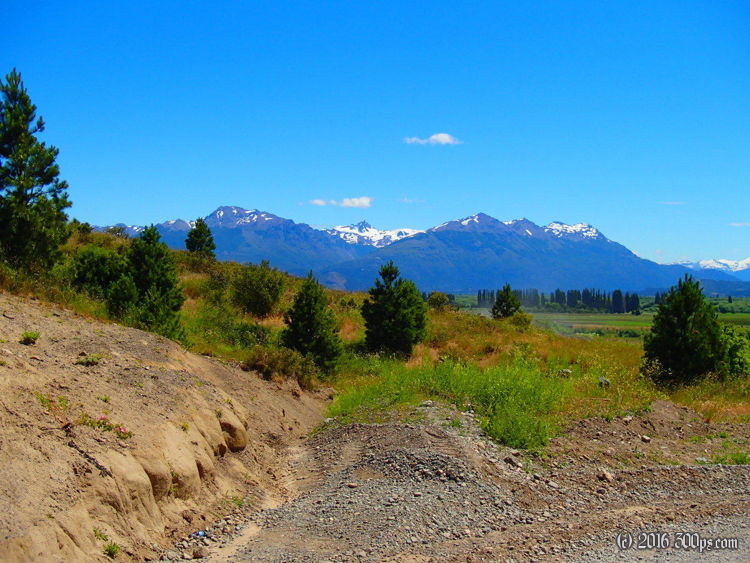 For the rest of the day it was ripio, ripio, ripio... tough riding because there are thick bands of sand and gravel that bring the bike to a skidding halt. This is most frustrating on the climbs because it is hard to start moving again after stopping, and most dangerous on the descents because it is very easy to wipe out.
The wind was whipping around all day, sometimes favoring me sometimes not. For the last 20 kilometers it really started blowing and it was consistently in my face. It was hard riding but ok to deal with until around 6 when I guess everyone started getting out of work. The cars coming at me kicked up large amounts of dust that the wind then blew right into my face. Very few people slowed down and some came dangerously close as they came at me. Just as I was starting to think evil thoughts about Argentines a bus pulled over and the driver offered me a ride. He said it was another 30k to Corcadova and it would be nightfall soon. I thanked him and told him I was going to camp somewhere, nice of him to stop. That somewhere turned out to be about 5k down the road when I could see I would only have about an hour of daylight left. I lifted my bags and bike over a fence (I didn't see a single break in the fencing all day long) and camped behind an embankment to break the wind. Big clouds rolling in, might be in for some rain.