El Santuario to San Antonio de Prado (Medellín): Arrived at the casa de los ciclistas
---
Statistics for today
| | | |
| --- | --- | --- |
| Distance | 81.40 kms | 50.33 miles |
| Climbed | 961 meters | 3,153 feet |
| Ride time (hours) | 4.64 | - |
| Avg speed | 17.5 kph | - |
| Avg climb | 3% | - |
| Max grade | 15% | - |
Statistics for trip to date
| | | |
| --- | --- | --- |
| Distance | 14,068.04 kms | 8,741.45 miles |
| Climbed | 169,217 meters | 555,174 feet |
| Ride time (hours) | 1,108.47 | - |
On this page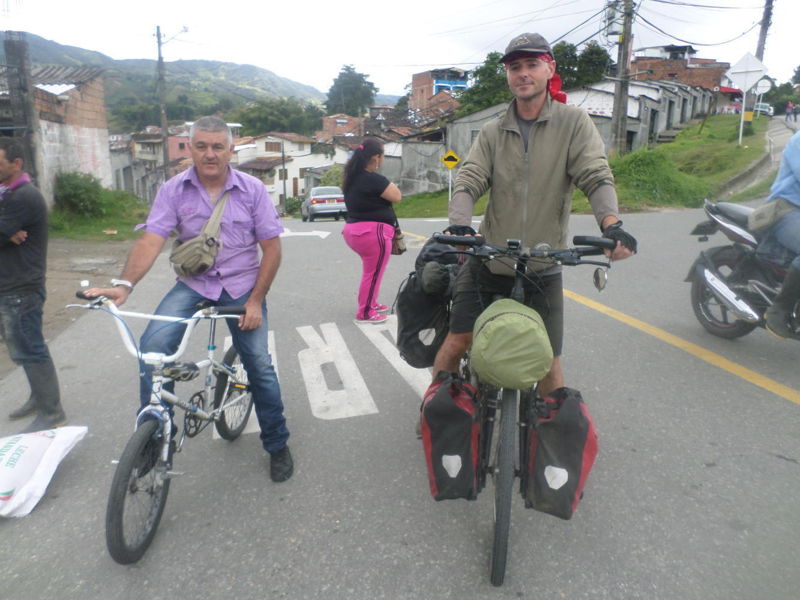 Friday, August 9th, 2013
A local guy latched onto us as we were leaving the hotel and guided us through El Santuario to the highway. A couple of hours of up and down, nothing steep, until we started the descent into Medellín. On the last climb a motorcycle pulled up next to me and the guy started talking my ear off. He wanted us to accompany him to his house for a drink but it involved a descent that we would have had to climb back up and we just weren't up for it. He was a persistent bugger. At the end he told me Facebook has blocked him from sending friend invitations because people have complained.... not surprised.
Right after a tollbooth on the descent I ran over a big screw that embedded itself into my rear tire, destroying the tube. I totally did not want to deal with it, I was tired and just wanted to get to our destination, but obviously had no choice but to change out the tube. The fix lasted all of 30 minutes before I got another flat. This time I had a little fit, throwing the bike down onto the grass by the side of the highway. I only had unpatched tubes left. I put one in that I knew probably still had a leak and just kept pumping it up until we got to San Antonio de Prado. It was a stiff climb to the casa from La Estrella made all the more frustrating from the heat, traffic, nearly flat tire, and my right knee which I had strained somehow the day before. I kept cranking the pedals while trying to put most of the pressure on my left leg instead of the right.
I asked the cops at the town square where Manuel's bike shop was. Once we got there we met Manuel and some traveling Colombians on improvised touring set ups - racks made of bamboo held together with string to support homemade panniers, in once case made out of plastic drums, in another case made out of wicker baskets. It must be a real adventure to travel with such gear. I bet they have to stop 5 times a day to cobble things back together, on ripio I could picture the whole thing falling apart from the vibration. When Manuel told us it was another three kilometers of climbing to his house I had a moment of desperation.... A young guy who works at the shop led us out there on his bike, when we arrived I just plopped down in exhaustion and relief that we had finally made it. The casa is in a nice secluded village in a river canyon - a great place to relax for a few days.