Rivera Verde to Santa Ana: Climbing myself into a corner
---
Statistics for today
| | | |
| --- | --- | --- |
| Distance | 73.49 kms | 45.36 miles |
| Climbed | 1,469 meters | 4,820 feet |
| Ride time (hours) | 5.51 | - |
| Avg speed | 13.3 kph | - |
| Avg climb | 3% | - |
| Max grade | 23% | - |
Statistics for trip to date
| | | |
| --- | --- | --- |
| Distance | 14,807.89 kms | 9,201.26 miles |
| Climbed | 178,040 meters | 584,121 feet |
| Ride time (hours) | 1,159.82 | - |
On this page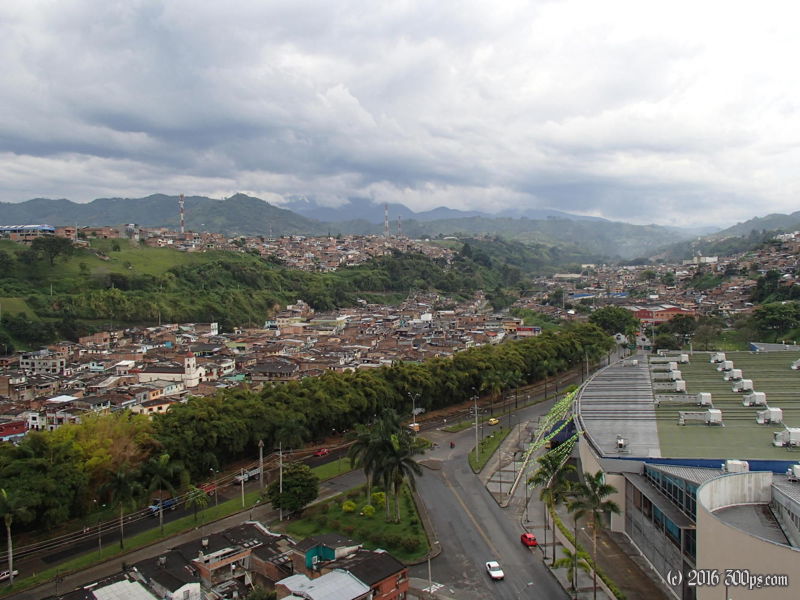 Wednesday, September 25th, 2013
I paid some guy I hadn't seen before for the night's camping as I was leaving. He was the only one around. More hot climbing today, somewhat unexpectedly. I had thought that I would be dropping down to the flat valley but it didn't turn out that way. I actually got up over 2,000 meters elevation at one point on the way to Pereira. Kind of a dismal day of cycling due to the traffic and having to negotiate two large cities: Armenia and Pereira. Pereira was huge, I wasn't expecting that at all. It started pouring rain just as I entered the city to boot...
I started running out of daylight as I finally made my out of Pereira on the road to Manizales. I could see another big climb up ahead which I definitely didn't want to tackle so I grabbed a room at the only place around: an American-style chain-looking place right next to a highway interchange. I felt like I was in the US, when I crossed the States I had a few nights like this where I got stuck near an interstate and the only thing around was one of these chain places. Just a lot of cars and gas stations around. Not the ideal day but you take the bad with the good...
The people working at the hotel were cool though. They made me coffee and provided some interesting conversation. Later I discovered that the room has a great shower with piping hot water and lots of pressure. And I had a good dinner down the street served up by a friendly cook. And I have a couple of Breaking Bad episodes to watch... things are looking up!