Day off in Palenque: I've been here before but why not see it again.
---
On this page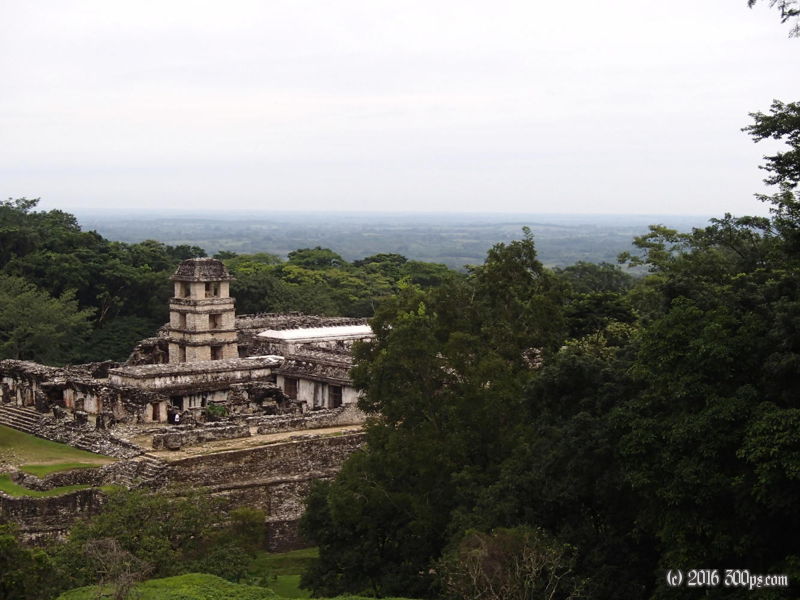 Sunday, December 1st, 2013
A camper with French plates came in to the spot next to me last night. When I got out of the tent in the morning the French couple offered me a cup of coffee and some bread, much appreciated. They are from Lyon and had shipped the truck from Belgium to Halifax then crossed Canada, came down through the U.S. and Mexico, and are headed to Argentina. I told them about the new ferry from Portobelo to Cartagena, hopefully that will be a cheap option for them to get the truck across to Colombia.
I had already seen the Palenque ruins back in 2008 but I figured I might as well take another look since I was here. I walked from the campground up to the archaelogical site (a bit farther than I thought…). This time I did some more exploring on the paths around the ruins. There are some cool waterfalls on the path that drops down to the museum on the main road. After my tourism interlude I rode into town to pick up groceries for the day and get a lunch of "gringas". I got rid of the crappy kerosene I had bought in Antigua and replaced it with gasoline from the Pemex station. Back at the campground I moved my tent from the grass to a palapa (a hut with no walls and a thatched roof) just in case it rained, the weather looked a little unsettled. The palapa I chose had a hamaca hanging in it but nothing else so I figured it was free but that didn't turn out to be the case… I was napping a little while later when a Spanish man showed up and said "Estás durmiendo en mi hamaca!". I felt pretty foolish but he was cool about it, he had just come to collect the hamaca then he was leaving. He seemed to be traveling with nothing but the clothes on his back, a few plastic bags of stuff, and his hamaca. When I cooked dinner the stove worked well with the gasoline so it was definitely a problem with the kerosene. I was worried that maybe I had gotten an air leak in the fuel line.
I spoke for a bit to an American couple who have driven down in a camper from Nebraska. They are headed to Panama and are a bit worried about being able to get their dog across all of the borders on the way down. I spied a big rodent off in the woods and followed him around for a while. I think it was a gua-gua like the one I saw in Colombia, or a close cousin. He let me get pretty close to get some pictures.