Devil's Tombstone to Binghamton: Rain sends me scurrying to a motel
---
Map
Statistics for today
| | | |
| --- | --- | --- |
| Distance | 271 kms | 168 miles |
Statistics for trip to date
| | | |
| --- | --- | --- |
| Distance | 611 kms | 380 miles |
On this page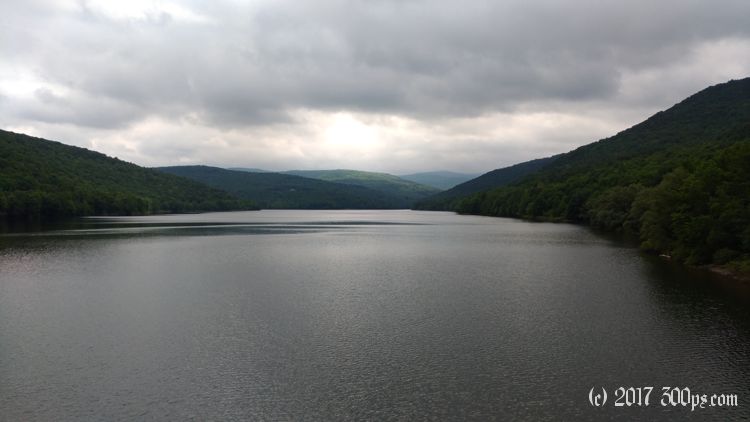 Saturday, July 1st, 2017
Out of the tent at 6:30am to grudgingly pack my soaking-wet tent and other damp gear. It rained hard last night, hard enough to send rivulets of water under the tent where it managed to soak through and get the bottom of my sleeping pad and other bags nice and moist. Nothing to be done, just pack it up and move on. The rain also made the motorcycle sink down on the center stand an inch or two into the gravel/packed dirt surface of the campsite. It took some work to push it off the center stand without dropping it. This bike is heavy...
Fortunately no rain this morning. I head towards North/South Lake campground where the ranger said my receipt for camping at Devils Tombstone would be good for a shower. On the way I pass a diner -- and break hard to turn into the parking lot. The scene: typical diner set-up with booths and those round stools in front of a counter-top. Three chunky cops are swapping stories over pancakes of people they've pulled over. The waitresses are foreign, I'm guessing Brazilian. I order up my eggs over-easy, white toast, bacon and home-fries. A guy comes in and sits down at the counter. He wants to know where I'm going, says he still rides a 1972 Suzuki 250cc dirt bike that he bought new. 44 years is an achievement.
I get my shower at North/South Lake. The girl at the gate just waves me through without checking my receipt. Setting up for the shower is like juggling 4 balls with two hands as I bring my tank bag, toiletries bag, helmet, clean clothes, and towel into the shower with me. I try to shower while keeping it all dry, wishing they would hang more hooks on the wall in these places. When all is said and done I don't really start the day's ride until 9:30am.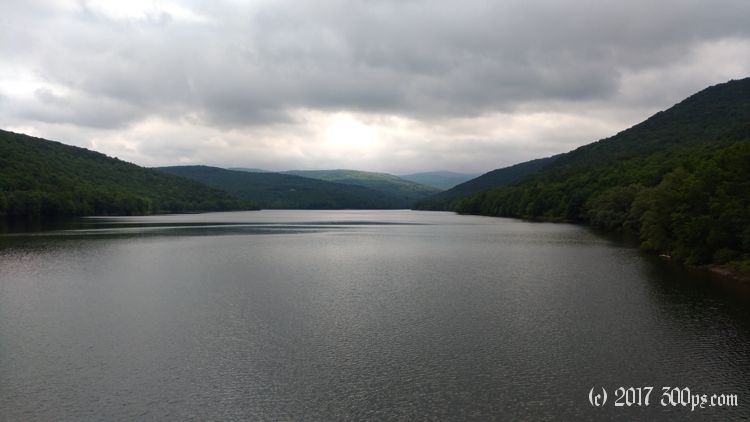 I get on highway 7 towards Binghamton. I'm on a mission to find a rebuild kit for my MSR stove but come up empty. I check a couple of outdoor stores but they aren't selling MSR gear other than pocket-rocket type stoves. I know REI has them. It will just have to wait until I get close to one of their stores.
The skies look threatening in Binghamton. I check the radar...yikes! There is a massive band of thunderstorms headed this way, and it looks like they're going to go into the evening with probably a few short breaks. I decide to get a motel. A cheap one, ratty in fact, run by an Indian family. This is what 50 bucks gets you these days for lodging in America. Just as I'm unpacking my bags the heavens let loose with a downpour. An hour later I get out for Thai food down the street, actual Panang pork cooked by an actual Thai guy. Very good, including fresh chile it's hot as hell.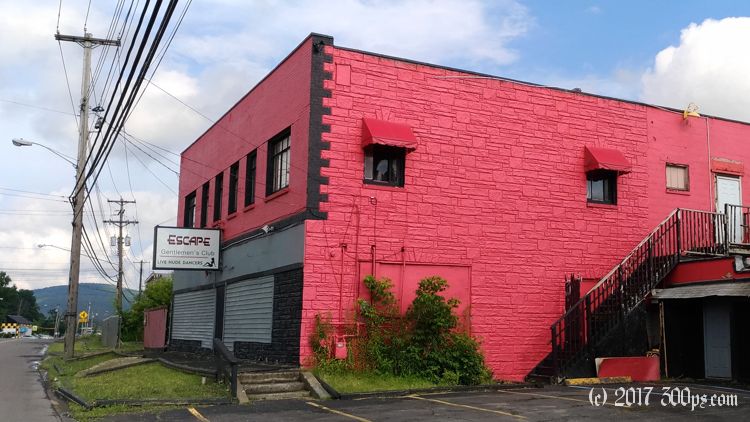 I spend the evening cooped up while it rains outside. Tomorrow into Pennsylvania.