Copper Harbor: mountain-biking the Keweenaw Peninsula
---
Map
On this page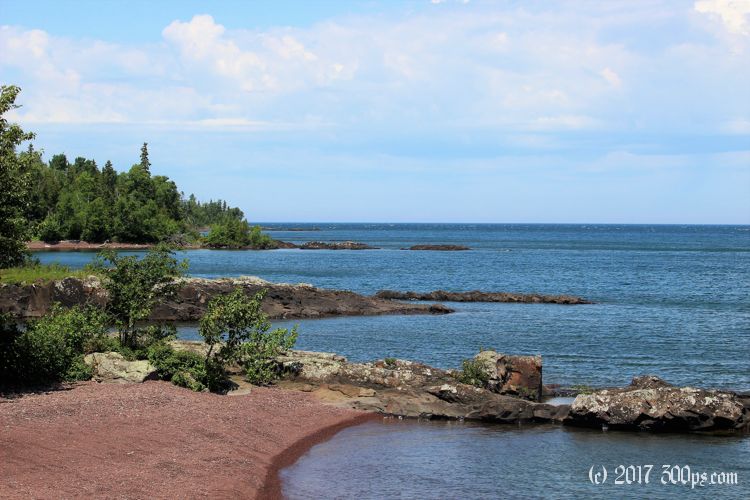 Saturday, July 15th, 2017
I have to move my campsite this morning because the site I'm in is booked for Saturday night. There are thunderstorms unleashing period downpours... in the brief respites from the rain I make mad dashes carrying my stuff to the new site. I've got a bicycle booked for today so I'm not going to wait around for things to clear up.
I do the paperwork and take posession of the bicycle but there are some nasty-looking clouds still overhead. I leave the bike and go looking for something to eat in the hopes that these thunderstorms will clear out soon. At a bakery by the docks I see an enormous, awfully tasty-looking pecan sticky bun for $4.50. Price-gougeing notwithstanding, I'm a taker. I eat it with my coffee in some chairs overlooking the harbor. I duck back in the bakery to throw away my paper plate. The two girls working behind the counter exclaim:
"Wow! You ate that already?"
"Yup."
"Did it go down hard or easy?"
"I have to say it went down quite easy."
I eat too fast. I may not be cycling much anymore but I haven't lost the appetite that goes with it.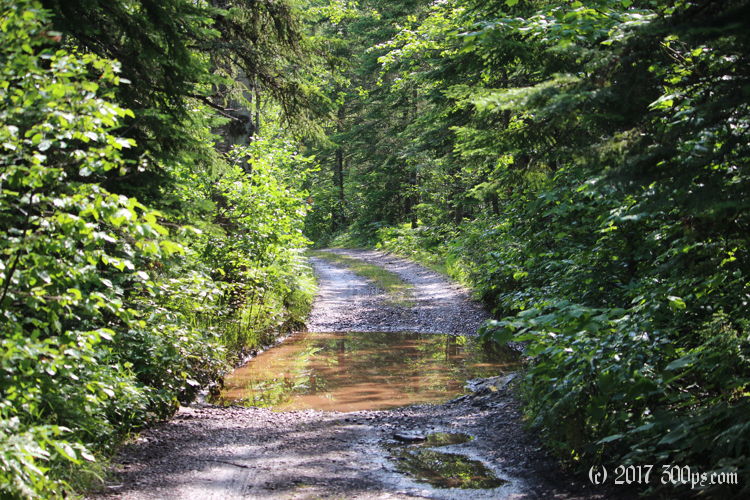 A mile of pavement then I'm on dirt and gravel. I take a two-track turnoff that has a sign for Rocky Point. I'm thinking this will take me out to the tip of the peninsula. A couple walking towards me a few hundred yards down the path tells me that they just saw a bear. "Sing a song" the woman says.
Soy un hombre muy honrado, que le gusta lo mejor/Las mujeres no me faltan, ni el dinero ni el amor...
I doubt the bear will appreciate my singing... I'm excited to catch a glimpse of him but the bear never materializes for me. Instead I've got a rocky, bouncy, muddy path. In some spots the puddles are unavoidable, I just have to ride very slowly near the edges and hope I don't accidently hit the deep end of one of these pools.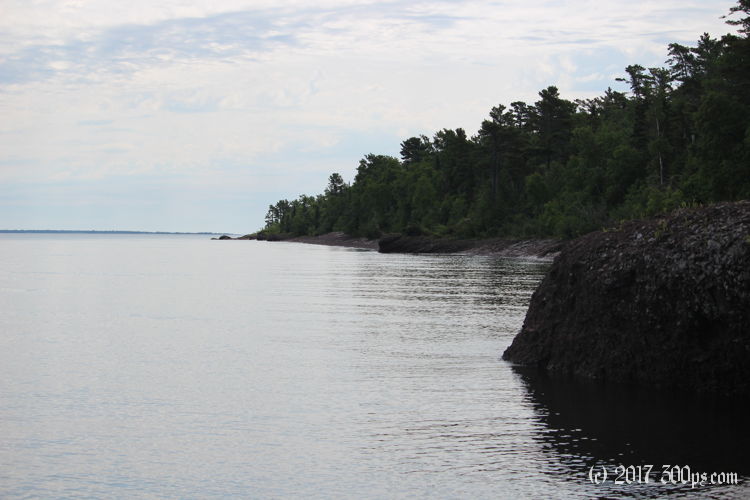 This path eventually takes me out to the shoreline, and a beautiful shore it is. The bugs are unbelievably bad, however. Biting flies and mosquitos swarm me constantly. I want to stop and eat something on one of the beaches but I just can't sit still with these swarms of insects.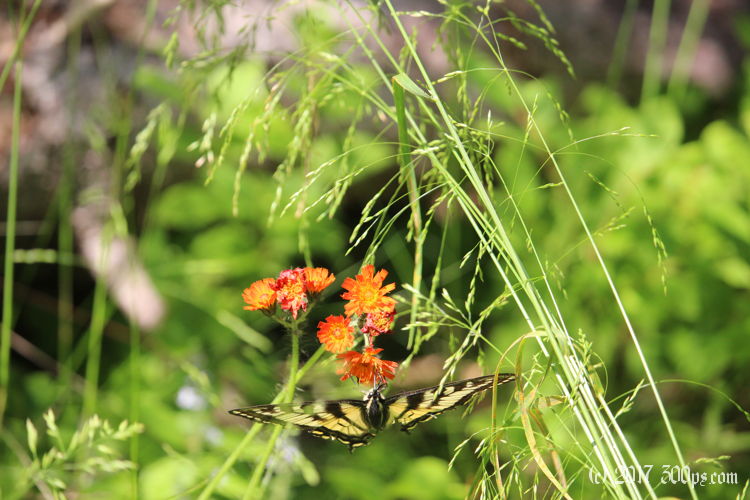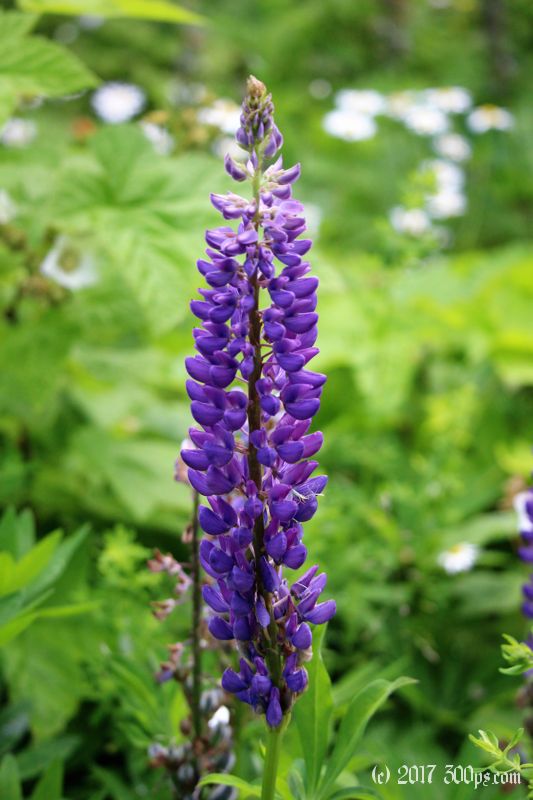 This path I'm on eventually dead-ends. No choice but to turn around for the long trek back to the last turn-off I saw, about 4 miles back. I don't like retracing my steps on the bicycle but this is what I get for not planning a route. Back at that turnoff, it's a path made specifically for mountain bikes. It's a blast: roller coaster bumps, built-up embankments for fast turns, a whole lot of fun. I guess I had seen videos of these kind of trails but had never been on one myself. It goes on for what seems like forever, maybe 10 miles through the forest.
The path brings me to "High Point", the eastward-facing end of the Keweenaw Peninsula. Another beautiful spot; small, rocky coves for as far as the eye can see in either direction. The bugs aren't quite so bad on this side, there's more wind. As I'm pulling up a little hill to get a view the back wheel actuall falls off! That's a first for me. I've pedaled most of the way around the world and never had a wheel fall off. I should have checked the bike better when I picked it up. I just assumed they knew what they were doing...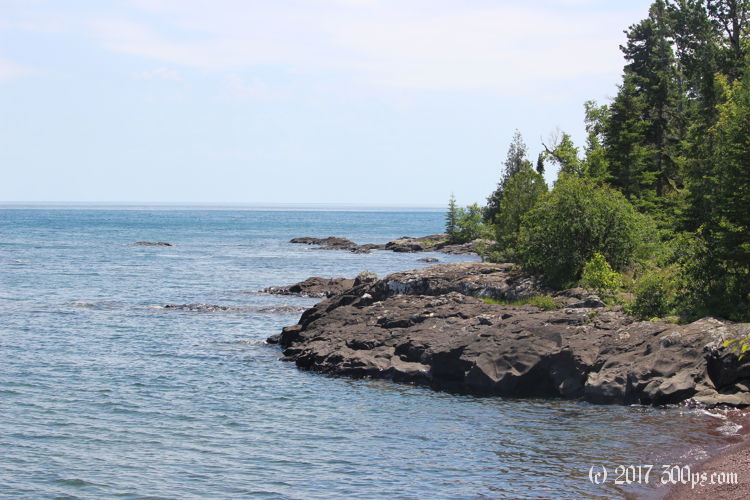 The return trip to Copper Harbor is more muddy two-tracks and some gravel roads in somewhat drier condition. I'm bonking with about 10 miles left to go... I didn't eat anything other than that pecan sticky bun. Good as far as it goes but not enough for this kind of calorie-burning day. I've been out of water for a while as well. Should have brought the filter.
I limp into Copper Harbor thoroughly exhausted. I drop off the bike and tell the guy the wheel fell off. He's very apologetic. I hop on the motorcycle (I had left it at the bike place) and head down to the talks to relax. 10 minutes later the bike shop guy -- and a woman I'm guessing is his wife -- pull up and call over to me. They say they are going to refund me 10 bucks because of the wheel incident. Well it's a gesture at least... and they took the time to come look for me.
After a hot shower at the campground (the one good thing about state campgrounds: they invariably have showers) and dinner I'm restored enough to take a walk down to the lake to watch the geese swim around. I'm in for a long sleep tonight.
Ride stats:
Distance pedaled: 32.7 miles
Riding time: 5:33:29
Elevation gain: 2,230 feet