La Chambre to Narbonne: Long day in the saddle.
---
Statistics for today
| | | |
| --- | --- | --- |
| Distance | 790 kms | 491 miles |
Statistics for trip to date
| | | |
| --- | --- | --- |
| Distance | 17,622 kms | 10,950 miles |
On this page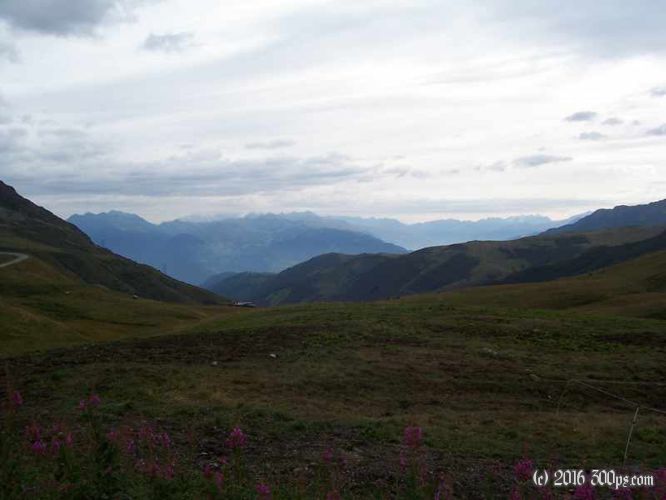 Saturday, August 27th, 2016
The paper promised good weather today but it's looking gray. Straight from Pub 171 towards the Col de la Madeleine, straight up 2000 or so meters. At the top there are three kids and their teacher in a driver's ed. car, they're looking at me funny, probably because I passed them 10 minutes earlier coming out of a hairpin. Hey, it's driver's education, right? After Col de la Madeleine I head right into Val d'Isere and the Col d'Iseron. You can tell the Tour de France came through here because all the way up the pass the road is painted with all kinds of cheers for the cyclists. Plenty of cyclists on this pass as well. They look like the serious kind, riding in teams with uniforms and everything. The top of the pass is freezing. On the back side it starts to rain...shit...and for me it won't fully stop for another 7 hours.
I make a pit stop in a small town, talk with an older French couple on an R1150R. They are coming from the south and have had rain all day. When they are leaving he says: "Bon courage, parce-que je sais que tu en auras besoin" (Good luck, I know you are going to need it). He was right on. I have to go over the Col du Galibier in the rain unless I drive all the way back to Chambery, which I am definitely not up for. This Col turns out to be extreme riding because it is raining hard and my tires are starting to give out. The front has hardly any tread left. Lots of slipping and sliding and white-knuckle turns for the next two hours. When I'm finally down the other side I head for Gap but just outside of town I run into a traffic jam and say fuck it, turn around, get on the highway, and head for Narbonne. At one point I have to stop because it is raining too hard, I wait it out for a half hour, then continue towards Avignon. I'm treated to one of the most beautiful sunsets I have ever seen on the way to Aix-en-Provence. The clouds are breaking up and they appear to be on fire, hanging slightly above the mountains.
8:30pm at Sisteron, call Brad and leave a message saying I'm on my way
10pm at Aix-en-Provence
11pm at Montpelier, leave Brad another message saying I'll be there in an hour
Midnight when I pull into Narbonne, Brad gets there at just about the same time as I do.
I'm exhausted, 15 hours since I left this morning, 491 miles.