Kiel to Copenhagen, Denmark: Into Scandinavia.
---
Statistics for today
| | | |
| --- | --- | --- |
| Distance | 481 kms | 299 miles |
Statistics for trip to date
| | | |
| --- | --- | --- |
| Distance | 6,286 kms | 3,906 miles |
On this page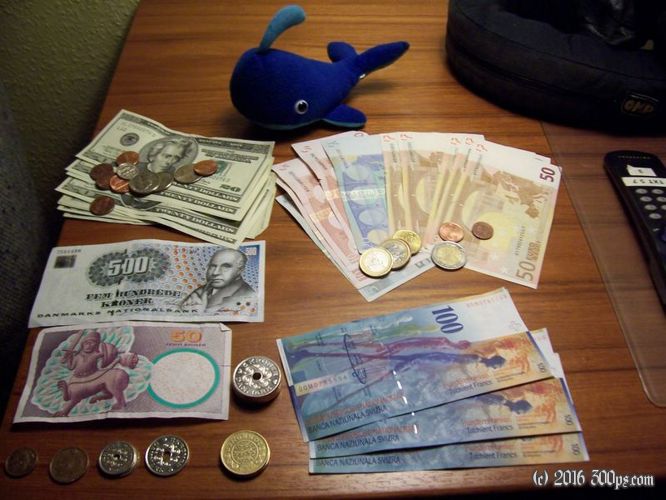 Sunday, July 17th, 2005
Sunday. Breakfast, a typical German one. Good confiture. The husband comes out to talk to me when I'm leaving, he used to have a BMW R, says it was really loud. Get some cheap (for Germany) gas at the border. No one at the border with Denmark, just drive right through. Kolding. Things slow down considerably once in Denmark. More like 120kph. After the bridge I meet a guy who has a K75 he bought in Italy, it's a 1986. Chat for a while. He says he works in Copenhagen but lives in Kolding, he can make much more money in Copenhagen. Roskilde, can't find a place to stay, end up going for a motel which is ugly and super expensive. Followed for a while by the cops in Roskilde but they don't pull me over. Speed limit in cities really sucks, about 60kph. Taastrup. The concierge at the motel used to live in Virginia and was married to an American. He speaks impeccable English. He's doing a masters thesis on the outsourcing of software development to India. Hey I know a thing or two about that! Rösti and salad for dinner, pretty good. I'm meeting a Danish woman I know from Paris tomorrow in Copenhagen so I'll be staying another day.
July 18th
Not wanting to stay another night in my overpriced motel, I stop at the tourist office in Roskilde which finds me a bed and breakfast at someone's house. Very strange lady at the house, doesn't speak a word of English. Ms. Hansen. Into Copenhagen, tourist office, internet, walk around. There is a Lauren Hill concert out by St. Albans. Never heard of her but she is apparently well-liked here, she used to sing for the Fujis? I meet up with my friend Camilia, a Swedish woman who is an opera singer in Copenhagen. We try to sneek into the concert but can't pull it off because of the armed guards. We end up sitting on the grass, talking about traveling all night. At some point she pulls out a bag of dried cod strips and starts chewing on them which ruins the mood for me. Good time though, back to Roskilde and the wierd ladie's house.