Peaks of Otter to Roanoke: The star of the south
---
Nowhere to Go but Everywhere
Map
Statistics for today
| | | |
| --- | --- | --- |
| Distance | 65.66 kms | 41.01 miles |
| Ride time (hours) | 3.65 | - |
Statistics for trip to date
| | | |
| --- | --- | --- |
| Distance | 1,762.17 kms | 1,094.86 miles |
| Ride time (hours) | 106.19 | - |
On this page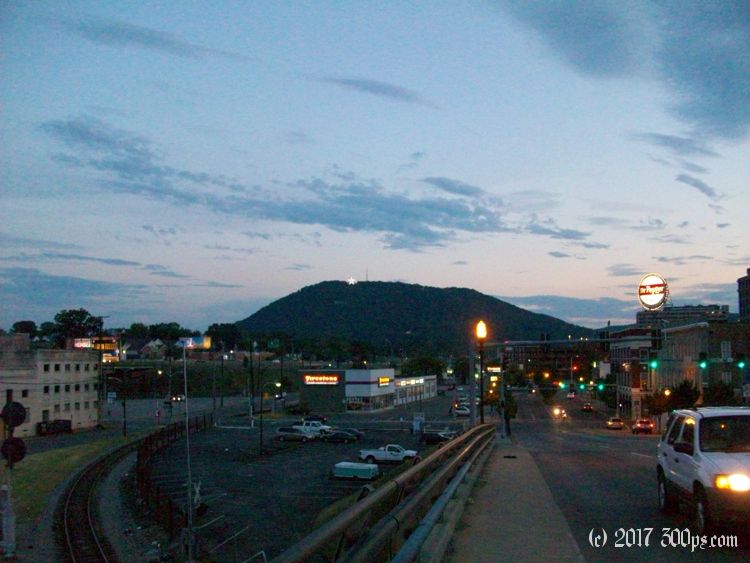 Wednesday, September 15th, 2010
I'm up before dawn, in spite of the sorority girl shenanigans next door. It's dark which creates some difficulty as I look for the bathrooms. I cross paths with a woman, try to ask her where the bathrooms are, but she scurries away without a word as if I were an axe-murderer. Sorry lady, just looking to evacuate last night's beans. When I do finally find the chiottes there's a guy in the next stall who insists on making small talk. Something vaguely uncomfortable in that situation.
I run into yesterday's cyclists as soon as I hit the road. I'm keeping up with them, even passing them; the couple on the tandem doesn't seem to appreciate this, like I'm upstaging them or something. It's not a race, people. I've got another 3,000 miles to go and I'm not sweating who gets to the next rest stop first. I'm short on food, I need to get off the parkway to re-supply. Roanoke is coming up. Sounds like a good option, plus I have a friend in Mexico who grew up there and I've been curious about it from what she told me of her time there. Getting off the parkway means a big drop down off of the ridge. As I lose altitude I feel mounting dread at having to climb back up...
Roanoke is a smallish southern city, quaint with a dose of poverty. It reminds me a little bit of New Orleans with its nice southern neighborhoods quickly followed by run-down shotgun houses. I wander around downtown, go to the supermarket, and eventually decide that I'm not motivated enough to climb back up onto the parkway for a night of camping. I book into a motel room instead, take a shower and a long, luxurious nap.
The town is awfully quiet at night. I do end up meeting a few people at a restaurant, we talk baseball of all things. After spending so much time out of the country I've lost track of whose in the farm system but I can still hold a conversation about the American League. My motel room bed calls me home early to take full advantage of a night off of the ground.