Basel: Hanging out waiting for the motorcycle to arrive
---
Statistics for today
Statistics for trip to date
| | | |
| --- | --- | --- |
| Distance | 401 kms | 249 miles |
On this page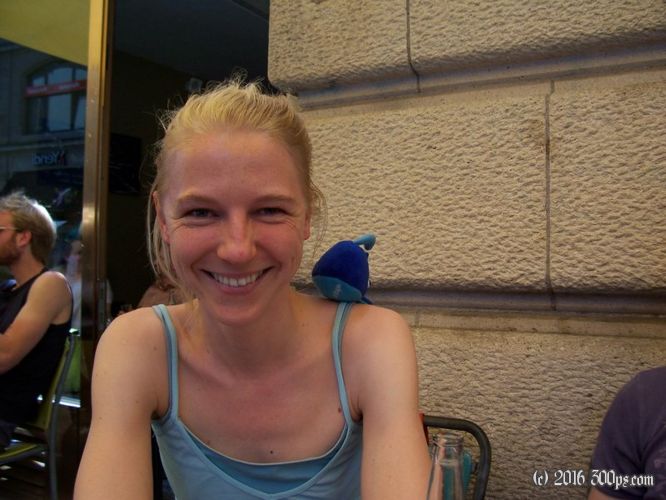 Friday, June 17th, 2005
Basel Stadt.
Wednesday I walk around the city to see the old sites. Rhein-park-Markt. Internet café, the guy next to me is shamelessly surfing porn sites while passerbyes snicker. Check with Lufthansa and the bike is now supposed to ship out on the 16th arriving on Friday the 17th at 16:20. No mail from the broker so I'm assuming everything is in order.
I meet up with a bunch of expats Wednesday night. Jeff, a friend from when I worked in Paris, is living in Mulhouse - we make plans to catch up on Monday. We all go to dinner at Lilly's. Gazosa citron-pad thai-espresso = sieben und zwanzig = 21.36.
German keyboards suck when typing in English. Even worse is typing in English on a German keyboard that has been overlaid with French keyboard settings. The Lufthansa web site now says the bike is coming in on Saturday at 4:20. I sent an email to the broker to ask him to check on it, I don't know why it keeps slipping. If it comes in Saturday the earliest I could pick it up would be Monday.
Fumari, café internet, I forget to pay for my drink but the waitress was cool and we have a laugh about it. Food shopping, big omelette for dinner, we go out on Guterstrasse to an outdoor cafe.
I'm getting by in German which is a bit of a surprise, I don't remember being able to understand much in Swiss German before. Most people here speak French anyways if things gets tricky.
A great French expression: une panne d'oreiller, a broken pillow, meaning get up late. My pillow is completely out of order this morning as I get up at 11h30.
No email from the broker but the Lufthansa web site looks more promising. Something in the status is actually green (that the bike has been prepared for shipping!) Next step is to actually fly out of JFK at 9:15 EST this morning. I won't be able to check on the status again until tomorrow.
June 18
According to the Lufthansa site the bike is in Frankfurt! Going to go pick it up on Monday.
Rendez-vous at 11am at Fumari with Katrin, Franck, Auriel, Virginie. Café, Izzi citron, croissant. Nothing but French with this crew. Big art festival going on in the city. Shopping, lunch next to Hotel Hecht, antipasto mittel. It's hot and sunny. Café Steuro.
Barbecue at Katrin's. Auriel, Virginie, Katrin, Bea, Esther, Franck, une autre dont je ne me souviens plus le prénom. Virginie tells me that American women are like aliens from another planet. I would be offended if it wasn't so funny. Back home at 1am.