Machachi to Tumbaco: Heading to the casa de los ciclistas
---
Statistics for today
| | | |
| --- | --- | --- |
| Distance | 53.69 kms | 33.55 miles |
| Climbed | 546 meters | 1,791 feet |
| Ride time (hours) | 3.44 | - |
| Avg speed | 15.6 kph | - |
| Avg climb | 3% | - |
| Max grade | 10% | - |
Statistics for trip to date
| | | |
| --- | --- | --- |
| Distance | 12,426.77 kms | 7,721.78 miles |
| Climbed | 145,140 meters | 476,181 feet |
| Ride time (hours) | 998.93 | - |
On this page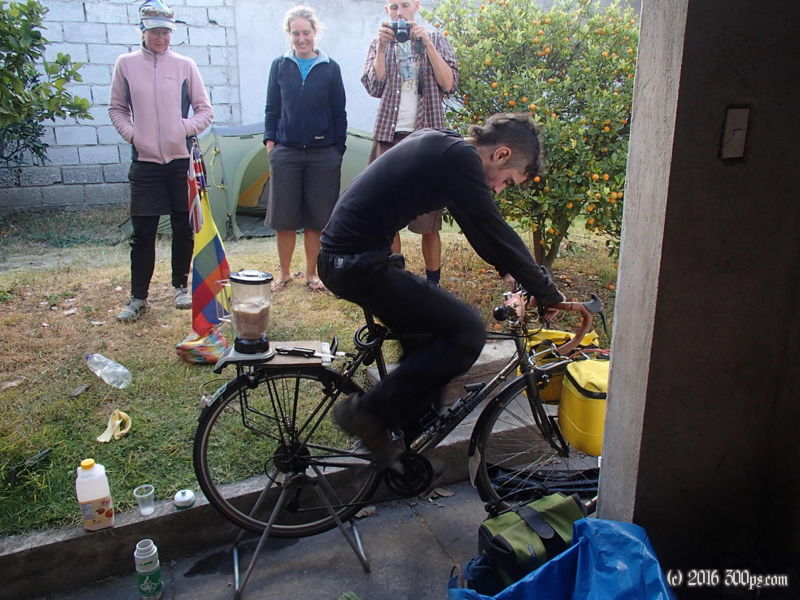 Monday, July 8th, 2013
Today was a short ride past Quito to the casa de los ciclistas in Tumbaco, a suburb about 15k off to the east of the city. I took a road that climbed up on a ridge with Quito on one side and the eastern suburbs on the other. As it turned out I could have stayed down in the valley and had a climb-free day to Tumbaco but such is life...
I called Santiago from the top of the climb and he gave me directions to his house following a bike path that started about 5k out. I arrived to find a whole slew of cyclists, including Phil that I had met in Trujillo. There were two Australian couples, a Canadian guy, a French guy, Phil, and an Englishman who has rigged up a bike-powered blender for making smoothies. It was great to hang out with fellow cyclists and trade tales of the road. I gave my Peru map to the Frenchman and one of the Australian couples gave me a map of Colombia... being taken care of! The house owner Santiago and his family are lovely hosts with a great setup on the grounds, I couldn't have asked for a better place to crash for a few days and do chores.
My chores consisted of cleaning the bike, acquiring and installing new brake pads, reorganizing my gear, eating, sleeping,... and getting a parasite test which came back negative. No critters on board! The doctor I saw in Cuenca had given me an order for it. I still don't feel 100 percent but everyone seems to be slightly sick with something or the other, so I guess I'm no different. After a few days rest I felt a lot better.