Río Mayo to 25 kms east of Dr. Rojas: Back on the ripio
---
Map
Statistics for today
| | | |
| --- | --- | --- |
| Distance | 56.00 kms | 34.80 miles |
| Climbed | 392 meters | 1,286 feet |
| Ride time (hours) | 6.87 | - |
| Avg speed | 8.1 kph | - |
| Avg climb | 3% | - |
| Max grade | 9% | - |
Statistics for trip to date
| | | |
| --- | --- | --- |
| Distance | 552.00 kms | 343.00 miles |
| Climbed | 4,386 meters | 14,390 feet |
| Ride time (hours) | 48.26 | - |
On this page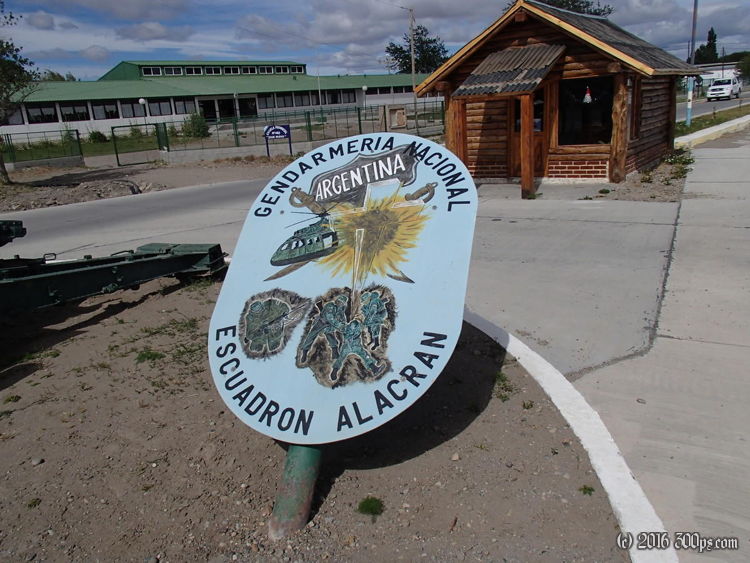 Saturday, December 15th, 2012
I was up around 7:30 and ate at the hotel. The breakfast was included in the price and therefore quite sad. Crackers with butter and jam, coffee, and Tang. Definitely not what a cyclist wants for breakfast. The place was cheap and the woman running it was cool so I can't complain. It was luxurious to have a hot shower and sleep in a warm bed.
On my way out of town I stopped at the dispensa for more supplies then went to the pharmacy to get some Blistex. I had a long talk with the pharmacist about my trip; he said the route I was planning to Coyhaique would be tough because it is nothing but ripio and there is lots of climbing. Well let's see.
Río Mayo is a military town, therefore there are references everywhere to the Malvinas (Falklands) or should it be Falklands (Malvinas)? It seems to me that history is repeating itself. The Falklands war was concocted by the Argentine dictatorship of the time to divert attention away from the horrible domestic situation. Cristina is making lots of noise about the Falklands again, at a time when her popularity is waning and her mismanagement of the economy is becoming apparent. Not nearly as dramatic of a domestic crisis as back in the 80's but I wouldn't be surprised to see her make a foolish move on the islands if her situation becomes more tenuous. Interesting to see how the Argentine military remembers the war as if it were a victory.
Enough of politics. I was on the road at 10am, other than the 4 kms to the R.P. 20 exit it was ripio all day. After the exit it was 50 kms of straight and flat. I played "pick your rut" all day. The depth of the gravel varied dramatically and on some sections I really had a hard time moving forward. The wind was in my face again and I fell a few times but I was completely zen about it all after my hot meal, warm shower, warm bed night in Río Mayo.
After 50 kms I got into the hills. Nice to have a change of scenery. It rained on and off for most of the day then really started coming down in earnest around 6:30 so I found a place to camp and called it a day. As I was scoping out the campsite a guy in a car stopped next to my bike (I had left it on the side of the road), I walked down and said hi, he just wanted to know if I was ok then he was on his way.
Dinner came out exceptionally well tonight: rice with peppers, onions, garlic, beans, and a ton of spices.