Chilecito to Ruta 40 km 3969: Desert...
---
Statistics for today
| | | |
| --- | --- | --- |
| Distance | 100.03 kms | 62.14 miles |
| Climbed | 749 meters | 2,457 feet |
| Ride time (hours) | 5.67 | - |
| Avg speed | 17.6 kph | - |
| Avg climb | 1% | - |
| Max grade | 5% | - |
Statistics for trip to date
| | | |
| --- | --- | --- |
| Distance | 5,626.81 kms | 3,496.45 miles |
| Climbed | 56,676 meters | 185,945 feet |
| Ride time (hours) | 422.01 | - |
On this page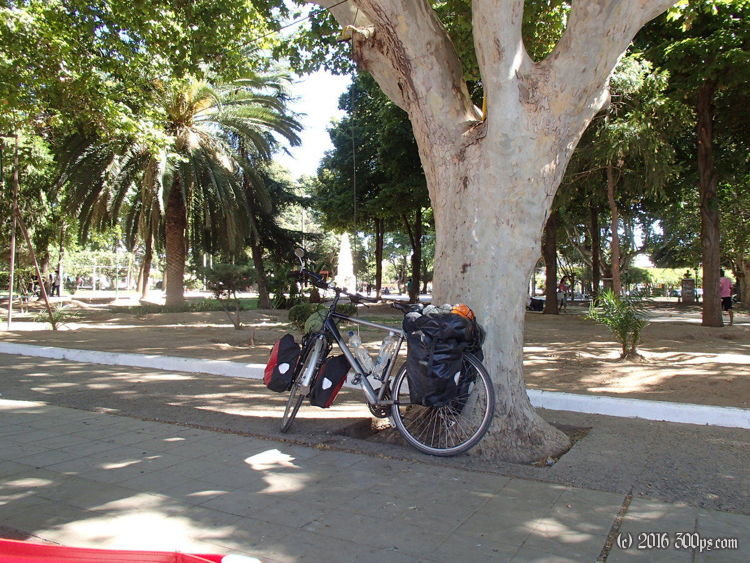 Wednesday, February 13th, 2013
I had a look at myself in the mirror this morning. My brother will appreciate this: I haven't been this skinny since a near-starvation experience during a stretch of unemployment in Paris when I was 22. Given what I'm eating every day it seems impossible.
It is hot in this neck of the woods. Had to be in the 30's by 9am. I had breakfast at the hostel, packed everything up, then went for breakfast number 2 on the main plaza. The city was really hopping this morning with people everywhere. I went shopping, took care of some errands, and finally got on the road at noon. It was a long stretch of desert all day with temperatures near 40. This part of Ruta 40 has very little traffic and almost no trucks. It seems odd, I wonder if the road is cut again somewhere south of here. I climbed a surprising amount of meters today, the road must look as flat a board from the ear. Those long, slow rises add up...
I wanted to get at least 100 kms in because of my late start. As soon as I reached it I pulled off into the pampa and camped. At dusk I could see wild thunderstorms off to the northeast and also to the southwest. I could be in for a rough night. I've been trying to be careful about where I camp in this region because the whole place is one big flash-flood zone. I'm a little nervous about it tonight because one can never be sure unless you're up on high ground, and there is no high ground anywhere nearby.
The back rack broke even more today. Now the side where I put the wheel axle has the support post broken in 2 different places. Yikes... Will be working on a hack tomorrow morning. I didn't have the heart to tackle it tonight.