Isla Incahuasi to Uyuni: A French encounter, more salar and sand, and a shower at last
---
Map
Statistics for today
| | | |
| --- | --- | --- |
| Distance | 98.27 kms | 60.89 miles |
| Climbed | 98 meters | 322 feet |
| Ride time (hours) | 7.54 | - |
| Avg speed | 13 kph | - |
| Avg climb | 1% | - |
| Max grade | 5% | - |
Statistics for trip to date
| | | |
| --- | --- | --- |
| Distance | 8,470.55 kms | 5,263.63 miles |
| Climbed | 82,465 meters | 270,554 feet |
| Ride time (hours) | 648.58 | - |
On this page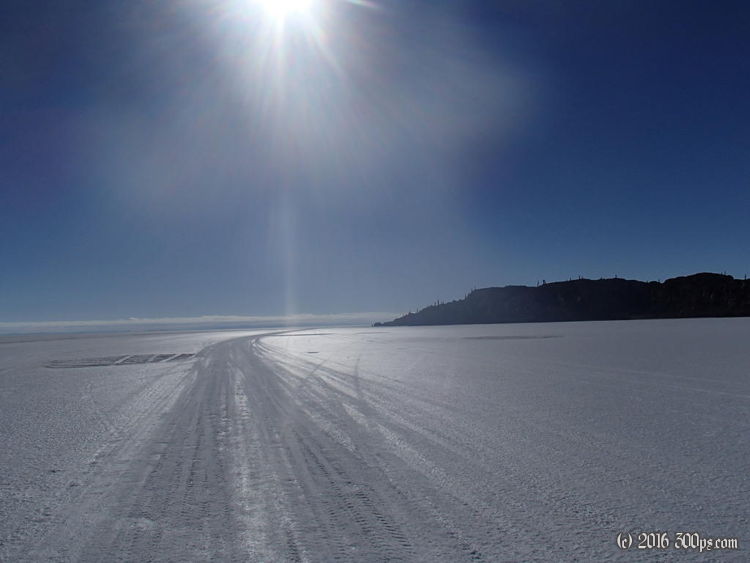 Wednesday, March 27th, 2013
It actually wasn´t that cold this morning. I got up quickly and packed because the jeep tours started arriving soon after dawn. There was a spectacular setting of the moon soon after dawn. Alfredo, an older gentleman who runs the shop selling food and drinks, came over and introduced himself. He was carrying two big guestbooks of all the cyclists that have visited the island since 1995. There must be hundreds and hundreds of entries in them. The last person to come through was a Romanian a few days ago.
I signed the book then started wheeling the bike down to the beach when a group of young French people started asking me questions about the trip. We spoke for a few minutes then they went down to the beach. I was still fiddling with my gear when one of them came back and invited me to share breakfast with them. They are two Moroccan girls and two French guys from Lyon who are taking a year off of university to work on NGO projects around the world. So far they have been to Cameroun, Cambodia, India, Brazil, and I forget where else. They assess projects that are in process and provide an evaluation of the impact of the program in relation to its goal. It sounds like a really interesting way to spend a year.
The breakfast was exactly what I needed, the conversation as well. I finally got going around 10 after having another conversation with a German couple from near Munich. They took a picture of me to show a friend of theirs that has a bicycle shop in their town. The next 6 hours were spent covering the 75 kilometers from the island to the western shore of the salar. The riding was a lot like yesterday except for all of the jeeps driving by ferrying tourists from Uyuni to Isla Incahuasi. A bunch of them drove close to me so the occupants could take a picture of me. I don´t know why it annoyed me so much, no harm done after all. It just felt like being an exhibit in the zoo or something. The headwinds suddenly became tailwinds around 1pm so the pace picked up a bit. Near the shore was some kind of staging ground for the jeep tours with tons of tourists wandering around near a building built right onto the salt. I later realized that his was the salt hotel. Other than the fact that is was swarming with tourists and was built on the salar, it looked quite unremarkable to me.
I reached shore about 4pm and rode through the town of Colchani, a dusty and run down looking place with only one store that I could find. I bought a soft drink and chatted with the woman running the place. She wanted to know if there were salars like this in my country. I´ve seen a bunch of salt flats in the Mojave desert but nothing anywhere near the size of this. I´ve never been to Salt Lake so I don´t really know what it´s like, presumably more lake that salt flat, I remember my grandfather telling me about swimming in it and how you just float on top because the salt holds you up.
The last 25 kilometers to Uyuni were a nightmare of sand and washboard. They are working on rebuilding this road so the traffic was detoured off on to really crappy surfaces. Lots of truck traffic and the jeep tour vehicles as well were there to kick up all the sand. I was really tired but determined to get to Uyuni.
I finally rolled into town around 6 and ran into the French group again on the square. They are taking a bus to La Paz tonight. I rode around some more and found a decent room for 35 Bolivianos (5 dollars and change). Wow this country is cheap! That has to be the least amount of money I´ve paid for hotel room in my life. I took a badly, very badly needed shower with piping hot water. I hadn´t been in water since the hot spring back on the way out of Chile, and I hadn´t had a proper shower with soap since Putre 7 days ago. I was ripe. It was definitely time for a shave as well.
On the way out to get something to eat I got to talking to the lady who runs the tour place next to the hotel. She admonished me for crossing the salars with nothing but a compass and was apologetic about the experience I had with the would-be extortionists. I told her hey, it´s part of the adventure! I do agree that crossing the salars like that was borderline foolish. Not really the Salar de Uyuni because the surface was always rideable, on Uyuni it was just like sailing on big lake, all you really need is a compass. The dodgy part was on the Salar de Coipasa where the surface was too soft too ride and I had to walk. If I had had to walk 15 kilometers instead of 4 I would have been in trouble because I would have run out of water and there wasn´t a person to be found out on that salar.
I went to a pizza place and guess who I ran into: the French people! They were just leaving to catch their bus to La Paz, then they are off to Lake Titicaca and eventually Nicaragua. Sounds like fun. Everyone in this restaurant is either European of American. I´d rather not be in backpackerlandia but I badly needed to stop for supplies, money (I found an ATM, I was down to just 65 Bolivianos (10 dollars), washing of the clothes, getting the salt off the bike, internet stuff, and trying to figure out a route to La Paz.