Near Shirani to El Viajero: Big climb
---
Statistics for today
| | | |
| --- | --- | --- |
| Distance | 47.87 kms | 29.83 miles |
| Climbed | 2,121 meters | 6,959 feet |
| Ride time (hours) | 7.22 | - |
| Avg speed | 6.6 kph | - |
| Avg climb | 5% | - |
| Max grade | 15% | - |
Statistics for trip to date
| | | |
| --- | --- | --- |
| Distance | 10,717.31 kms | 6,659.23 miles |
| Climbed | 113,176 meters | 371,312 feet |
| Ride time (hours) | 844.06 | - |
On this page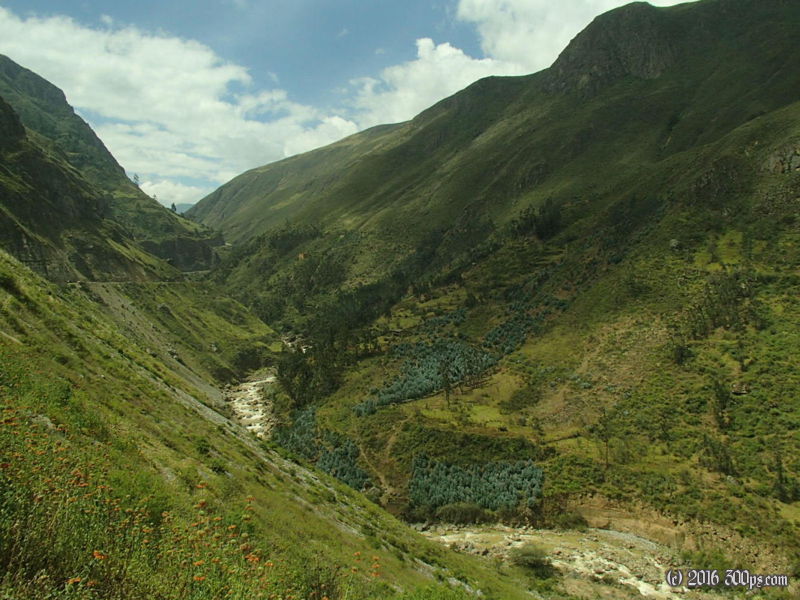 Thursday, May 23rd, 2013
I packed up and was on the road at 8. It was one big climb today, except for the very end, all on pavement except for the very end as well.
At the turnoff for Otuzco I saw a crushed bus about 200 meters down from the road next to the river. Shortly thereafter I met Samuel, a 12 year old who was walking home from school. I walked with him for a couple of kilometers while we talked about Europe and life in Peru. He wants to be a civil engineer and learn French and I don't doubt that he will, his erudite Spanish was impressive for a 12 year old. He told me about the bus accident: the driver apparently fell asleep around 4am and drove the bus over the edge of the cliff, killing about 30 people, mostly doctors. Normally the buses on the Huamacucho-Trujillo route have two drivers but this driver was alone. The assistant that collects fares got off at the previous stop, he is wanted for questioning but has mysteriously disappeared. The locals speculate that the bus company is hiding him somewhere. In the meantime the bus company has been shut down for 90 days pending the outcome of the investigation. I actually heard about this accident when I was in La Paz, it stuck in my mind because it was close to Trujillo and I planned on going there.
A few kilometers after I left Samuel an old man flagged me down to ask what I was doing. We chatted for a while then I asked him to fill up my water bottles. He extolled the virtues of mountain water versus the treated water down on the coast; but when I tasted it a while later I have to say it was nasty. I ran into roadblock for construction at around 4pm but they let me through. I spoke to a bunch of the workers at different points along the way, it got so that I stopped saying hi to everyone just so that I could make some progress. At the top of the days's climb was a town called Agallapampa where I met a bunch of guys on the town square who peppered me with questions about the trip. When I told them I used to be a translator they all wanted translations of their nicknames in 4 different languages. That took about 15 minutes... They recommended an hostal a ways down the road called El Viajero. I decided to head for it, it took a lot longer than they said but I made just as night was falling. I got a nice room with a private bathroom and a genuinely hot shower followed by a huge dinner. It was a perfect end to the day except for the guy on my floor who said he worked the dayshift in the hotel. He accosted me as I was going into my room and kept saying he wanted to give me a massage. After telling him no 5 times I finally just slammed the door in his face. Obnoxious.
I'm glad that I held up pretty well on the 2,000+ meter day after that long layoff.