Andahuaylas - Ayacucho - Trujillo by bus: In search of rim
---
Statistics for today
| | | |
| --- | --- | --- |
| Distance | 0.00 kms | 0.00 miles |
| Climbed | 0 meters | 0 feet |
Statistics for trip to date
| | | |
| --- | --- | --- |
| Distance | 10,621.96 kms | 6,600.20 miles |
| Climbed | 110,042 meters | 361,030 feet |
On this page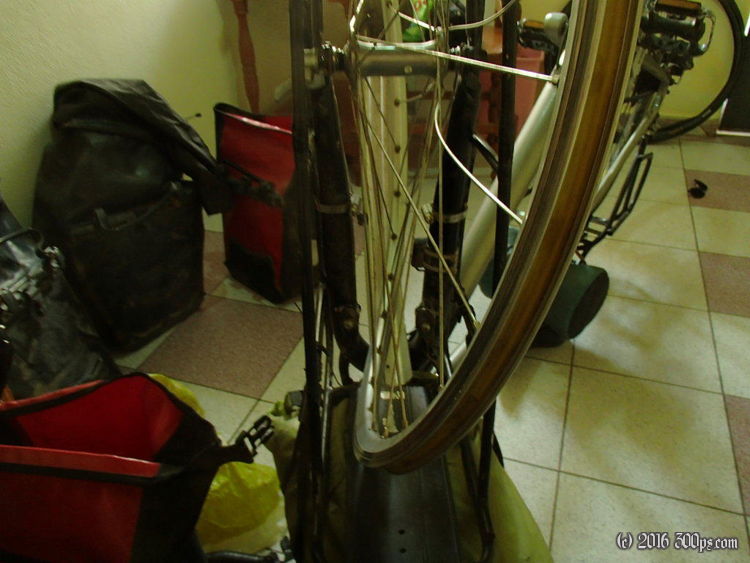 Monday, May 13th, 2013
I caught the 6:30am bus to Ayacucho. We were held up multiple times by road construction, the first time for an hour, the second time for 2 hours, and the last time for 3 and a half hours. During the second stop I had the opportunity to participate in a long political discussion with 10 Peruvians. The complete spectrum was represented, from one guy who was trying to convince everyone that the people of North Korea have a good life because of communism to another who said: "hopefully one day Peru will have its own Pinochet".
At the last stop 3 of us went into a nearby pueblo called Ocros. It turned out to be the birthplace of one of the liberators of Peru, Mariscal Caceres, but his house was too far away to walk to. We spent the afternoon talking about the world.
I arrived in Ayacucho at 9pm. It was too late to try and get into the city with all my stuff so I grabbed a room close to the bus station. In the morning I loaded everything into a taxi and went down into the center of the city where I dropped everything at another hospedaje and went looking for bike shops. Every one of the shops I visited said there was no chance of getting a 28 inch rim here. I looked around on the internet and couldn´t find much in Lima either. I was faced with the choice of going to Lima and looking for a rim there or heading to Trujillo to the casa de los ciclistas. I called Lucho in Trujillo and he said he could get me a rim so in the end I opted to go there. I wasn´t up for navigating Lima with all my gear loaded onto a bicycle that wouldn´t roll. The buses for Lima only leave at night so I spent a long day wandering around Ayacucho before it was time to load everything into a taxi again to get to the bus station. I got on the bus at 9pm for an overnight ride into Lima, arriving at 6am at a terminal in Lima that had no buses leaving for Trujillo until 8pm that evening. I asked around about other buses and was told that they left from Fiori, a different terminal, in the morning. I loaded up everything in a taxi again to get to Fiori where I caught a bus leaving at 8:30 for Trujillo. Another long day in the bus before I finally arrived in Trujillo at 6pm, loaded everything into a taxi once again, and got dropped off at the casa de los ciclistas where I was greeted by Lucas (German), Kate (Irish), and Nigel (Australian), all cyclists headed south towards Bolivia. It felt great to find some like-minded travelers after my long bus/taxi odyssey in search of a new rim.
Since the accident I had taken 4 buses and 6 taxis with the bike and all my gear... more exhausting than actually cycling.
The next night Phil showed up, he's been riding ahead of me for a while now but I leapfrogged him by taking the bus. He has a few crazyguyonabike blogs...