Near Cachora to Andahuaylas: Crash, broken rim, bus
---
Statistics for today
| | | |
| --- | --- | --- |
| Distance | 12.65 kms | 8.08 miles |
| Climbed | 183 meters | 600 feet |
| Avg speed | 13.6 kph | - |
| Avg climb | 3% | - |
| Max grade | 7% | - |
Statistics for trip to date
| | | |
| --- | --- | --- |
| Distance | 10,621.96 kms | 6,600.20 miles |
| Climbed | 110,042 meters | 361,030 feet |
On this page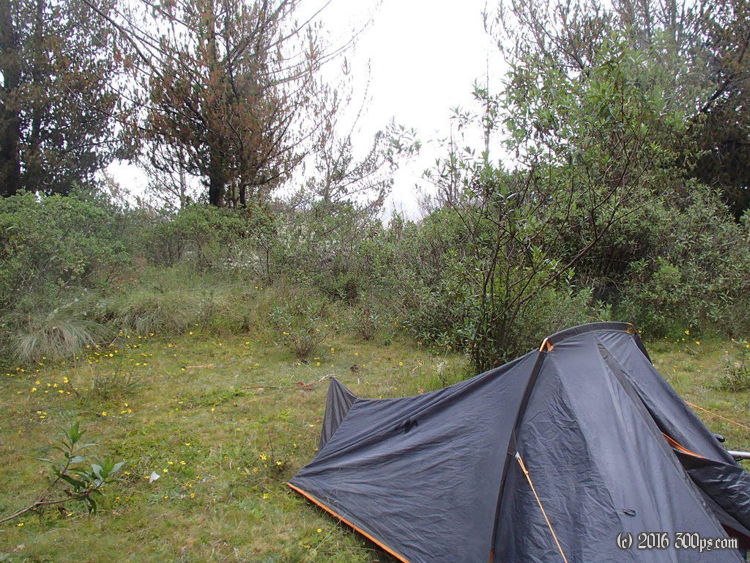 Sunday, May 12th, 2013
The day started out innocently enough. I had breakfast, broke down the camp, and was on the road by 7:30. I finished the last of the climb up to 3,950 meters then started the long descent down towards Abancay. Not far into the descent I came around a corner fast to find a big stretch of sand on the side of the road. I put my foot down and braked, holding the turn as long as I could until the wheels slid off into a 4 foot deep culvert. The panniers caught on the cement and I flipped over the handlebars. When I got up I discovered that the front rim was completely warped... Impossible to keep riding. Just a matter of seconds later a taxi stopped and asked if I needed a ride. Yup... I took all the bags off and loaded everything into the back. He took me down to the center of Abancay.
I put everything back on the bike and started walking with it by holding the front wheel off the ground. I wasn´t going to get far doing that... I stopped at a corner to think about my options, then a guy came up to me and started asking what had happened. I told him the story and he said I could leave all my gear in his house while I looked for a replacement rim. I dropped all my stuff at his place then we went to 5 different shops, none of which had anything in 700c. While we walked all over town he told me his life story. His godfather was a Catalan who raised him from a young age because both of his parents passed away. He has three sons who are policemen in different cities in Peru. He used to be a long-haul trucker but now he is working on converting the ground floor of his house into a restaurant. We talked a lot about life on the road...
With no hope of getting a rim here I decided to take a bus to Andahuaylas, the next city on the way to Ayacucho. I loaded all my stuff into a cab to go down to the bus terminal after saying my goodbyes to Feliciano. At the terminal a couple of the hawkers helped me out by watching my stuff while I booked a ticket. One of them told me a long story about an American who came through town a few years ago looking for a Peruvian wife so he could get working papers in Peru. Apparently the hawker and his wife considered having her marry him for the money but eventually decided against it.
I got on the bus just time. I had to jam everything into limited space in the cargo hold of the bus. I hadn´t had any time to eat or get water so by the time we arrived in Andahuaylas 4 hours later I was dehydrated and hungry. Fortunately there was an hospedaje around the corner from the bus terminal so I didn´t have to drag the bike too far. I dropped everything there then went walking towards the center. I happened upon a corner where there were 3 different bike shops but none of them had 28 inch rims, it looks like I´m going to have to keep going on the bus to Ayacucho. I went for dinner and got on the internet but none of the cybercafés had headphones for making phone calls. On the way back to the hospedaje I went ahead and booked a bus ticket for early tomorrow morning to Ayacucho.
A crazy day...