4 kilometers north of Valle Jesus y María to 7 kms north of Parador:
---
Statistics for today
| | | |
| --- | --- | --- |
| Distance | 100.12 kms | 62.14 miles |
| Climbed | 926 meters | 3,038 feet |
| Ride time (hours) | 6.97 | - |
| Avg speed | 14.3 kph | - |
| Avg climb | 2% | - |
| Max grade | 8% | - |
Statistics for trip to date
| | | |
| --- | --- | --- |
| Distance | 23,225.32 kms | 14,431.34 miles |
| Climbed | 247,983 meters | 813,592 feet |
| Ride time (hours) | 1,661.38 | - |
On this page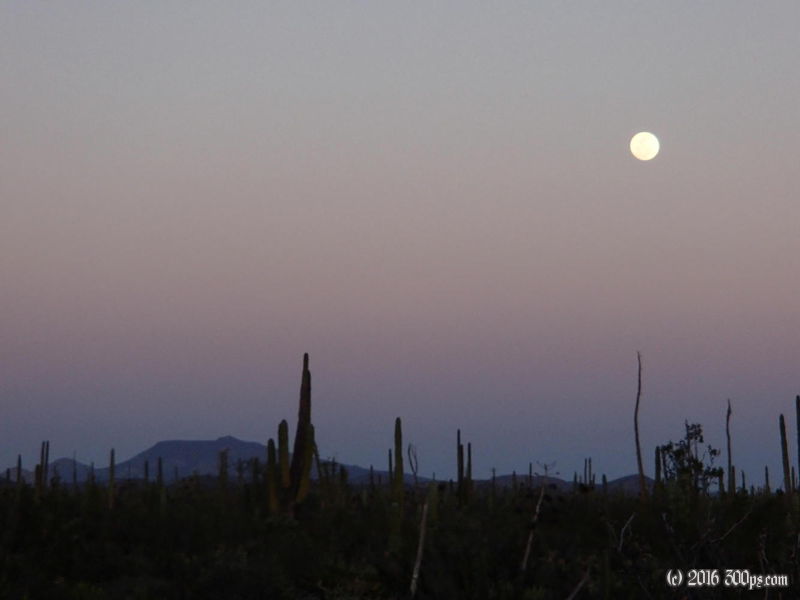 Saturday, March 15th, 2014
Today's alarm clock animal is some kind of bird. He parks himself on the cactus overhanging my tent and chortles until I get up and shoo him away. I am surprised to find the sky overcast and the tent covered in dew. For a minute I think it might actually rain. The back tire is flat…oh shit. I decide not to deal with it until I get to the road given that I will have to navigate a cactus minefield to get there. Once I do it only takes a few minutes to swap out the tube and get going. I don't know why I dread flats so much, they aren't the end of the world.
The wind cuts me some slack in the morning. I cruise along at 20kph for a good 40 kilometers, climbing and descending some roller coaster road. I pass a military checkpoint where the guys poke my bags but don't ask me to open anything. They are pretty tense unlike most of the other checkpoints I've been through. Maybe something happened here recently. I stop for breakfast around 11am at a roadside place. I get a huge plate of huevos rancheros, beans, and macaroni salad. The owner wants to buy my laptop. By the time I leave it is officially hot. The fleece comes off, not to return for the rest of the day. The wind is up to its old tricks again, now it is a force to be reckoned with. I sweat through some more climbing until I arrive in Punta Prieta. I had built this place up in my mind as something special but it just turned out to be a dusty little one-horse town with a few aborrotes and some restaurants. I have a bisteck ranchero at one of them. Tasty and cheap. A stop at an aborrote provides a gallon of water and some soda.
While I was eating at the restaurant the wind was doing pushups. I struggle to maintain 10 kph for the rest of the day. I lose my hat a few times again, I am having difficulty finding that sweet spot of tightness for the cap that will keep it on while being passed by 18-wheelers but not give me a headache in the process. I pass a place called Paradero 13 kilometers after Punta Prieta. Nothing but a few aborrotes, a restaurant, a dismal looking RV park, some llanteras, and an abandoned Pemex station. I make it 7 more kilometers down the road before I give up and head off into the desert to camp. I've been frustrated by my lack of progress because of all the wind but when I check the stats I see that I've climbed almost a thousand meters today. That cheers me up a bit. If I had been going south today probably would have been huge. It would be easy to bang out some centuries heading north to south in the Baja.
Once the tent is up I set about patching tubes. My pump has sand in it so I take it apart, clean the tube, and oil the plunger. I had a big lunch late in the day so I don't cook for dinner, I just make some tuna, tomato, and onion wraps with some homemade tortillas I got in Guerrero Negro. Not bad. I am reminded of a Russian woman I met in Buenos Aires who eats raw onions. We were talking at the kitchen table one day and she nonchalantly picks up an onion, starts peeling it, then bites into it as if it were an apple. I was fascinated. They grow'em tough in Russia.
There was a time zone change entering Baja California but I haven't changed the clocks yet. Does it really matter? I get up with the dawn and camp when the sun goes down.