10k north of Valladolid to Vilcabamba: Soaked morning to dry afternoon
---
Map
Statistics for today
| | | |
| --- | --- | --- |
| Distance | 52.45 kms | 32.31 miles |
| Climbed | 1,305 meters | 4,281 feet |
| Ride time (hours) | 4.64 | - |
| Avg speed | 11.3 kph | - |
| Avg climb | 4% | - |
| Max grade | 19% | - |
Statistics for trip to date
| | | |
| --- | --- | --- |
| Distance | 11,658.91 kms | 7,244.56 miles |
| Climbed | 130,824 meters | 429,213 feet |
| Ride time (hours) | 930.71 | - |
On this page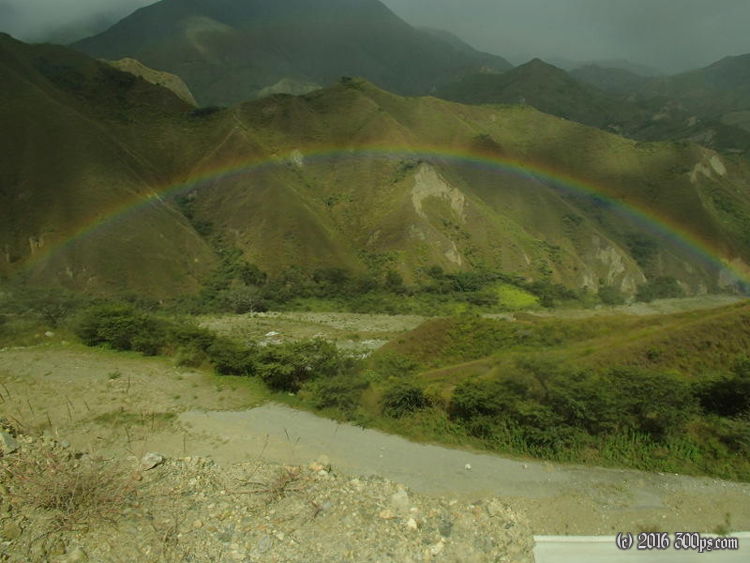 Saturday, June 8th, 2013
It poured all night long. Everything I have is officially soaked through and through. I was warm though because the thermarest kept my sleeping bag off the water, thank god I don't have a down sleeping bag. I considered just staying in the tent all day but I didn't have enough food with me. I eventually sucked it up and broke down the campsite under a downpour. It was cold rain all morning as I finished the first big climb and tackled a few smaller ones. The road switched to concrete at some point which was a welcome development after all the mud. In the afternoon the weather calmed down a bit, intermittent showers with the occasional spot of sun. I felt like kissing the sun when it came out... my fingers were practically frozen stiff.
I stopped for lunch in a town I can't remember the name of. One of the restaurant patrons spoke a bit of French so we had a chat. When I came out of the restaurant the back tire was flat. As I was fixing it a few people came by to say hello. My back tire has reached the stage of wear that makes it vulnerable to flats, at least I'm not in an environment that has lots of thorns.
More up and down until I came to the city of Vilcabamba around 3:30. This place was quite a surprise - it's full of Americans. I wasn't expecting that at all. I guess it is kind of a New Age - hippie community... it reminds me of Lago Chapala in Mexico. A number of businesses are owned by Americans, and there is a French bakery run by a Frenchman.
I paid to camp on the grounds of a hostel so I could set up the tent to dry everything out. I dropped my laundry off for a badly needed washing (I hadn't done laundry since Trujillo... I was ripe). Back at the hostel I met Anna, an Australian woman who left Prudhoe Bay, Alaska 4 years ago by bicycle. She has been stopping to work here and there along the way. We went out for a pizza and spent the evening swapping travel stories. At some point I realized that my camera won't recognize the chip anymore. The chip is fine, we could look at the photos on it using Anna's camera, but my camera doesn't want anything to do with it. So much of my stuff is broken at the moment it is getting depressing... did I mention that some bolts sheared off on one of my front panniers? I've got a lot of repair work to do, and I 'm going to need to spend some serious money soon to get back in working order.