Time to walk the dog:
---
On this page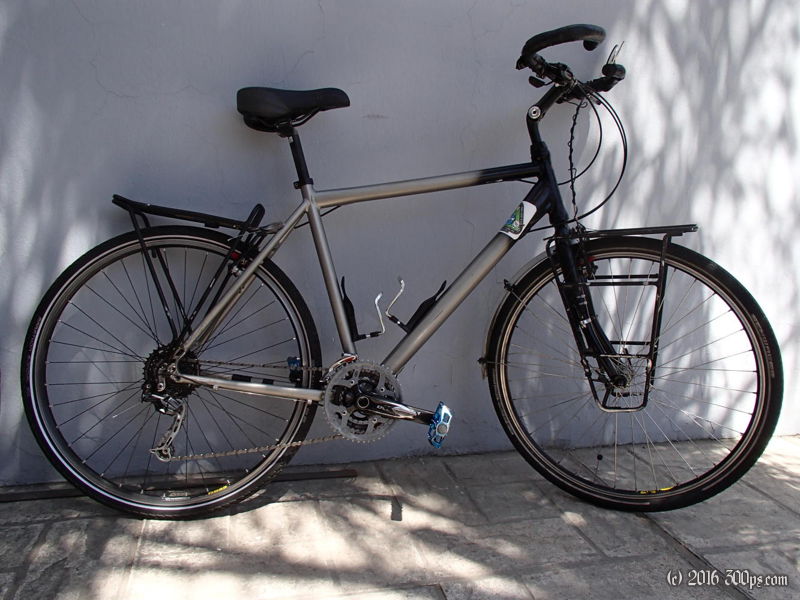 I've been off the bike since Christmas day and I'm starting to pay the price for such a long layoff. I can feel the symptoms of iron overload slowly creeping back, the most noticeable of which are fatigue and heart palpitations. The most difficult aspect of this "condition" is motivation. After a significant period of inactivity I feel tired and generally unwell, my first instinct is to try and rest until I feel better but this is precisely the opposite of what I need to do. In order to feel better I have to consistently exercise, not just going to the gym for a few hours a day but doing something really intense like putting in 6 or 7 hours on the bicycle. It is always difficult to get started because it is the last thing I feel like doing if I have been inactive for a while. I know the drill now though, I need to get my ass in gear. And so I will be hitting the road soon, heading north towards the U.S.
The bike needed an overhaul: new cassette and chain, a good scrubbing, cleaning and repacking of the bearings, various adjustments. I financed the work by selling Urb I. It would have been more logical to sell Noname and continue the trip with Urb, Urb being in better shape all around, but Noname has carried me this far and I just couldn't bring myself to sell the old girl. Before selling Urb I took off the mudguard to put on Noname, I had been operating without a rear mudguard since my rear rack broke way back on Paso Pircas Negras in Argentina. I found a Schwalbe tire in Guadalajara at this place. They had a bunch of Marathon Plus tires but since I should be on nothing but pavement until I get to the States I decided it was overkill and opted for a Schwalbe Citizen instead. I've never used the Citizen before but it was cheap ($25) so what the hell. I'll take off the folding Schwalbe Dureme I've got on the back right now and make that my emergency spare. It has a decent-sized gash in it from I don't know what so I will feel better carrying it just for emergencies.
While I was in France I went on a shopping spree at Decathlon to replace some of my equipment that was falling apart. I bought a new tent, shoes, socks, a Goretex jacket, tubes, and a multi-tool with chain breaker (my old one was completely rusted out and the chain breaker was bent).
I bought my old tent, the wigwam, in Cuenca, Ecuador for 65 dollars. I calculate that I slept in it 45 times for an average of $1.44 per night. I don't think she owes me anything.
[pic 1653976]
I was planning on leaving Guadalajara on Wednesday but I didn't get all my last-minute chores done so I plan on leaving tomorrow. The big topic of conversation in town is the capture of "El Chapo", the leader of the Sinaloa Cartel. We were at the gym on Saturday when the news broke, a whole bunch of people gathered around a big screen TV to watch the marines walk El Chapo to a waiting helicopter to be whisked away to prison. The crowd had lots of conspiracy theories: that the surrender was negotiated beforehand, that he could have escaped to the mountains after the first raid in Culiacán, that it wasn't really El Chapo that they arrested, that he would continue running his empire from jail like Pablo Escobar and that the arrest was just for show to appease the Americans, etc... I can see how people would be skeptical of the official version of events given that he escaped jail in Mexico 12 years ago and has been running his empire with impunity since. It made me think of other events where I was part of a group of strangers gathered around a tv like September 11 or the space shuttle disasters. Someone remarked that it was one of the rare times that Mexico has made the front page news all around the world.