Parker, Arizona to 29 Palms, California:
---
On this page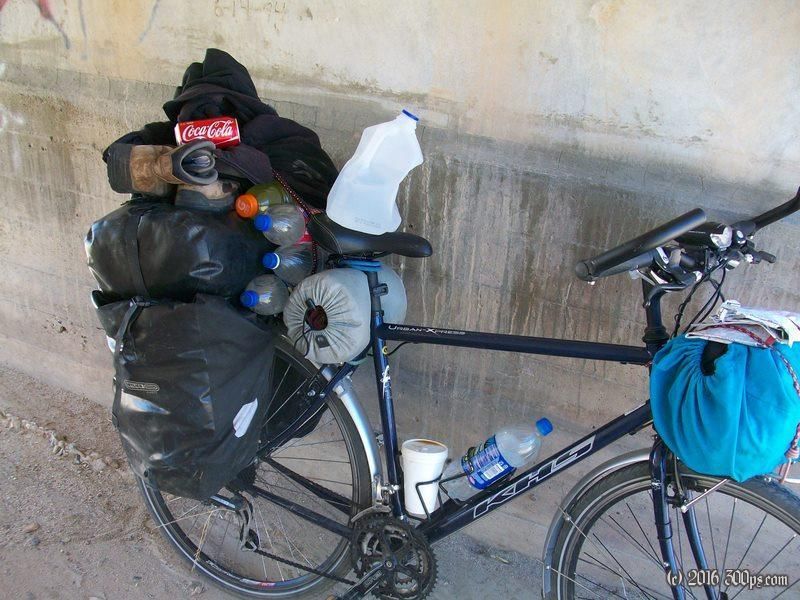 Tuesday, June 21st, 2011
In late June of 2011 I rode from the New Mexico/Arizona border to Bakersfield, California. Not one to normally blog about my trips, I thought I'd share my experience on the particularly tough stretch of desert between Parker, AZ and 29 Palms, CA in case anyone else is game to try it.
I left Parker at around 8am and rode west on route 62 towards 29 Palms. The temperature was in the low 100's and I had consistent 15mph winds with gusts up to 20mph directly in my face the whole way. 16 miles west of Parker is a place called Vidal Junction. This is the last place to get water before 29 Palms, a stretch of 94 miles with nothing but desert until the next store. At the convenience store I watered up, leaving Vidal Junction with a total of 10 liters (a little more than 2 1/2 gallons). Some kind German tourists stopped and gave a cold can of Coke about 10 miles later (danke schön), bringing my total liquid cargo to 10 liters of water, a cup of coffee, and a 12oz can of Coke.
I rode 86 miles for the day before stopping to camp around 6pm. The road itself is not particulary difficult but the conditions make it tough. There is a low-grade 12 mile climb after the 62/177 junction which kicked my butt because of the wind and heat. At camp I made dinner then slept in the open air, it was too hot to get into the tent. The heat at night was brutal - causing me to drink way more than what I had planned. When I got going in the morning a couple of sips finished my last bit of water and I ended up riding the last 24 miles into 29 Palms with nothing. I arrived completely dehydrated and proceeded to drink a Nesquik flavored milk, a liter of iced tea, and a liter of water at the first store I encountered.
To make this trip comfortably I would have needed to carry about 13 liters (3.5 gallons).
Good luck to the next rider...