Oruro to Sicasica: Trucks, truckers, and my god is this country cheap
---
Statistics for today
| | | |
| --- | --- | --- |
| Distance | 109.00 kms | 67.73 miles |
| Climbed | 480 meters | 1,575 feet |
| Ride time (hours) | 7.32 | - |
| Avg speed | 14.8 kph | - |
| Avg climb | 1% | - |
| Max grade | 9% | - |
Statistics for trip to date
| | | |
| --- | --- | --- |
| Distance | 9,116.64 kms | 5,665.04 miles |
| Climbed | 88,777 meters | 291,263 feet |
| Ride time (hours) | 698.48 | - |
On this page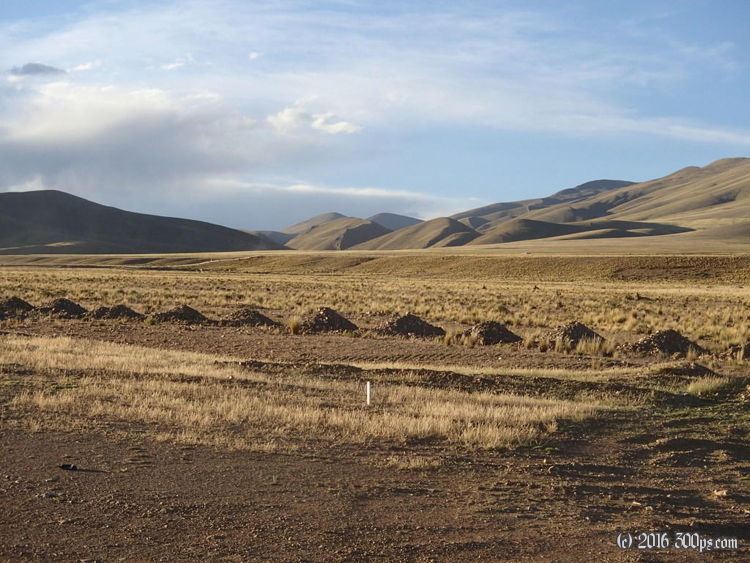 Friday, April 5th, 2013
I went out early to find a coffee and get on the internet to get an idea of how to navigate La Paz. I felt good enough to try and get back on the road today. I spoke with the woman running the hotel for a while then loaded up my gear and headed out of Oruro. At the intersection with highway 1 I stopped to check my map and was surrounded by a group of 15 or so guys waiting for the bus who wanted to know what I was up to. I told them a few stories about my travels and they directed me to the exit for the highway to La Paz.
The first 10 kilometers reminded me of Ruta 40 in Argentina: no shoulder, lots of trucks, and lots of bailing out on the dirt when cars or trucks were passing each other. Then I ran into the construction where they are turning this highway into 4 lanes from 2. I got on the brand new 2 lane section that wasn´t yet open for traffic and had 30 kilometers of nice new pavement all to myself. When that ended it was back to Ruta 40-style riding for the rest of the day.
At noon I stopped for lunch at a roadside place: $2.75 for wheat soup, ribs, rice, potatoes, and mate de coca (tea made from coca leaves). The tea was the best I had had so far in Bolivia, it tasted somewhere between green tea and Argentine mate cocido. I haven´t noticed that it helps at all with the altitude but then again I haven´t had altitude sickness per se so I don´t know if it works or not. There was a kid no more than 8 or 9 years old hanging around my table asking me questions. He seemed to be high on something, he made no sense at all when he spoke. Finally one of the waiters shooed him away. I don´t know what he could have been on at that age but it was clearly something.
Later in the afternoon I stopped at a little store to get a soft drink and ended up shooting the breeze with 3 truckers who were there drinking beer. They are doing the Arica, Chile to La Paz route. All of those trucks I saw when I was climbing from Arica up through Putre in Chile go through Tambo Quemado border crossing and end up on this highway to La Paz. That means that from here on out it will be nonstop trucks until I get into the city. They seemed to have a pretty good buzz going... worrying considering how we will be in close proximity on the highway for the next day and a half...
I´m feeling pretty comfortable now with Bolivians. It took some time to get used to how they interact, they are gruff and don´t seem particularly friendly at the beginning but if I engage them they open up. I was spoiled by Chile where everyone is super polite, and by Argentina where people are very relaxed. The one big difference is the police. They are not helpful no matter how much effort I put into engaging them. I´ve decided to just give up asking them for anything, they´re not like the Chilean carabineros or Argentine gendarmes and I guess that´s just the way it is. Better to leave them alone, I can get what I need by asking other people. The carabinero I spoke to at the border crossing in Colchane had warned me to stay away from the Bolivian cops, I didn´t take it seriously at the time but now I see what he meant.
I reached the town of Sicasica as the sun was going down. I was debating whether or not to continue on then camp down the road or stay here, I checked a small hospedaje and the price was $3.75 for a room; for that amount of money why bother camping? The place is run by an adorable woman who must be about 90 wearing all traditional clothing except for an Oakley baseball cap. She can´t hear a thing so we had a shouting match to discuss the logistics of the room and payment. She directed me to a restaurant where I had a fried chicken dinner with rice, French fries, and soup for $1.50... this country is unbelievably cheap. The dinner was good too.
I´ve left myself with 130 kilometers of truckolandia to deal with tomorrow. I plan on getting an early start to get it all in. I hope there is not too much climbing as I would really like to be in La Paz by tomorrow night.