Ruta 7 Km 85 to Salto Condor: Rain and climb
---
Statistics for today
| | | |
| --- | --- | --- |
| Distance | 84.00 kms | 52.20 miles |
| Climbed | 1,124 meters | 3,688 feet |
| Ride time (hours) | 6.80 | - |
| Avg speed | 12.2 kph | - |
| Avg climb | 4% | - |
| Max grade | 18% | - |
Statistics for trip to date
| | | |
| --- | --- | --- |
| Distance | 849.00 kms | 527.54 miles |
| Climbed | 8,383 meters | 27,503 feet |
| Ride time (hours) | 77.49 | - |
On this page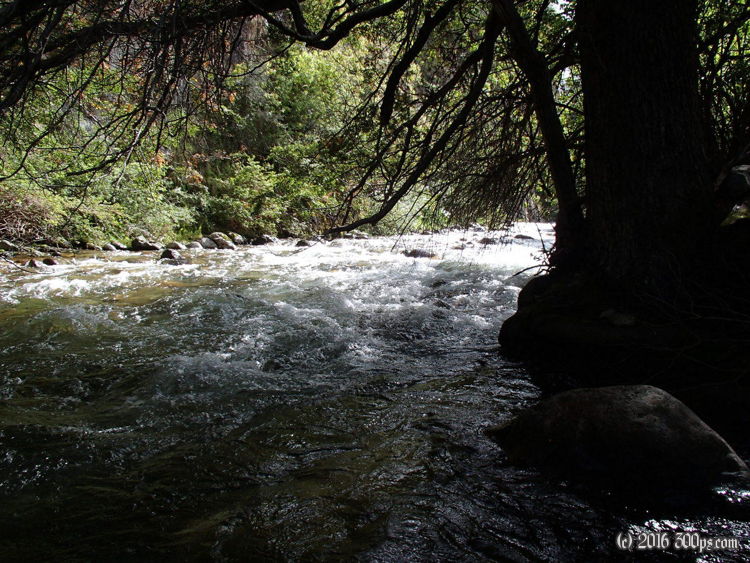 Thursday, December 20th, 2012
I slept like a dead man last night. Woke up around 9 and made oatmeal. It was nice to actually be right next to a river to be able to wash up (it was freezing). Packed up shop and on the road about 11. I've definitely fallen into "ride late sleep late" mode. I was dragging for the first hour until I stopped and ate some Nutella right out of the jar and polished off what was left of my dulce de batata. That got me going.
I had headwinds from the start. It rained off and on all day long but never really enough to get wet until the end of the day. This whole section of the Carretera Austral is paved, and recently; the quality is quite good and there is even a good shoulder.
Up and down all day long past lakes and snow-capped mountains. The only town I saw today was Villa Amengual which I reached around 3 in the afternoon. I bought some surprisingly good-looking bananas and cookies; I was hoping for bread but there was none to be found in the pueblo. It's only about 50 houses or so.
After the town is a decent climb that then goes down into the Río Cisnes gorge. Very nice scenery through here. On the way down I met a French cyclist who was on his way up. He started out from Puerto Montt about 3 weeks ago with two colleagues from Paris (who were stopped farther down making tea). We talked for about 10 minutes then it was back to work. I'm speaking an awful lot of French for being in Chile... It got pretty cold at this point, varying between 5 and 10 degrees. Then the rain picked up. I could see it snowing at the higher elevations. At the turnoff for Puyuhuapi the road turned to ripio and the rain really started coming down. I climbed for about 5 kilometers looking for a place to camp before settling on a flat shelf beside the road just after Salto Condor (a big waterfall). There is no fencing on this section, the first time I saw fence-free roadsides all day long. The landscape is thick forest with thick underbrush of all types, I wonder what they call this type of forest, it almost looks like tropical jungle.
Set up in the rain and made dinner in the tent alcove again. This is becoming a trend. The upside is the stove makes the alcove nice and warm. I'm impressed with how long this fuel I bought in Buenos Aires is lasting. I've made about 20 meals with it and I'll probably get 2 more meals in before I have to refill the bottle. The kerosene I was using in Spain was not this efficient.