Coyhaique to Ruta 7 Km 85: Back to climbing
---
Statistics for today
| | | |
| --- | --- | --- |
| Distance | 85.00 kms | 52.82 miles |
| Climbed | 1,296 meters | 4,252 feet |
| Ride time (hours) | 8.03 | - |
| Avg speed | 10.5 kph | - |
| Avg climb | 6% | - |
| Max grade | 16% | - |
Statistics for trip to date
| | | |
| --- | --- | --- |
| Distance | 765.00 kms | 475.35 miles |
| Climbed | 7,259 meters | 23,816 feet |
| Ride time (hours) | 70.70 | - |
On this page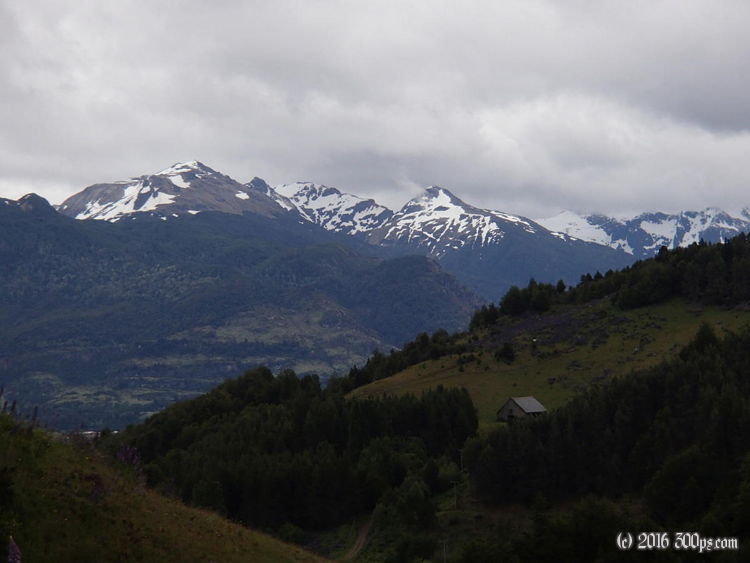 Wednesday, December 19th, 2012
I got up none too early. We didn't finish dinner last night until around 11:30. I had bought a half dozen eggs the day before, planning to eat three at night then three the next morning. Since I had eaten with the French cabaña mates I needed to get rid of them so I made a six egg mushroom and cheese omelette. Unblocking those arteries for the long ride ahead.
I eventually got on the road at 11:30 am. Said my goodbyes to the hospedaje owner Estefani, a sweet grandmother type. I recommend this hospedaje if you stay in Coyhaique, it's located at the corner of I. Serrano and Freiere. Not luxurious by any stretch but cheap, comfortable, and Estefani really takes care of her guests.
The climbing on the Carretera Austral heading north out of Coyhaique starts right away. It's paved for about 10 kilometers until the split where you choose between Ruta 7 and Puerto Aysén. The ripio is really good on this stretch though, nothing like what I saw in Argentina.
It was cold, windy, and rainy (but not too heavy). Just past Villa Ortega I ran into two English ladies on bicycles who told me this qualified as a really nice day for them. They had been on the Carretera Austra for 11 days and it had rained hard every single day. Yikes... I hope I don't have the same.
The road winds up and down through valleys surrounded by snow-covered mountains. Beautiful scenery. I talked to a family for a while that stopped to say hi, they recommended various places further up the road. It was cold - I was wearing my fleece, my rain shell, and my heavier jacket. At times the headwinds had me down to 5 kmh but it never lasted that long because the road winds in and out behind mountains and hills. After 62 kilometers out of Coyhaique the pavement reappeared. A good, quality road that even has a paved shoulder! (I'm definitely not in Argentina anymore...)
My booklet from the tourist office said there was a campground near Mañihuales so I headed for there. The campground never materialized... I kept on going after the town looking for stealth-camping possibilities. It's really difficult here, not what I expected at all. They've fenced this place in quite well, and with barbed wire to boot. I really didn't see a single place where I could get off the road for a good 15 kilometers. I started running out of daylight and energy so I took the first thing that came along and made the best of it. It was next to a river and really close to the road so no fence. It took some work, removing brush and adding some camouflage, but I'm comfortable now. I made dinner in the awning of the tent to stay out of the rain and keep the stove out of sight from the road.
I'm knackered. Lots of daylight here, I got on the road at 11:30 am but I still managed to put in 8 hours of ride time.