Villamaría to Las Delgaditas: A climb, a milestone, and a night of fun at a gas station
---
Map
Statistics for today
| | | |
| --- | --- | --- |
| Distance | 55.70 kms | 34.80 miles |
| Climbed | 1,906 meters | 6,253 feet |
| Ride time (hours) | 6.06 | - |
| Avg speed | 9.1 kph | - |
| Avg climb | 5% | - |
| Max grade | 12% | - |
Statistics for trip to date
| | | |
| --- | --- | --- |
| Distance | 15,031.65 kms | 9,340.45 miles |
| Climbed | 185,221 meters | 607,680 feet |
| Ride time (hours) | 1,186.89 | - |
On this page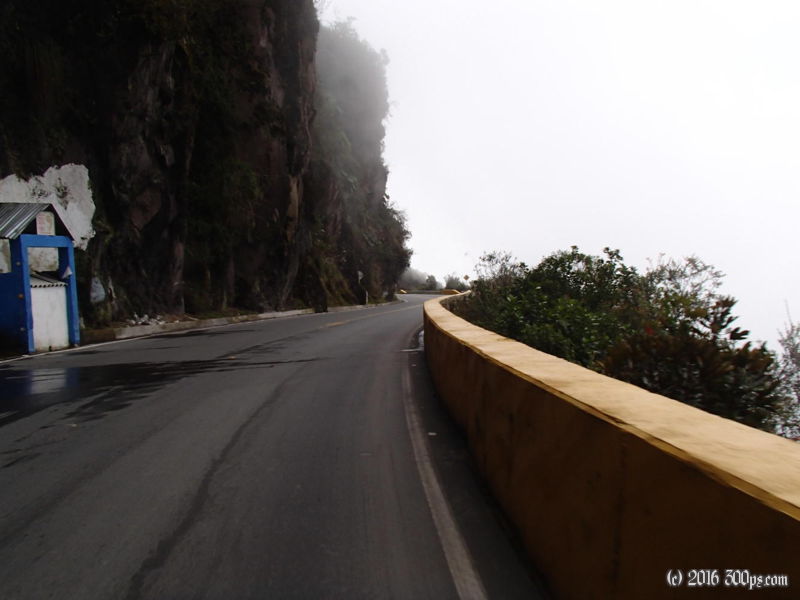 Tuesday, October 1st, 2013
Yesterday I took a day off to do laundry, clean my gear, and tune up the bike. I put the thing through hell the last few days; the wheels needed to be trued, the brake cables tightened to compensate for all that brake pad wear, and I cleaned the drive chain. In the evening I started watching Game of Thrones, a series that a guy in Cali had recommended to me. I'm hooked…
Most of today was one long climb. I didn't really get going until 10am due to 4 different people who stopped me in various places in Villamaría and the road out of Manizales to ask me what I was doing. I'm getting good at telling that story… Even a couple of cops stopped to see what was up.
The climb actually felt easy compared to the weekend's ride, even though it was pretty much uninterrupted for 1,700 meters and had long stretches of 5-10 percent grades. The pavement just felt like I was riding on glass. At a work site about halfway up I started talking to two guys who were selling empanadas. 20 minutes later I left much more educated about Colombian politics tan when I arrived. They were very pleased that I was having a good time in their country. A few kilometers up the road I hit a milestone: 15,000 kilometers for the trip. It feels like years ago that I left Esquel, Argentina to start the journey.
I reached the top of the pass (about 3,700 meters altitude) a little after 4pm. A couple on a motorcycle told me it was a long way to the next town so I decided to keep my eyes out for camping possibilities. There was nothing to be had for the next 15 kilometers even though the area isn't that populated; it's just one of those cliff roads that has no flat land anywhere. The descent was pretty hectic due to some overly eager trucks, some construction work, and a heavy fog. I started running out of light and was getting worried when I ran into a little 4-building settlement by the side of the road that consisted of a gas station, a run-down "hotel", an abandoned restaurant, and a little house.
I spent the evening hanging out with the characters at the gas station, talking about Colombia and South America. The owner's wife served up an excellent dinner of chorizo, frijoles, fried banana, and rice. The hotel room was the grimmest I've had since Bolivia but it bailed me out.